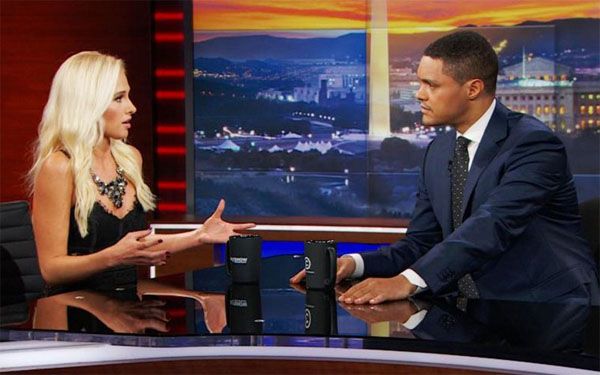 Trevor Noah welcomed super conservative and Trump supporter Tomi Lahren on "The Daily Show" for a candid conversation about a few controversial topics. Afterwards, they both defended each other against Twitter trolls. Get the run down, plus check out clips of Van Jones keeping it real on "The View" inside….
This interview was everything you expected it to be.
"The Daily Show" host Trevor Noah invited "TheBlaze" host Tomi Lahren, who's an avid Trump supporter and conservative, to challenge the the conservative commentator on her opinions about the Black Lives Matter movement, NFLer Colin Kaepernick, president-elect Donald Trump, the KKK and more.
Tomi tried her damnedest to explain that her most controversial comments are not rooted in racism. Really girl?
If you haven't heard, the 24-year-old conservative pundit was very critical of San Francisco 49ers quarterback Colin Kaepernick taking a knee during the National Anthem. She explained,"Because I criticized a black person or I criticized the Black Lives Matter movement that doesn't mean that I'm anti-black. It does not mean that I don't like black people or that I'm a racist. I don't see color. I go after Hillary Clinton and she's as white as they come."
Trevor clapped back with a clever response saying, "You don't see color? So what do you do at a traffic light? I don't believe in that at all. There's nothing wrong with seeing color, it's how you treat color that's more important."
Witty and factual!
Tomi said she feels Colin's protest isn't the "right way" to protest and Trevor had several questions to her reasoning.
"When people say that, I'm always fascinated," Trevor said."What is the right way? So here is a black man in America who says I don't know how to get a message across. If I march in the streets, people say I'm a thug. If I go out and I protest, people say that it's a riot. If I bend down on one knee, then it's not [the right way]."
"What is the right way?" Noah continued."That is something that I've always wanted to know. What is the right way for a black person to get attention in America?"
Of course, she didn't have an answer to that question.
The full debate is quite interesting and Trevor BROUGHT it. Check it below:
After the interview aired last night, Trevor and Tomi took to their Twitter accounts to defend one another from Twitter trolls:
Thank you for being my guest Tomi. Our goal should be to destroy these "bubbles" not each other. You're always welcome on my show. https://t.co/AairL3cdAy

— Trevor Noah (@Trevornoah) December 1, 2016
Tomi was set to appear on Power 105's "The Breakfast Club," but her team shut that down with the quickness. Radio personality Charlamagne tha God tweeted:
Damn my pal @TomiLahren was coming to interview on @breakfastclubam today but it got shut down by her network this morning. Oh well....

— Charlamagne Tha God (@cthagod) December 1, 2016
On daytime television this morning...
Political activist and commentator Van Jones joined the ladies on "The View" today to discuss his post-election comments on "whitelashing." He also touched on why he gets so frustrated when people says things like we need to give Donald Trump a chance.
"Give him a chance," he said before laughing. "This is important to me because people keep saying we have to give him a chance. And we do have to give him a chance. But we don't have to give him a pass on everything."
Yep!
He compared Trump appointing Steve Bannon as his chief strategist would have been like President Barack Obama making former head of Louis Farrakhan's Final Call publication his top advisor.
On election night, Van talked about the issue parents would have to face the next morning, explaining to them that Donald Trump would become our next president.
He addressed that during his sitdown saying, "Part of the thing that was hard is that my kids were in L.A. watching me on TV," he said Thursday morning. "So the first time they see their daddy after this thing happened, I'm not there with them…. So when I say it's hard to be a parent and I'm raising my children not to be bigots and not to be bullies and to do their homework and be prepared and now have to explain this, I was talking to them. I wasn't talking to America. I was talking to my children. And I'm a father first."
Co-host Jedediah Bila said she couldn't understand that if the USA is so racist, how did a black man be elected for two terms.  Van had the perfect response to that.
"The majority of white people voted against Obama both times. We keep patting ourselves on the back and saying we elected a black president." Pointing to himself, he said,"No, WE elected a black president."
Facts.
You can check out two clips of Van's appearance on "The View" this morning above and below: