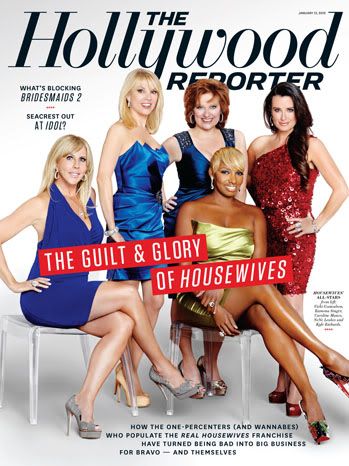 Bravo's "Real Housewives" franchise is putting a face of each of the 5 cities on front street for the upcoming issue of The Hollywood Reporter.
Orange County's Vicki Gunvalson, New York's Ramona Singer, New Jersey's Caroline Manzo, Atlanta's NeNe Leakes and Beverly Hills' Kyle Richards are all on the cover.  Check it and how much money these chicks are really raking in, plus Gabby Union's new WMB 3D magazine cover, inside...
NeNe's sitting pretty amongst the other "Housewives" on the brand new Hollywood Reporter issue.  The ATL Housewife is repping for the southern franchise while also prepping to appear as swim coach Roz on the upcoming season of "Glee".
And as for all the rumors of how much mula the Housewives are actually bringing in, only the New York franchise's paychecks have been publicized, and it's about $250,000 this upcoming season.
Bravo offers each of the Housewives an unparalleled opportunity to develop her own brand. Combined, the Housewives have published more than a dozen books; received product deals from makeup and jewelry to sex toys and alcohol; average well over 100,000 Twitter followers (Leakes has nearly 600,000); and receive an approximate six-figure salary each season (the New York cast is drawing a $250,000 payday for Season 5) — not movie-star money, but steady income for people arguably of limited talent. Bethenny Frankel is the best example of this with several bestselling books, her own spinoff series, and the ability to promote her Skinny Girl margarita brand on Bravo, which she sold for $120 million.
Here's the behind the scenes video:
In other magazine cover news, Gabrielle Union is the cover girl for the new 3D magazine World's Most Beautiful: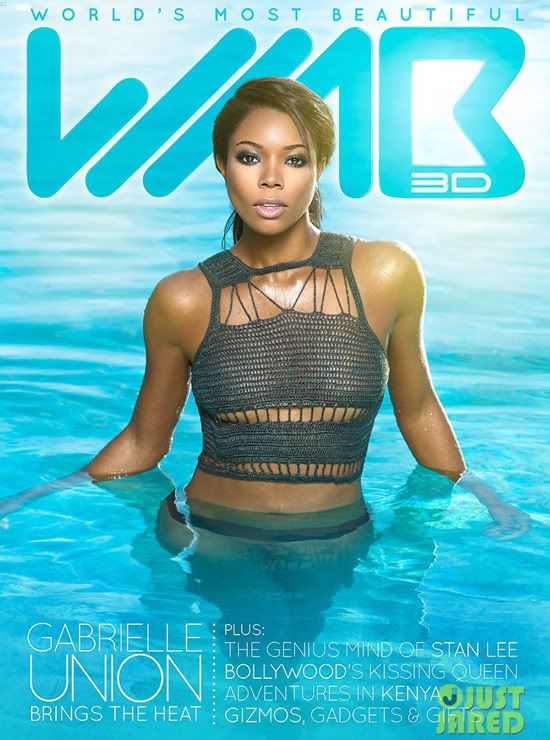 And the Think Like A Man star is looking gorgeous for her pool shot.  The folks over at Just Jared have the photo that will be in full 3D in print and digital.  Also check out her new ESSENCE cover with boyfriend Dwyane Wade HERE.