They DID it! Destiny's Child reunited to join in on the latest Internet craze: the #MannequinChallenge. Go inside to see Beyonce, Kelly Rowland and Michelle Williams nail it and see how savage Kelly can get when someone tried to come after her son on social media inside…
Yep, this just happened!
Destiny's Child members Beyonce, Kelly Rowland and Michelle Williams just hopped on the newest viral trend on social media.
The ladies reunited at Titan's 2nd birthday bash for a fun video of them doing the #MannequinChallenge, the newest challenge everyone (and we mean everyone) is participating in. We gave you the top 11 videos that were taking over our timelines. In case you missed, check it out HERE. We'll have to make that 12 now!
While most #MannequinChallenge videos play Rae Sremmurd's "Black Beatles" as the background music, DC3 opted for Lauryn Hill's "Every Ghetto, Every City" as their background track. Gotta love that #BlackGirlMagic.
Check it:
The fun clip comes on the heels of Destiny's Child recreating an official Instagram account and rumors of a reunion. Hmm…is this another hint that we're closer to a DC reunion? We hope so!
While the video is all fun and games, talking bad about Kelly's son Titan is NOT....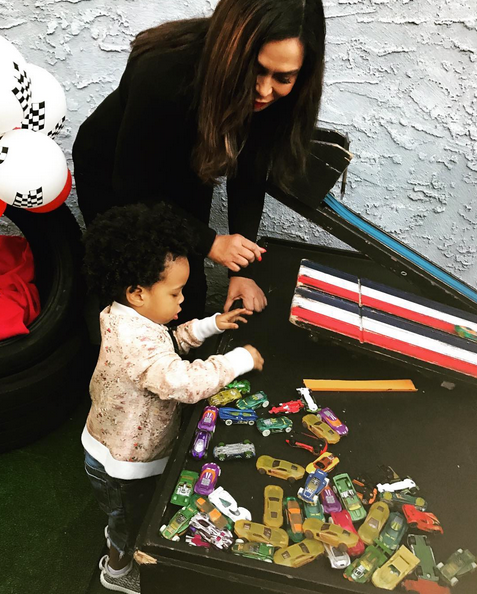 Today, Kelly posted a picture of her son Titan, who turned 2-years-old over the weekend, playing with some cars with Mama Tina.
For whatever reason, some chick decided to hop in Kelly's comment section with total disrespect. She posted (then deleted), "Brain washing at that age #greed #cars #materialistc" "YALL SO F#NG DUMB."
Yeah, she TRIED it. But, Kelly checked her a** at the door! Kellz clapped back:
Tell 'em Kellz! Don't come for her (or her baby) unless she sends for you. 
BONUS: 
The Dallas Cowboys players were feeling themselves after they defeated the Cleveland Browns on Sunday. So, they hopped on the #MannequinChallenge after boarding their plane back to Dallas. It's pretty epic. Check it above.
Photos: Michelle's IG/Kelly's IG