Nick Cannon just released the full visual to his steamy video "If I Was Your Man," starring Chilli as his leading lady. In other music news, it appears Drake and Kanye West are gearing up to take over the neighborhood with a new project. More inside…
Since the summer, Nick Cannon has been teasing his new video "If I Was Your Man," starring Chilli as his leading lady and featuring Jeremih on the hook. Now, the full visual has been released. The track samples TLC's hit track "What About You Friends," so it makes sense why he chose Chilli to lead the visuals.
The sexy teasers sparked rumors that Nick and Chilli are an item, but it appears it was all publicity for his new visuals since its now being reported that Nick is cozying up with his ex-girlfriend Christina Milian. You can catch up on those deets HERE.
Not to mention, Nick has been vocal about not being ready to get into a relationship. The "America's Got Talent" host said in a recent interview:
"I take everything one day at a time. I truly believe I'm definitely not ready to be in a relationship, I can't get it right. I haven't gotten it right yet, but I adore her [Chilli] and I truly have a passion for connecting with people that understand romance and understand connecting with one another. So you never know, but I'm so engulfed with today that I'm happy where it's at."
Wonder if he still feels this way.
Anywho, peep "If I Was Your Man" below:
Nick is serious about returning to the music scene outside of everything else he has going on. He's currently prepping for the release of his upcoming mixtape, The Gospel of Ike Turn Up: My Side of The Story. And he just released a new track from the project, "Other N*gga" featuring artists Sy Ari Da Kid& Movie.
On the track, the 35-year-old raps about being frustrated in relationships and confesses he would rather be the man on the side than to pledge his commitment to another woman.
Take a listen below:
Definitely a different sound than what we're used to hearing from Nick. The Gospel of Ike Turn Up: My Side of The Story will be available for free download on November 16th.
In other music news...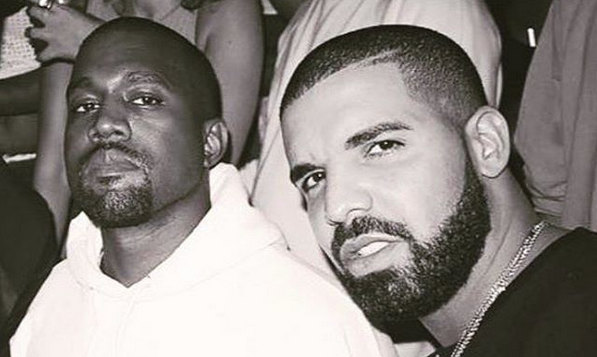 A few months ago, Kanye West confirmed that he would be getting in the studio with Drake for a joint album. The Chi-town rapper spilled the beans to VOGUE saying:
"We're just working on music, working on a bunch of music together, just having fun going into the studio. We're working on an album, so there's some exciting things coming up soon."
Before the confirmation, a billboard was spotted in L.A. that showed Yeezy's G.O.O.D. Music Label logo and Drake's OVO emblem, hinting that a collaboration is in the works..
Now, Drizzy is teasing either the album name or a new track via his Instagram posting a picture of himself and Ye with the caption, "There goes the neighborhood." Check it:
Looks like we're getting close to the album. It's also interesting to note, Drake posted a picture of himself and Pop superstar Taylor Swift in the studio, so we're wondering if she'll be featured on the upcoming project as well. Time will tell….
Photos: Drake's IG