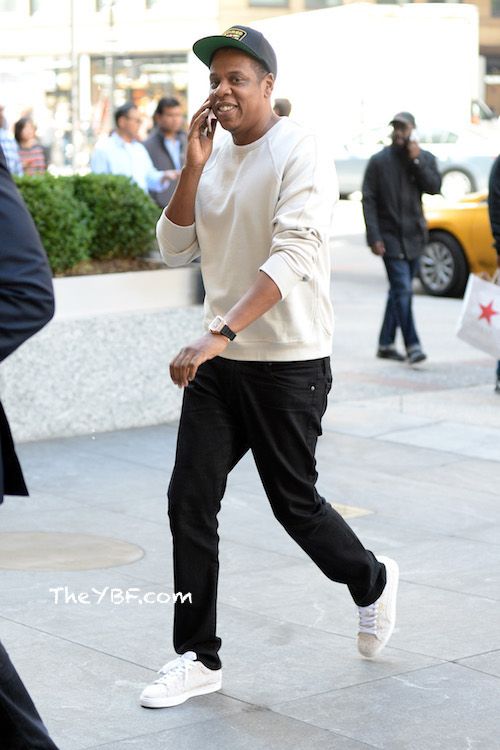 The Carters are tag teaming the masses with non stop boss moves.  Find out what Jay Z just announced right as his wife wrapped up one of the most profitable tours ever....
Jay Z (along with wife Beyoncé) is back in NYC and spending pretty much everyday this week in his midtown Manhattan office (pictured above arriving on Wednesday.  Whenever The Carters are back and forth to their offices, we know they've got something up their sleeves. 
Today, Jay confirmed that a few boss moves were just made.
Remember that alleged Jay Z/Beyonce "joint album" we've been hearing so much about being in the works?  Well it loks like Jay may be about to do his own thing first in response to Bey's epic Lemonade album.  And, if true, it could be happening sooner than you think.
According to TMZ, a low key email from a top ticket company announced the tour:
We've seen an email the company sent out to its top customers, which says, "Hear Jay Z's response to Lemonade during his highly anticipated 2017 world tour." The email goes on to mention specific cities Jay will play, and promises to deliver the "best seats in the house."

Here's the thing ... it's been rumored for months Jigga was going to respond musically to Bey's lyrics about "Becky with the good hair" and the cheating allegations that came out of her last record.
Interesting, since we stiil don't believe the all the cheating talk Bey did on the album had anything to do with Jay.  Even her co-writers came froward saying they came up with concepts based on being messed over in their own lives.
Jay's reps said these claims were "ridiculous."
But that's not all.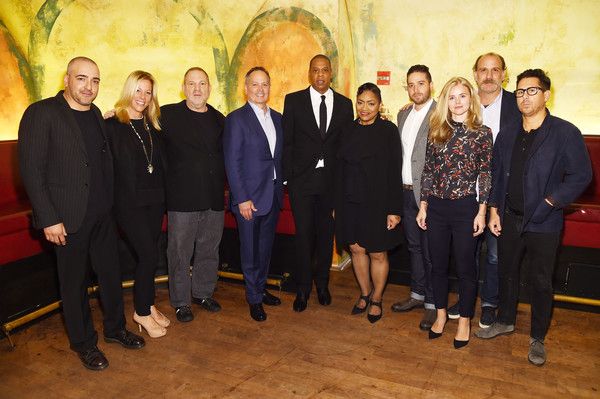 The mogul made his way to a press conference today to make a couple big announcements.  Fresh off announcing his big tv/movie deal with Teh Weinstein Company, he's already got two big projects on deck.
After Lee Daniels pulled out of directing the Richard Pryor biopic due to shooting his new show "Star," and the whole project fell apart, it seems Jay is stepping in to bring it back to life.  The "Blue Magic" rapper announced he will serve as producer on the movie formally titled Richard Pryor: Is It Something I Said.  Lee is confirmed again to direct, but it's unclear if Mike Epps, who was previously cast to play Richard, Oprah and others are still on board to star in the biopic.  Shooting starts early 2017.
The second project Jay announced he's bringing to life is one for Spike TV, and it centers around a closer look at America's justice system through the compelling real life story of New York teen Kalief Browder.
Kalief was a Bronx high school student who killed himself last year after being held for three years on Rikers Island for allegedly stealing a backpack.  Jay will Exec. Produce the six-part series beginning in January entitled "Time: The Kalief Browder Story."
At the news conference Thursday with Harvey Weinstein and others, he explained how he first learned of Browder's case through the 2014 New Yorker article, "Three Years on Rikers Without a Trial," which chronicled Browder's ordeal. So Jay set out to meet him:
Carter tasked his assistant with finding Browder. "I told her I need to meet this young man," Carter said.

Carter's assistant came through quickly. Browder met Jay Z at his New York office. "He told me he was going to college," Carter said. "I wanted to give him words of encouragement."

But not long afterward, Carter learned that Browder had killed himself. "I was thrown, of course," Carter said. "I kept asking myself, 'Man, the story's not supposed to end like this."
Variety reports:
The episodes will feature dramatic reenactments of Browder's life as well as interviews with friends and family members and archival footage. Browder's story of being thrown into solitary confinement without even being charged with a crime has galvanized prison reform efforts to ban isolationist policies for juvenile offenders.

The case has become a symbol of a broken criminal justice system. Browder maintained his innocence through his time behind bars, which was extended because his family could not afford the $3,000 bail. He was released in 2013 after his accuser left the country. He was 22 at the time of his death in June 2015.
With the success of Serial and Making a Murderer, (both blew our minds, by the way) this series may be equally influential.  Major moves.
Photos: Splash/Getty