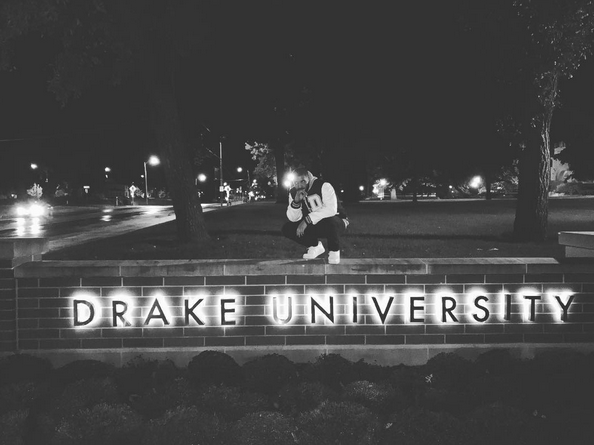 Students at Drake University -- a private school that happens to share a name with the rapper -- started a social media campaign to get rapper Drake to make a stop at their campus. And it worked! But, with a twist. Get the deets inside…
Drizzy has jokes!
Students at Drake University in Des Moines, Iowa kicked off a Twitter campaign #BringDrakeToDrake in an effort to have rapper Drake visit their campus as he passed through for a stop on his "Summer Sixteen" tour with Future.
Well, it worked! But, none of the students actually saw the Young Money rapper on their campus. Why? Well, he pulled up on campus around 2:30AM this morning after his performance at the nearby Wells Fargo Arena.
It seems everyone on campus was sleep because no one saw him. Stomping through the campus at the wee hours of the morning, the Canadian rapper snapped a pic on the school's sign. He even rocked a blue and white Drake University letterman jacket earlier in the night.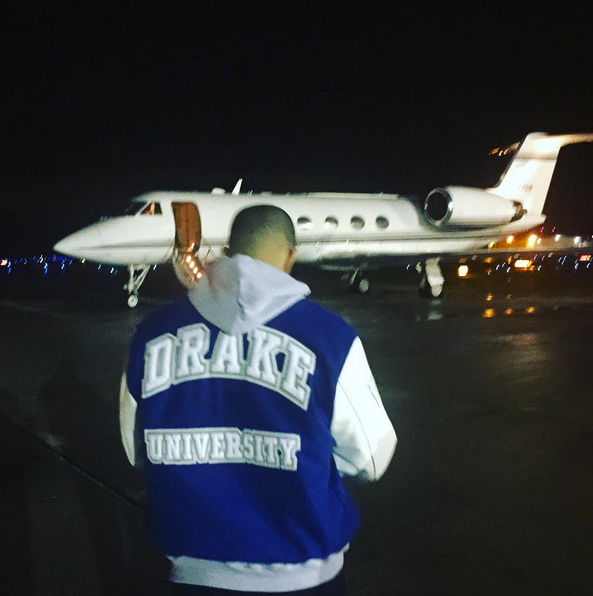 He also posted videos as he stopped by a few sorority houses. "Look Kappa Kappa Gamma, I'm outside your sorority house right now. And you're all sleep! Kappa Alpha Theta, we out here. Waiting on you. We waiting on you," he said.
Check it:
Ha!
Kappa Alpha Theta sent their sincerest apology to Drake for missing him:
Kappa Alpha Theta- Beta Kappa extends our sincerest apology for not answering the door last night. Sorry, @Drake. Catch you next time. https://t.co/AJm4xaaU0R

— Kappa Alpha Theta (@drakeTHETA) October 5, 2016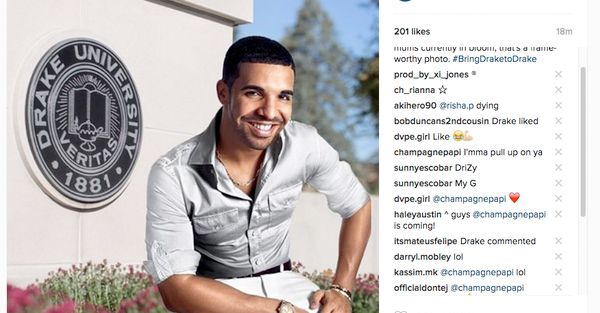 Before his surprise stop, he made a comment on Drake University's official Instagram page writing, "Imma pull up on ya." He's a man of his word.
Earlier in the day...
The entire student body is running toward Drake the rapper. It was a false alarm. #BringDraketoDrake@DrakeUniversitypic.twitter.com/GfIhXm4BUU

— Sam Fathallah (@SamFathallah) October 4, 2016
Students scattered all over campus in a frenzy when they THOUGHT Drake had made his way on campus. But it was a false alarm. I bet they wished they had stayed up for a late night study session.
By the way, Drizzy just announced he will be postponing a few major cities thanks to an ankle injury.  His hometown, Philly and Newark will have to wait a little longer to see the 6 God and Future.  Here's the letter he wrote to fans today:
Get better soon Drizzy!
Photos: Drake's IG/Drake University's IG