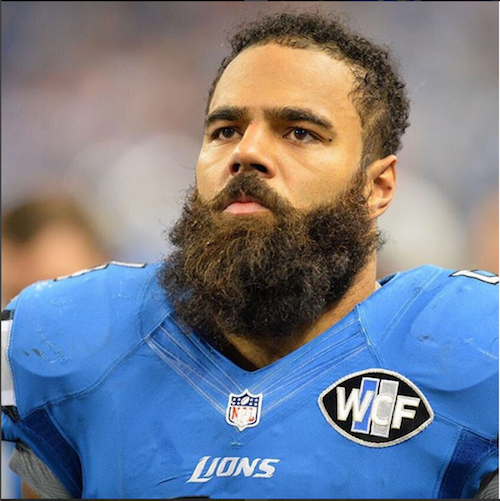 Detroit Lions player DeAndre Levy is putting his money where his mouth is by helping to raise funds for rape kit testing. Meanwhile, Derrick Rose's rape trial just began and he seems confident he'll win. Get those deets, plus NY Knicks and Houston Rockets ballers joining forces in a peaceful protest inside…
We feel in love with Detroit Lions linebacker DeAndre Levy when he penned a powerful piece for The Players Tribune about the realness of rape culture, and the responsibility men have in it. He challenged other athletes to step up and speak out about sexual assault and domestic violence. So, we had to dub him as our newest "woke bae."
Now, the 29-year-old Lions Defensive MVP is putting his money where his mouth is. According to ESPN, DeAndre is partnering with the Detroit Hustles Harder clothing line to sell "Our Issue" t-shirts. 100% of the proceeds made from the shirts will go to the Enough SAID program in Detroit.
The program raises private sector funding to test more than 11,000 forgotten rape kits, investigate the crimes and prosecute the resulting cases to secure justice and closure for victims, and ensuring a safer community for everyone. And with this month being Domestic Violence Awareness month, his new initiative is right on time.
So needed!  And we love when those with the power and resources to make a change actually do so in an impactful way.
In other sports news...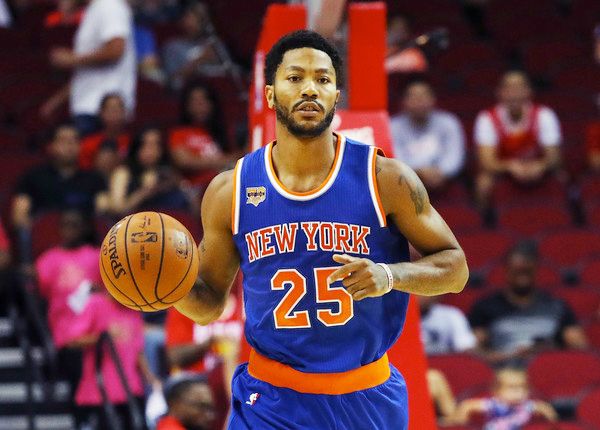 NBA baller Derrick Rose had a busy week. On the positive side, the 2011 NBA MVP started a new chapter in his NBA career making his preseason debut for the New York Knicks against the Houston Rockets on his 28th birthday. He spent the first eight years of his career playing for the Chicago Bulls.
While he hit the court in Houston Monday, the $21.5 million civil rape trial brought against him and two of his friends got underway in L.A. They are being accused of breaking into a woman's home and gang-raping her. Of course, the guys deny those claims, saying it was consensual, and Rose seems to be pretty confident that they'll win.
Rose spoke with reporters about the rape case before the game where he said, "I wanted to take it to court because I didn't want to settle. I don't feel like I did anything wrong. If I go up there and just tell my side of the story, I think I'll be alright."
Jury selection for the case started yesterday. Rose wasn't there, but the two friends listed in the lawsuit and the woman who launched the lawsuit were in attendance. According to USA Today, an attorney for Rose's two co-defendants is up-in-arms about the lack of black jurors in the L.A. jury pool. They claim only two of the 50 prospective jurors were black. And get this, Rose's lawyer noted that 15 of the first 27 possible jurors were Hispanic, the ethnicity of the woman.
Interesting.
You can catch up on all the details surrounding Derrick Rose and the rape allegations HERE.
Speaking of last night's game against the Knicks and the Rockets....
Looks like NBA ballers are joining NFLer Colin Kaepernick's silent protest.
Standing in solidarity, several players from the opposing teams (Knicks & Rockets) joined together arm-in-arm during a performance of the National Anthem before the game last night. Nice!
Peep the moving clip above.
Photos: USA Today/Lions' IG