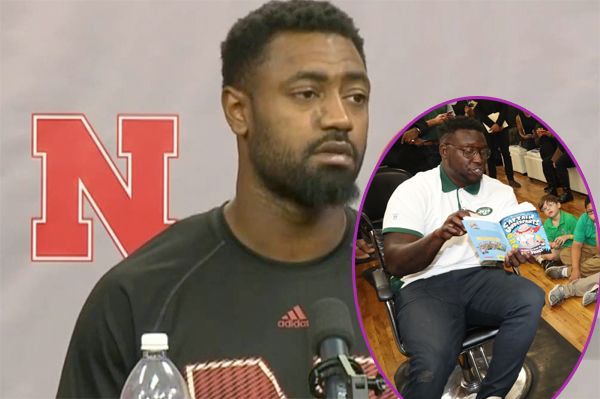 Nebraska college football player Michael Rose-Ivey opens up about racist threats that he has been showered with since joining Colin Kaepernick's silent protest. Take a listen to his emotional speech and peep pics of NY Jets baller Jarvis Jenkins reading to the kiddies inside…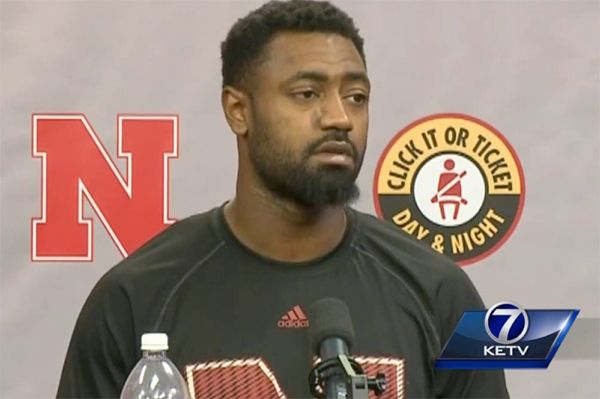 It's crazy that we're living in the year 2016 and black men are STILL being threatened to be lynched!
Nebraska linebacker Michael Rose-Ivey decided to join San Francisco 49ers quarterback Colin Kaepernick's silent protest.  He kneeled during the national anthem during Saturday's game against Northwestern to protest against racial injustices in America.
The college football player was joined by his Cornhusker teammates DaiShon Neal and Mohamed Barry.  Since then, they've all been bombarded with racist comments on social media.
During a press conference on Monday, Michael delivered an emotional speech explaining how fans have responded to their silent protest. While they have received some positive comments from fans, they've also received "hateful, racially-motivated comments."
"While the anthem played, I prayed along with DaiShon and Mohamed, and we asked God to watch over us and protect us, to look down on this country with grace and mercy and to look down on all of us with grace and mercy," he told the media. "As we looked at what's been going on in this country, the injustices that have been taking place primarily against people of color, we all realized that there is a systemic problem in America that needs to be addressed."
Some of the comments have come from (former) "friends, peers, fans, members of the media and others about the method of protest." That has to be hurtful.
"Some believed DaiShon, Mohamed and myself should be kicked off the team or suspended, while some said we deserved to be lynched or shot just like the other black people that have died recently," the Cornhusker remarked as he choked up. "Another believed that since we didn't want to stand for the anthem, we should be hung before the anthem for the next game."
What a sick world we live in. And "THEY" say racism no longer exists in 2016.
Michael said the Internet attacks aren't the only place he has experience racism. There have been several times he has been faced with racism on campus.
"I can't tell you the numerous amount of times I've heard the N-word being shouted at my teammates and I from opposing fans from behind our bench," he said. "My freshman year, I can remember going to a frat party and was told that 'n—–s are not allowed in this house.' We were escorted out several minutes later by security officers."
SMH!
Michael hopes the silent protest will help bring awareness to racism in America and hopefully, bring us all together to create change. He concluded,
"It is my hope that in taking a knee, the consciousness of the entire nation will be raised and everyone will be challenged to truly come together and work toward fairness, equality and justice for all."
We wonder if Gabby Union will chime in about what's happening at her Alma Mater.  Peep his powerful speech below:
In other sports news...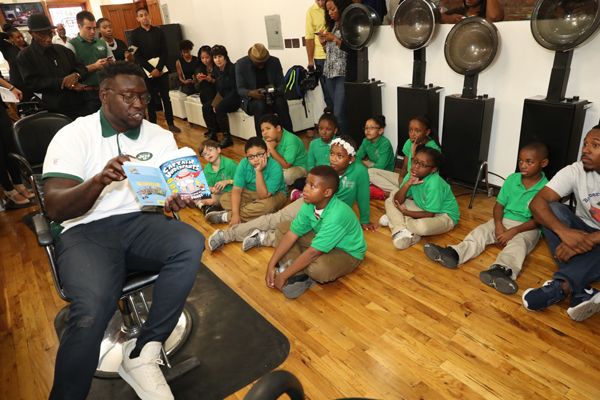 We love when YBF athletes give back!
NY Jets baller Jarvis Jenkins took some time away from his busy schedule for a good cause.
The defensive end stopped by the International Hair Studio in Harlem to donate and unveil a brand new Barbershop Books reading space.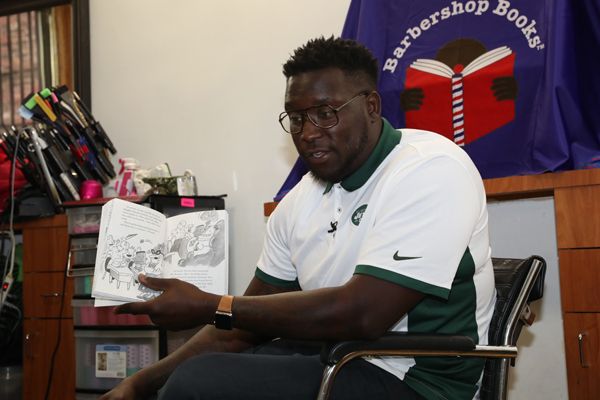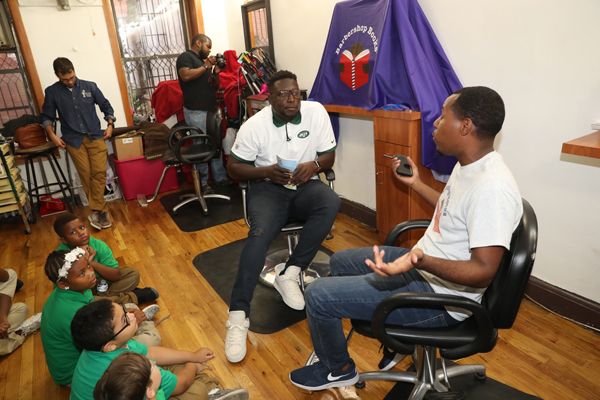 During his visit, he read a children's book to a group of elementary school students from the Alaine L. Locke Magnet School. Afterwards, CEO of Barbershop Books, Alvin Irby, joined him to discuss the importance of early reading among minority children, since research shows they suffer from drastically poor literacy rates compared to white children.
The NFLer also shared his personal struggle through the education system and why he felt the need to donate a new reading space at the Harlem barbershop.
Loves it!
Photos: Screenshot/Johnny Nunez via Coleman Entertainment Group