One tme for Rob defending his queen!  Rob Kardashian just put his sister all the way on blast in revenge for how the family messed over Chyna (again).  Deets inside....
If you thought all was well and good in the Kardashian/Jenner family, think again.  Rob is back to being extra pissed.  Sheesh.
Apparently his sisters and his mama were planning a baby shower for Rob and Chyna's new baby, but had no plans to invite Chyna, the mother of said baby, herself.
So, Rob took to his Twitter account to blast Kylie phone number to the masses.  She changed it about an hour or so later, but we know she was livid: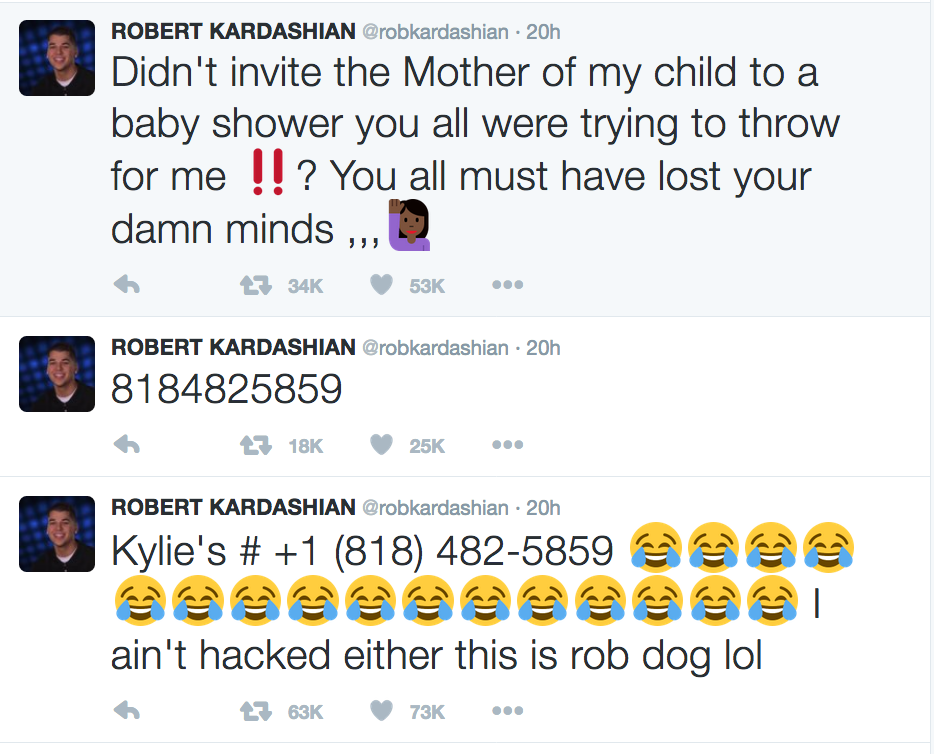 Folks tried to come for him calling him childish and a loser, and this was his response:
Bloop.
Meanwhile, CHyna seems unbothered.  She was busy posting smiley face with hearts emojis on Kris Jenner's latest IG posts, and let the world know she's having a baby shower on Sunday:
It's unclear if this is the same baby shower she wasn't invited to at first or not.  But Chyna just seems happy to be to be in a Kardahsian-Jenner space these days, by any means necessary.  So do you girl...
We're sure it will be filmed for one of the final shows of their new reality series "Rob & Chyna."
And then there's this: While the Chyna and Rob are still together, sources are talking and saying they're definitely not in a good place.  A source revealed to People.com:
"Rob and Chyna are not in a great place.  They are always up and down, but they went through a very rough patch as recently as last week. They weren't speaking, or even texting."
Damn homie.  That would explain why we barely see them together. 
We did, though, spot Chyna out at a store opening over the weekend with her son King Cairo:
Chick even had the paparazzi carrying her boxes to the car. Ha.
Photos: FameFlynet