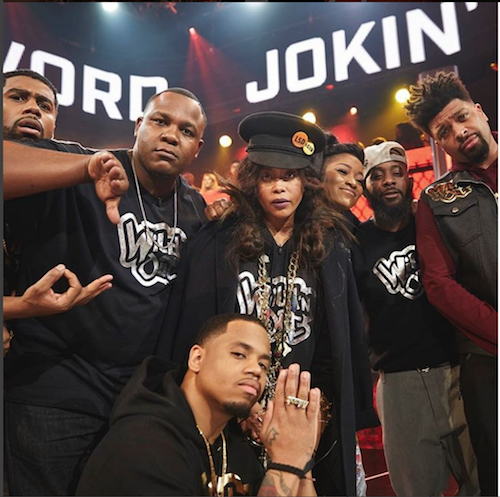 Erykah Badu and Keke Palmer were guests on the 100th episode of "Wild 'N Out" and they brought the HEAT! Go inside for the run down on their hilarious appearance….
Erykah Badu and Keke Palmer, along with Mack Wilds and Curren$y, were tapped as guests to celebrate the 100th episode of Nick Cannon's hilarious improv comedy series "Wild 'N Out."
The Grammy Award winner and the YBF actress were on their A-game as they led the black team to victory. Erykah's bars were on point in the first game of "Jokin' Word" where each player had to do a spoken word piece with a random subject.
The soulful songstress had to deliver a poem about Kanye West's clothes. And she went there:
"Let me see what this/ Yeezy season talkin' bout real quick/Two racks for a sweater with holes in it/That is some bulls**t/Cause see I rose wit you Yeezy/But this **** is a high amount/Why don't you hook your cousin up with that five finger discount."
Ha!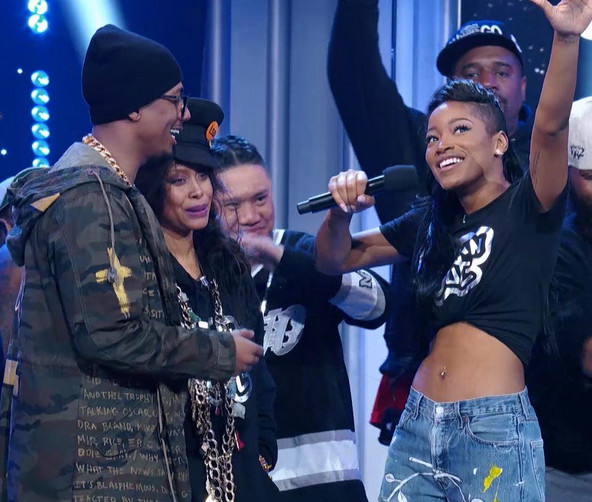 Erykah and Keke then led the Black team in song for the "R&Beef" challenge. They performed a track they called "Revenge of Tyrone" and easily won that one.
Check it:
The Freestyle battle round was next and let's just say Erykah went IN on Nick's golden, sparkly boots. She also went in on each guy on the gold team with her witty comebacks.
Peep the hilarious episode below:
Photos: Keke's IG/MTV's IG