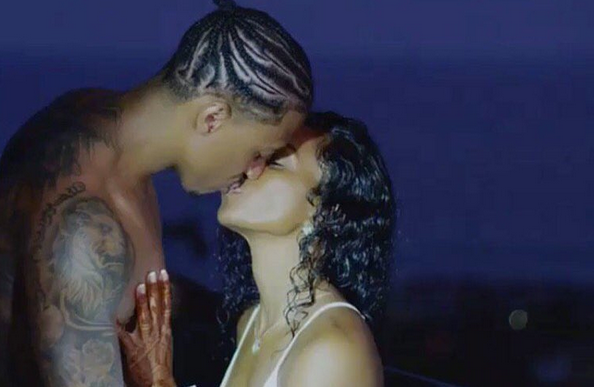 Nick Cannon is gushing over the undeniable chemistry he shares with Chilli. BUT, he claims he's just not ready to be in a relationship. Get the deets inside….
We first learned Nick Cannon and Chilli could possibly be dating back in July. And the two have been playing on the rumors with the TLC singer starring as his leading lady in his new sultry video for "If I Was Your Man." The track samples TLC's hit track "What About Your Friends" and features singer Jeremih.
Not only that, the 35-year-old "America's Got Talent" host and the 45-year-old singer was spotted being all flirty with one another while celebrating the season 11 finale of the competition show last week.
Below are a few pics:
Chilli & Nick Cannon Last night out & about after #AGTFinalepic.twitter.com/3NamOnUp9v

— Chilli Fanpage (@chillifanpage) September 15, 2016
Now, Nick is gushing over his video love interest (and rumored girlfriend) in a new interview with Rap-Up. He tells the site the chemistry between them is undeniable.
"Everybody's going crazy because they've seen all this stuff with Chilli and I," says Nick. "And the chemistry is undeniable."
BUT, he declares he's not ready for a relationship...yet.
"I take everything one day at a time," he explains. "I truly believe I'm definitely not ready to be in a relationship. I can't get it right. I haven't gotten it right yet, but I adore her and I truly have a passion for connecting with people that understand romance and understand connecting with one another. So you never know, but I'm so engulfed with today that I'm happy where it's at."
He didn't totally rule it out though and admitted he has always had a crush on her. We all know he has a thing for older women.  Mmhmm….
As for how he got Chilli to star in the video, he reveals:
"I put that line in there just freestyling [referencing the 'Hat to the back, swagged out, lookin' like Chilli' lyric], not knowing what would come about," he says. "A couple of weeks later, I was like, 'Yo, how crazy would it be if Chilli was my love interest in the video?' I put the call in, she said yes, and the rest is history."
The television host is gearing up to release his King of the Dancehall film and is currently working on his '90s-inspired R&B mixtape that will feature "If I Was Your Man." Hmm…maybe Chilli will be featured on a joint love track with the rapper/actor.
Peep his interview below:
In case you missed, peep the steamy clip from Nick's "If I Was Your Man" video HERE.