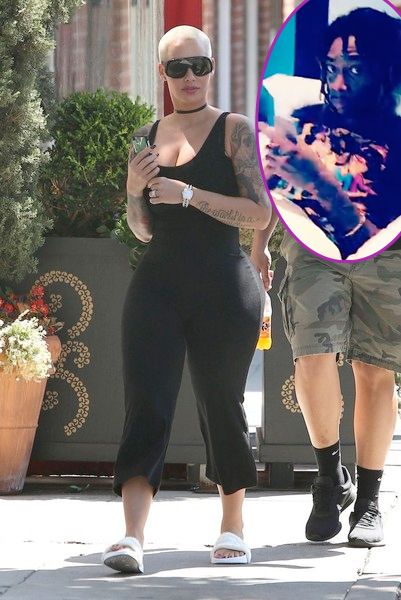 Wiz Khalifa was laid up in Amber Rose's bed this morning (with their son Sebastian) and then he responded with shade via Twitter about a threesome story she recently shared. We can't make this stuff up. Get the deets inside…
Oh MUVA!
Amber Rose and Wiz Khalifa certainly have an interesting "co-parenting relationship". And that point was proven this morning.
The late night talk show host, pictured above running errands in Beverly Hills yesterday, hopped on her SnapChat earlier today to share a "Good Morning" clip, reporting live from her bed. After telling her Rosebuds good morning, she panned the camera over to her son Sebastian, who gave a happy "Good Morning" to her fans, and then she panned over to Wiz, who was also laid up chilling in the bed.
Here's the proof:
@wizkhalifa why you didn't just say that to her when you were in her bed this morning? pic.twitter.com/FuuX4WTyUG

— brianna butler. (@bhrismalik) September 9, 2016
Apparently, Wiz hadn't checked the most recent Amber Rose headlines. But when he did, he found something he wasn't too happy with.
A few days ago, Amber appeared on the newly revamped "Loveline" relationship advice podcast where she opened up about her first and last threesome.
She said she had ran into a few friends and decided she would experience her first ever threesome.
"It was a guy and it was a girl, and it was f*cking horrible," Amber recalled on Wednesday's premiere episode. "I literally am having sleepless nights. It's horrible because, I'll be honest with you, I felt the pressure getting older to experience new things. I did it against my better judgment."
She continued, "With the threesome I felt like there was no passion. There was no kissing or rolling around. All those moments are not there."
Yeah, she's never been one to hide her sexcapades. Wiz soon read up on the interview and decided to respond to her via Twitter.  Apparently he didn't want to just roll over and tell her this to her face.
Here's what he said:
It didn't take long for Amber to respond to the backlash she has been receiving since doing the "Loveline" interview:
This is the watch -- Rolex to be exact -- she's referencing that she copped him for his 29th birthday yesterday:
Oh?!
Wiz then shot back (and eventually deleted):

Fans started coming for Wiz's neck asking why didn't he just say what he had to say while he was laid up in bed with her this morning. Apparently, he appeared in the SnapChat video before learning about Amber's threesome story (read from the bottom up):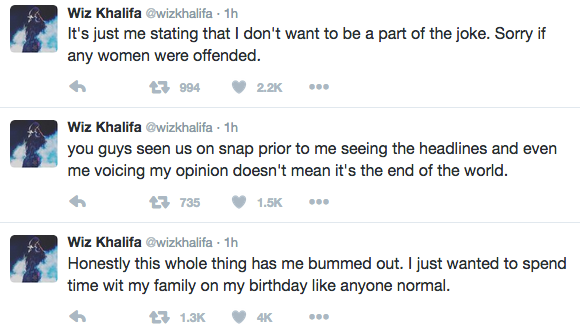 What a strange relationship the divorced couple has....
Photos: FameFlynet