Not only do they get ish done in the White House while taking on uphill battles filled with hate and criticism, but they know how to have fun together while doing so.  Go inside The Obamas' new Essence Magazine cover shoot inside...
Ugh!  We're not ready!  
In one of their last cover stories as the sitting President and First Lady, Barack Obama and Michelle Obama are serving YBF Coupledom on the cover of the October 2016 issue of Essence magazine.
FLOTUS looked stunning as always in a black, off-the-shoulder $435 dress with bell sleeves by Milly, a designer she wears often.  POTUS looked his usual dapper self in a perfectly tailored navy suit.

Cover story writer Lauren Williams revealed that the Obamas are, in fact, #everythinggoals, just as we thought these past eight years. She revealed:
"...on set, the First Lady asked that we play ANTI and Lemonade. when "Work" came on, the President joked with her, "hey, let's be Drake and Rihanna!" real tears at the coming of 2017, the end of an era."
We're slowly coming to terms (kicking, screaming, and letting out the loudest Fantasia-style yell and ugly cry) with the fact President & First Lady Obama will soon take their rightful places as everyday citizens.  They're leaving us with an impossible void to fill when it comes to the fabulousness we've become accustomed to in the White House.  But they're going out with a bang, telling everyone who will listen everything they've accomplished, the legacy they hope to leave, and their plans post-Oval Office.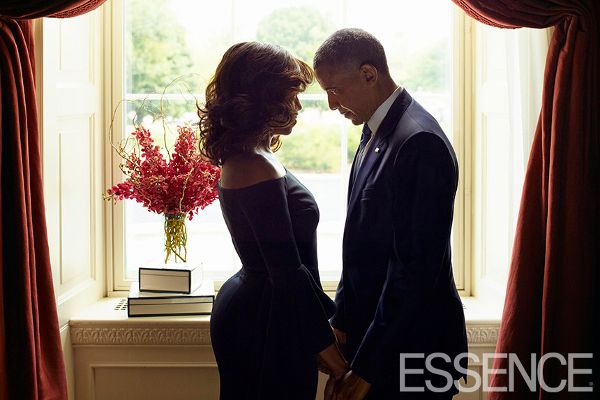 Swoon!
FLOTUS explained what she's looking forward to after the White House:
"I'm looking forward to life after, because there's still so much to do, so much impact that we can have. But personally, I'll love nesting in a new home. I'll love the possibility that I can, like, walk my own dogs in the street, maybe a date night or two without snipers and an ambulance in our motorcade…"
POTUS chimed in with what his post-Presidential life looks like saying:
"We've had these extraordinary experiences, and what a privilege that's been. But you don't realize the day-to-day stuff that is part of life and that you've missed. Something as simple as taking a walk and not having a big group of people around you, or being able to take a vacation and roam around without every single thing you're doing being scrutinized—I think that will be a great pleasure…"
President Obama says he truly hopes the next administration will carry on the initiatives they started like My Brother's Keeper, Let's Move, and Let Girls Learn. all of which indeed benefit black boys and girls in America.  He also revealed:
"…I can unequivocally say that America is better off now than we were when we came into office. By almost every economic measure, we're better off," President Obama said. "But having said that, we still have a lot of work to do."
As for what he'll miss most about the Office of President:
"The memories that last ultimately aren't the family memories," President Obama said. "Some of my fondest memories of the White House are just being with the girls on a summer night and walking the dogs around the South Lawn, talking and listening to them, trying to get Bo to move because sometimes it's hot."
Awww.
And Mrs. O. revealed the legacy she hopes they leave for black children as well saying:
"I think when it comes to Black kids, it means something for them to have spent most of their life seeing the family in the White House look like them," Mrs. Obama said. "It matters. All the future work that Barack talked about, I think over these last few years, we've kind of knocked the ceiling of limitation off the roofs of many young kids; imaginations of what's possible for them. And as a mother, I wouldn't underestimate how important that is, having that vision that you can really do anything—not because somebody told you, but because you've seen and experienced it. I think that will be a lasting impact on our kids."
The commemorative issue is on newsstands Friday, September 9!
EXTRAS:
1. Airbnb said that it would institute a new nondiscrimination policy that goes beyond what is outlined in several anti-discrimination laws.  STORY
Photos: Kwaku Alston for ESSENCE