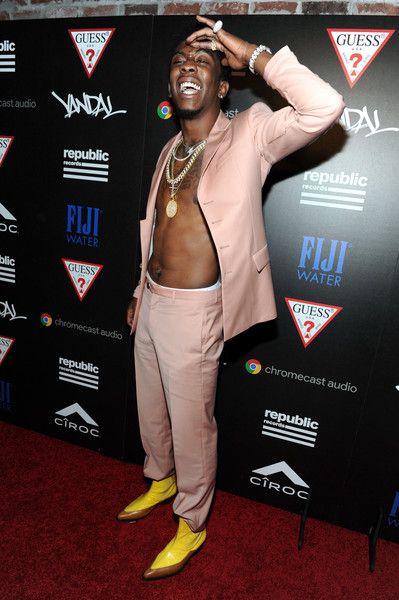 Rapper Desiigner was arrested last night in New York City along with four other people after a road rage incident.  Apparently, his broads didn't tell him it's illegal to carry around a loaded gun (assuming he has no license) and drugs.  Deets inside...
Looks like "Panda" rapper Desiigner was a bit too turn inside his SUV last night.  The people in his car and the driver of another car reportedly got into it, and the driver of the other car called the cops on Desiigner and his crew claiming the rapper pointed a gun at him.
Despite the rapper's SUV pulling off from the scene, the other driver took down the license plate number and gave it to cops.  Cops found the SUV a shirt time later, conducted a search and seizure, and all five people -- including the Brooklyn rapper -- were arrested.
According to TMZ, the felonious charges involve possession of a large amount of drugs found in the center console, intent to sell, and a loaded weapon.  SMH.  The site reports:
Our law enforcement sources say they found Oxycontin and other drugs.

Desiigner and 4 others in the SUV were arrested. All 5 were arrested and charged with criminal possession of a controlled substance and criminal possession of drugs with intent to sell, which are felonies.

Desiigner was also charged with felony criminal possession of a loaded weapon and menacing (that's for allegedly pointing a gun at the other driver).
All five people are still in custody. 
Gun possession charges in the state of New York are always a doozy.  Good luck with that.
Photo: Getty