In today's magazine round up, we have Laverne Cox channeling Beyonce and Tina Turner for Cosmopolitan, The Weeknd opening up about Black Lives Matter in VMAN magazine and Joan Smalls covering GLAMOUR magazine's newest issue. Get it all inside….
All the single ladies, now put your hands up!
"Orange is the New Black" actress Laverne Cox is flexing her modelling skills as she transforms into her personal superheroines for Cosmopolitan magazine. 
The upcoming "Rocky Horror Picture Show" star pays tribute to a few female icons, including Beyonce, Tina Turner and model Tracey Africa.
The EMMY nominee, who will present at this year's awards, says Mrs. Carter inspires her to keep on going even when she doesn't feel like it.
"Beyoncé represents excellence," says Laverne. "Her work ethic is like nobody else I've ever seen. There were so many moments when I was shooting Rocky Horror, and I'd be exhausted. My body would be hurting, and I'd be like, 'Beyoncé. Beyoncé does this.' You have to just put in the work."
WWBD is also our…
Laverne then transform into Rock 'N Roll legend Tina Turner where she opens up about Tina being an inspiration to black women everywhere.
"The pain, pleasure, and agony of all she's been through is in her voice, Laverne says. "Her story is the story of so many black women who've endured abuse and come out the other side in such a brilliant, beautiful way."
Nailed it!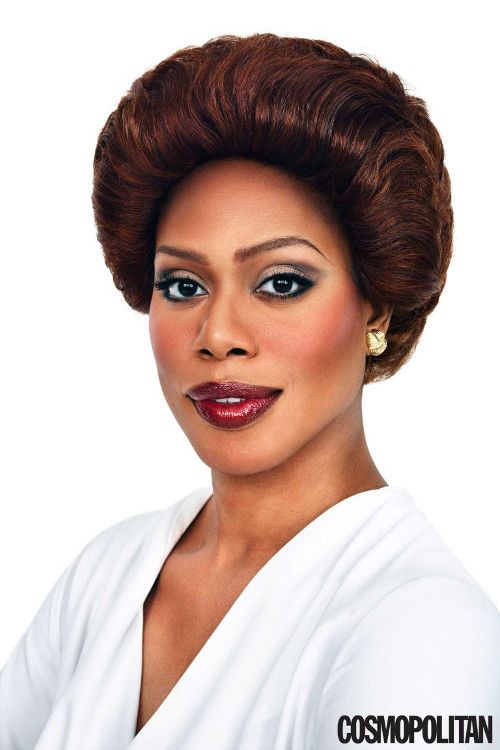 The actress then transforms into trailblazing trans model Tracey Africa, who is the first African-American trans model.
"She was a black trans woman who modeled in the '70s," she says. "And had cosmetics deals and a hair contract with Clairol — it was a big deal. People think, 'Oh, this trans revolution is just starting,' but we've been around for a very long time. It's important to know that there's been a path blazed for me."
Peep a behind-the-scenes clip of Laverne's transformations below: 
"Rocky Horror Picture Show" premieres October 20th on FOX.
In another magazine...
R&B crooner The Weeknd not only has a new successful album (Beauty Behind The Madness), but he also has a new magazine cover. The "Earned It" singer graces the cover of VMAN 36 where he opens up about supporting the #BlackLivesMatter movement.
While he says he normally steers clear of politics, he says he HAD to speak out (via Twitter) in support of the movement fighting for equal rights for people of color.
He tells the mag:
"I promised myself that I would never tweet or talk about politics and focus on the music, but I was just so bewildered that we lost more of our people to these senseless police shootings," Tesfaye says. "It's hard to wrap my head around the fact that there are people who can't or won't see what Black Lives Matter is trying to accomplish. I wish I could make music about politics. I feel like it's such an art and a talent that I admire tremendously, but when I step into the studio I step out of the real world, and it's therapeutic. It's an escape, but recently it's been very hard to ignore, and it's also been very distracting. Maybe you'll hear it in my voice, but it is not my forté."
You'll recall, he backed out of a performance on "The Tonight Show Starring Jimmy Fallon" after learning Republican presidential hopeful Donald Trump was also set to appear on the show.
Here's a fun fact: Before The Weeknd ever thought of making music, movies were his passion. He reveals,
"Before I ever thought of making music, I wanted to make films. I was writing screenplays and short stories before I ever wrote a full song. David Lynch, alongside David Cronenberg, Stanley Kubrick, and Martin Scorsese play a huge part in my brand, my looks, my sound, and my aesthetic," he says. "At one point, my hair looked like Eraserhead."
You can read his full interview here.  The Weeknd's VMAN36 cover hits newsstands today.
Also on the magazine front...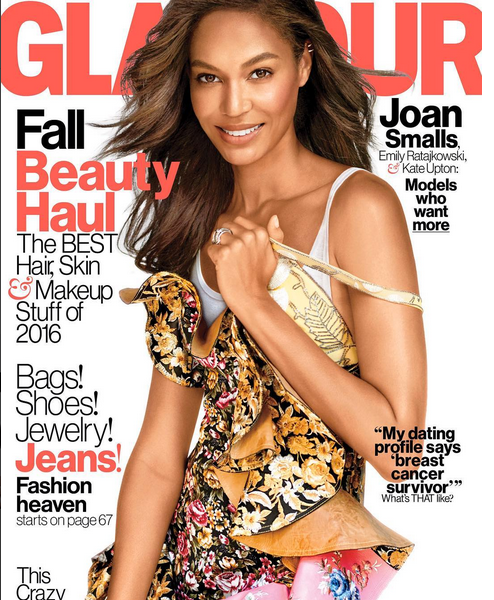 Supermodel Joan Smalls unleashes her beauty on one of three covers for GLAMOUR magazine's October 2016 issue.
Inside, the 28-year-old Puerto Rican beauty talks about setting big goals and stopping at nothing to achieve them. "Even when I was hearing no, no, no…I wanted to prove them wrong," Joan says.
Joan also talks about finding confidence after moving to the U.S., breaking barriers in the modeling industry and getting into real estate.
Below are a few highlights:
GLAMOUR: You're a doer. How did you jump-start your career?

JOAN SMALLS: Initially that meant finding a new agent; I needed someone who believed in me like I believed in myself. I had a game plan: Make sure to get an exclusive. Shoot with this photographer. Go to events. Be social. But also being black and Hispanic, you have so much to prove to yourself and your family and everybody back home. I wanted to prove to people it doesn't matter if you come from a small little island, that you can make it in this industry.

GLAMOUR: Did you always feel confident? Or did that come later?

JS: Back home I had always been comfortable around people. I was the troublemaker, always being funny—that's just who I am. I'm Latina; I've always had that extra little flavor. But when I got to New York, it became about being comfortable with myself in a place where I didn't know many people, and that was the big challenge. Ultimately my personality helped me build relationships with the people I was working with, and I was able to stand out.

GLAMOUR: Staying focused clearly paid off. Models.com ranks you as one of the Money Girls [one of the industry's highest earners]. What feels most important to you now?

JS: Breaking barriers. When it comes to modeling. I think there's only so much runway I can do, so many covers—which I love—but it's also about doing things that haven't been done.

GLAMOUR: So what's next—future goals?

JS: Real estate fascinates me. I bought an apartment in Brooklyn about a year ago and turned it into a models' apartment. I wanted to create a place where new models would feel comfortable: It has a gym, a doorman, and there's not, like, 10 of them in two bedrooms. My boyfriend [Modellounge founder Bernard Smith] and I are always thinking up ways to tie fashion with other worlds. You'll see celebrities doing certain things, and we're like, Why aren't models doing it? Then we're like, Hmm, let's pitch that idea! That's how I became W Hotels' first global fashion innovator [creating design, event, and travel product ideas and brand partnerships]. He's someone I can bounce ideas off of.
You can read the Victoria's Secret model's full interview here. In meantime, get into her high-fashion spread below:
Versace coat, top, pants, and boots. Efva Attling earring, worn throughout.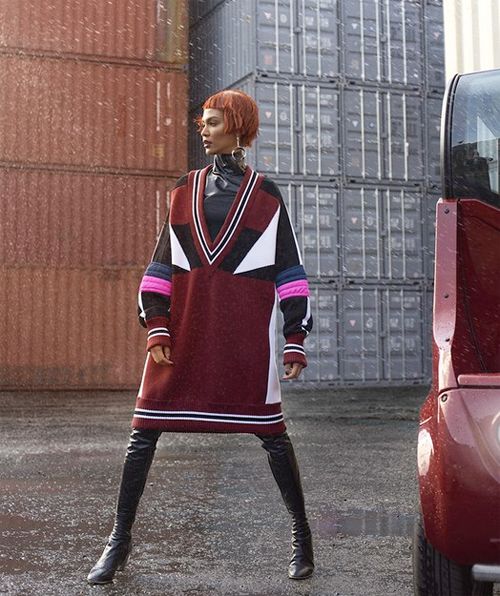 Emilio Pucci sweater. Tome turtleneck. Proenza Schouler boots.
Ellery coat. Marni sweater. Isabel Marant pants. Michael Kors Collection booties.
Peter Pilotto turtleneck.
So gorge.
Photos: Ruven Afanador via Cosmo/ Inez & Vinoodh via VMAN/ Carter Smith via GLAMOUR