Chance The Rapper is dishing deets on his meeting with President Barack Obama and it was everything he thought it would be plus more. Find out what he told GQ and peep candids of Remy Ma and Papoose running into Fat Joe at Starbucks inside…
When you're a budding rapper in the rap game, it means something when the leader of the free world knows.
Chi-town native Chance the Rapper is likely one your kids/nieces/nephews/little cousins' favorite rappers. And he's also a favorite in the White House.
Thanks to First Daughter Malia Obama, her dad President Barack Obama is also a fan. So much so, his third mixtape Coloring Book could likely be heard through the halls of the White House.
In a new interview with GQ for the magazine's September issue,  the 23-year-old rapper dishes on Malia's obsession with his music and what it was like meeting the Commander-in-Chief for the first time.
He said,
"They're [the White House] bumping Coloring Book hard up there. If you go up there, you'll probably hear Coloring Book. This is not a joke at all. "Malia listens to Coloring Book. And I send them stuff sometimes. I haven't seen Malia since I was a kid. I think they were both in school the day that I went up there recently, but Barack was talking about it. Or, uh, President Obama was talking about it…. He didn't say it publicly."
He added,
"There was a big meeting [in April] about My Brother's Keeper and criminal-justice reform… And at the end, everybody takes a group photo, and he's [Obama] signing stuff…. And he makes me wait till the end, and then he brings me up to his office, and we had a really good conversation about what I was working on. He told my I needed to start selling my music. He's a good man. Even if he wasn't president, if his ass worked at, like, Red Lobster, he'd still be just a good man working at Red Lobster."
Nice!
The Chi-town rapper, who refuses to sign with a major label, dished on what it was like working with Kanye West on his Pablo album. He spilled,
"[M]y vibes that I brought were actually gospel vibes. I was like, 'Let's sample this, let's make some glory songs'…. I would say almost 60 percent of working with Kanye––let's say 53 percent of working with Kanye––is speeches."
Not surprised.
Chance also opened up about his battle with drug addiction while living the rockstar lifestyle and how having a baby helped bring his faith back:
"I was just f*cking tweaking. I was a Xan-zombie, f*cking not doing anything productive and just going through relationship after relationship after relationship." So he moved back to Chicago, got back together with his girlfriend, and they got pregnant. Chance opens up about complications in the pregnancy, which ultimately is what helped him turn his life around.

"I think it was the baby that, you know, brought my faith back. My daughter, when she was still in utero, she had, they call it atrial flutters. It's kind of like an irregular heartbeat. But when you're in utero, it's real hard to detect and also to treat. Sometimes you have to get a C-section so they can operate on the baby. Never told this to anyone. And it made me pray a whole lot, you know, and need a lot of angels and just see shit in a very, like, direct way. And…you know, God bless everything, it worked out well."
Well good for him! You can read his full interview over at GQ.
Speaking of rappers...
That BX love!
Remy Ma and her husband Papoose made a quick Starbucks the other day after wrapping up an interview with Power 105 radio personality Angie Martinez. And who do they run into? Remy's friend/collaborator Fat Joe!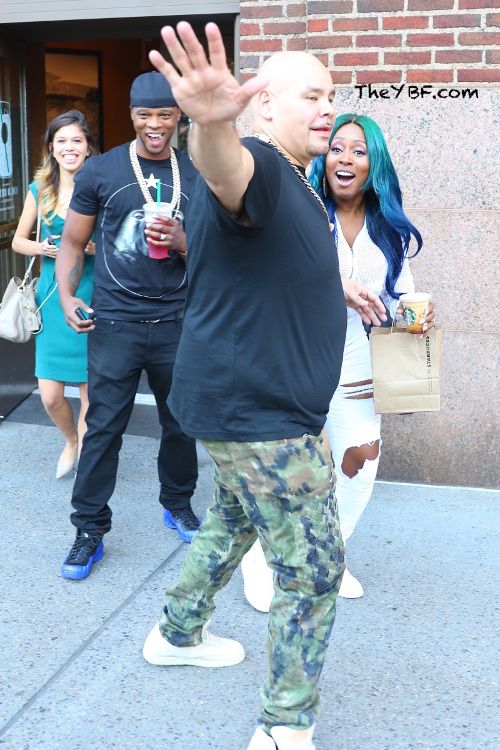 The "All The Way Up" emcee looked totally surprised when she saw Joe walking down the street. She ran up on him embracing him with a big hug while laughing hysterically. Aww! Coincidence or staged...cute moment nonetheless.
Photos: Mark Seliger via GQ/Splash