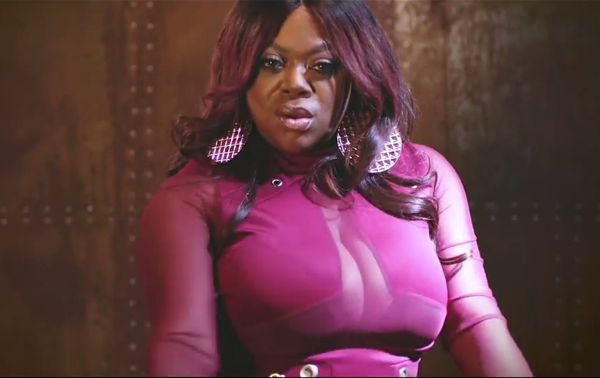 Countess Vaughn has unveiled her new "Do You Love Him?" video and the Internet doesn't seem to be here for it. Find out why inside…
If you've been keeping up with "Hollywood Divas," you saw a behind-the-scenes look at Countess Vaughn's new video for her track "Do You Love Him?"
Countess called up her co-star Lisa Wu to direct the visuals.  After a big misunderstanding on the day of the shoot, the ladies pushed through and got the project done.
The video treatment takes viewers on an emotional rollercoaster after a Countess finds out her man is creeping with another chick behind her back.
Watch Countess do her thing (and turn up the volume so you can actually hear, no shade) below:
Now, Twitter is going in on Countess for her "lackluster" visuals. Below are a few tweets from unsatisfied viewers:
Okay, I need to figure out how to get those 3 minutes back. What in THE holy hell? #CountessVaughn: https://t.co/nxTG62BAJc

— Karen Hunter (@karenhunter) August 18, 2016
Me looking at Countess Vaughn 's video like who signed off on this? #DoYouLoveHimpic.twitter.com/sOkGXQkrDG

— ShakariSBriggs (@ShakariSBriggs) August 18, 2016
Who told Countess Vaughn that video was ok

— Miss Lake Minnetonka (@DiirtyDiiana) August 18, 2016
I was expecting more from that countess Vaughn song and video but it sound like it was recorded through a fan in a bathroom

— BΔNKS® (@OhhhhhBanks) August 18, 2016
Countess Vaughn video gotta be a parody.

— CokoButta (@DeverauxMike) August 18, 2016
Me right before going off on Countess Vaughn for dropping a video and vocals for #DoYouLoveHim. pic.twitter.com/wKPQntIFId

— Master JOshi (@AyjoKnows) August 18, 2016
we need to have a talk @1lisawu and @Countessdvaughn

— R (@ravontay) August 18, 2016
Who put this Countess Vaughn video on my feed? -Yall finished or yall done? @jaicyn_@tvonetvpic.twitter.com/copdyvtf5Q

— Cindy046 (@Cindy046) August 18, 2016
Yikes!
Are y'all feelin' Countess' new video, or nah?