Korryn Gaines was shot and killed by Baltimore police during a standoff in her home. Her 5-year-old son, Kodi Gaines, was shot in the arm during the altercation and now he's revealing what happened. Get the chilling details inside…
On Monday (August 1st), 23-year-old black mother-of-two Korryn Gaines was shot and killed by police while her 5-year-old son Kodi Gaines was shot in the arm after a hours-long standoff at her Maryland apartment ended in gunfire.
According to reports, three officers with the Baltimore County police arrived at Korryn's apartment around 9:20 a.m. on Monday to serve warrants to her as well as to a man who also resided there.
Korryn had an arrest warrant issued for failing to appear in court after a traffic violation in March. The man was wanted on an assault charge.
The Washington Post reports that police officers obtained a key to Korryn's apartment and they found her sitting on the floor with her 5-year-old son wrapped in one of her arms and allegedly a shotgun in her other hand.
The report goes on to say after several hours of negotiation, Korryn allegedly raised the shotgun at officers and allegedly told them she would kill them if they did not leave. That's when gunfire was exchanged (Korryn reportedly fired two shots), resulting in the death of Korryn and her son getting shot in the arm.
The man who police were serving a warrant to fled the home with a 1-year-old child for whatever reason, but was later taken into custody, according to police.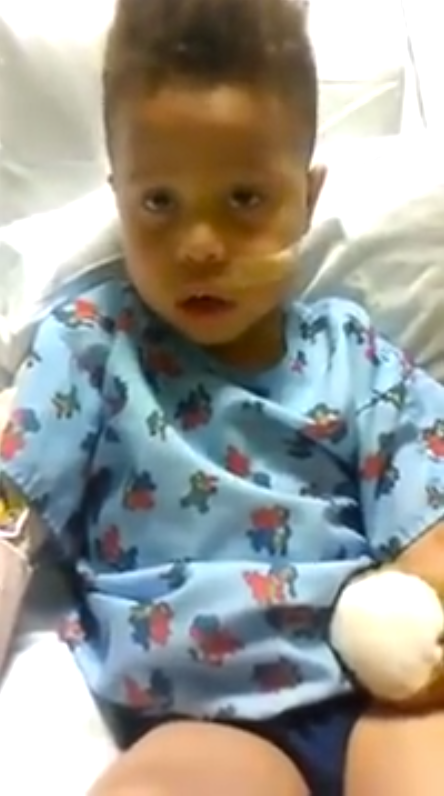 Now, her son Kodi is speaking out telling the chilling details of what happened the day his mother was killed.
While police reports claim they used a key to get in the apartment, Kodi said they kicked the door down! He said his mother asked him to leave with the man, but he didn't want to leave her. He also said that the police purposely shot him in the arm.
As pointed out by NY Daily News writer Shaun King, Kodi never said anything about his mother pointing a gun at police and threatening them.
It's a hard video to watch, but you can check it out below:
Below is a clip Korryn took as the SWAT team entered her home before she was shot:
Before Korryn was killed, she posted a series of videos on her Instagram page back in March when she was pulled over by police for driving without a license plate. She told officers she was in the midst of suing the Baltimore Police Department and the Eastern Correctional Institution and that they took the plates off of her car. Her two children were in the car with her and witnessed it.
Peep the series of clips below: 
So hard to watch.
When Kodi was transported to a local hospital, family members took videos of how they were being treated by police: 
There has been a lot of talk about why Korryn's social media accounts were taken down right before police killed her. Baltimore police chief Jim Johnson had this to say during a media conference:
"We did in fact reach out to social media authorities to deactivate her account in order to preserve the integrity of the negotiation process with her and for the safety of our personnel, her child."
Meanwhile, rapper Kevin Gates spoke out about the unfortunate situation where he calls Korryn "a strong black queen" for dying for what she believed in. Check it:
Whether you feel Korryn was right or wrong, it's just unforunate that her son has to live with seeing his mother kiled in front of him. Just a tragic story all around. Our prayers are with Kodi and his family.
EXTRAS:
1. Dylann Roof, the man who killed nine people at the Emanuel African Methodist Episcopal Church in Charleston, SC, was assaulted by inmate in Charleston jail shower. STORY
2. George Zimmerman allegedly punched in the face for bragging about killing Trayvon Martin. STORY
Photos: Facebook/YouTube