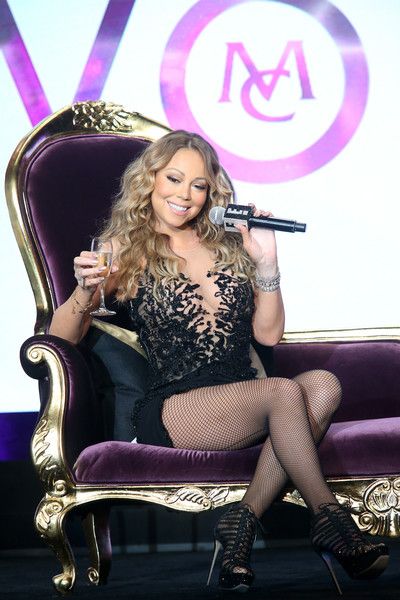 It wouldn't be Mariah Carey if whatever she's doing isn't over the top. Chick pulled out all the stops at her "Mariah's World" TCA presentation. Get the deets and peep a new sneak peek at her upcoming docu-series inside…
Leave it to Mimi to turn something like the TCA summer tour into a total royal affair.  Or whatever you want to call it...
Mariah Carey was tapped to speak at the "Mariah's World" panel discussion to promote her new E! docu-series at the 2016 Television Critics Association Summer Tour held at the Beverly Hilton Hotel this week. But, it wasn't like anything they've seen before.
Before she hit the stage, Mimi had waiters flood the ballroom to serve up a glasses of Veuve Clicquot champagne and Compartes chocolate with her name on it to every table in the room. Guests were also treated to her #1 to Infinity CD before she hit the stage.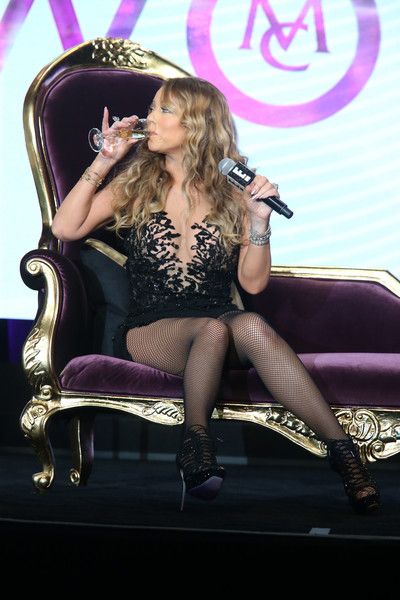 Following the "pre-show," it was time for Mimi to make her grand entrance. A velvet chaise was placed on the stage, purple lights lit up the stage and then the Elusive Chanteuse singer appeared with six shirtless men to assist her. Of course. She took a seat on one of the men's backs, then proceed to the chaise to chop it up (and sip it up) about her new E! docu-series. SO Mariah.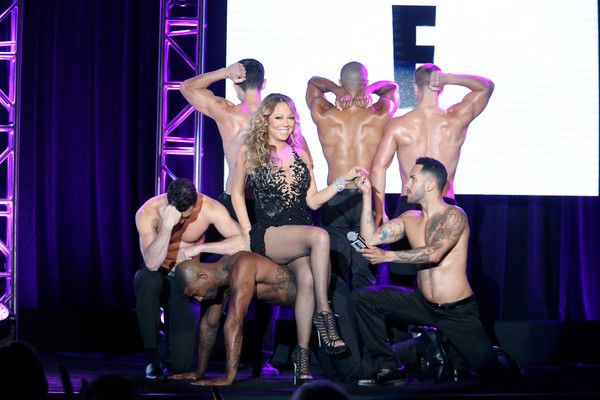 While she and her ex-husband Nick Cannon (who's rumored to be dating singer Chilli) have long called it quits, they're still good friends and seem to be co-parenting quite well. So much so, that he may make an appearance on the show IF he makes the cut. "We are not together anymore, but he's cool about being on the show and coming around with the kids and very supportive," she said during the panel.
Her twins Roc and Roe will make a few appearances, but not too much.
When asked how was it being a judge on "American Idol," she responded,"It was the most abusive situation of my life." She took a sip of champagne and followed up saying,"By the way, you've just driven me to drink." Ha!
Oh, and while she was answering questions on the panel, her glam squad would periodically come out and touch up her hair and makeup. "Anybody else need a touch up? It's very expensive," she joked.
Along with the TCA panel, here's another "Mariah's World" sneak peek. Cameras followed the mom-of-two while she trekked along overseas on her "Sweet Sweet Fantasy" tour to give fans an inside sneak peek at her life and what she's really like behind-the-scenes.
The show will also gives fans a look at how she's planning her super lavish wedding to her billionaire fiance James Packer. Will she have albino elephants and Noah's Ark incorporated in the ceremony? Find out above.
After getting pushed back from a summer premiere, "Mariah's World" will debut December 4th at 9pm EST on E!
Photos: Getty