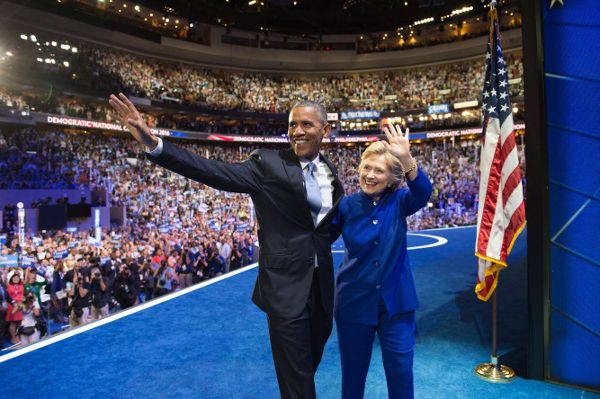 Hillary Clinton officially accepted the Democratic Nomination for President Thursday night, but first, she got a shimmering endorsement from sitting President Barack Obama.  Here's what we loved about his speech at the DNC....
Hugs, laughs and more for his former rival turned cabinet member Hillary Clinton: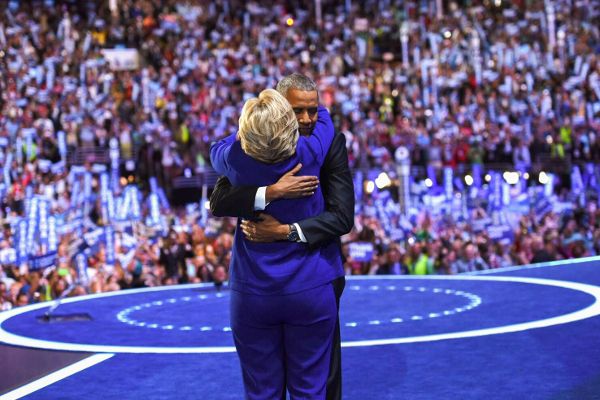 This week Prez O helped Hil move one step closer to moving back into the White House.  And he gave one of his best speeches yet at the Democratic National Convention in Philly this week as he passed the torch.  Here's 4 things we loved about it...
1.  He walked out on that Denzel-walk-out steez.  Yassss.  Face glowing, hair laid, confidence on 100 and dare we say, pretty damn sexy.
2.  He made it known he hears US when we're constantly lifting him up amidst the foolishness of the Republican party.  He knows much of America has his back, so all of our support hasn't fallen on deaf ears.  And he wants the same support for Hillary.  He said:
"Time and again, you've picked me up. And I hope, sometimes, I've picked you up, too. And tonight, I ask you to do for Hillary Clinton what you did for me. I ask you to carry her the same way you carried me. Because you're who I was talking about twelve years ago, when I talked about hope—it's been you who've fueled my dogged faith in our future, even when the odds were great; even when the road is long. Hope in the face of difficulty, hope in the face of uncertainty, the audacity of hope! America, you've vindicated that hope these past eight years."
3.  President Obama laid out exactly how much progress had been made under his Presidency, in case folks forgot.  He made a super strong case for why the Dems need to stay in power to make sure the initiatives started get carried on.  His progress was recapped by the White House FB page:
"America is back to work, with 14.8 million private-sector jobs created over the last 76 months. Unemployment has declined from 10% to 4.9%. We cut our deficit from 9.8% of GDP in 2009 to 2.5% today. Health care is no longer a privilege for a few, but a right for all. More of our troops are home with their families, with fewer than 15,000 remaining in Iraq and Afghanistan. Clean energy is increasingly powering America's homes and businesses. And where there were only four states in 2009 that recognized the right to marry the person you love, love won. That's progress."
Then, he gave Hillary the props she deserves when it comes to her qualifications.  We gotta agree, regardless of any personal feelings anyone may have about Hil:
"And no matter how daunting the odds; no matter how much people try to knock her down, she never, ever quits. That's the Hillary I know. That's the Hillary I've come to admire. And that's why I can say with confidence there has never been a man or a woman—not me, not Bill—more qualified than Hillary Clinton."
4.  He won over #NeverTrump Republicans.  Thankfully, there's still a good amount of folks on the right who have some sense and backbone enough to not vote trump into office.  Now, the political orphans feel they have somewhere to go.  Obama said in his speech that Trump's message "wasn't particularly Republican — and it sure wasn't conservative."  He had plenty of Reagan references and messages of responsibility.  Those voters, now, are reportedly now more open to voting for Hillary.
Check out the full video below:
BONUS:
We so love when FLOTUS stans for her man:
That's my man! Your truth, dignity and grace reminds us what real leadership looks like. I am always proud of our @POTUS. -mo

— The First Lady (@FLOTUS) July 28, 2016
Photos: Hillary for America/AP