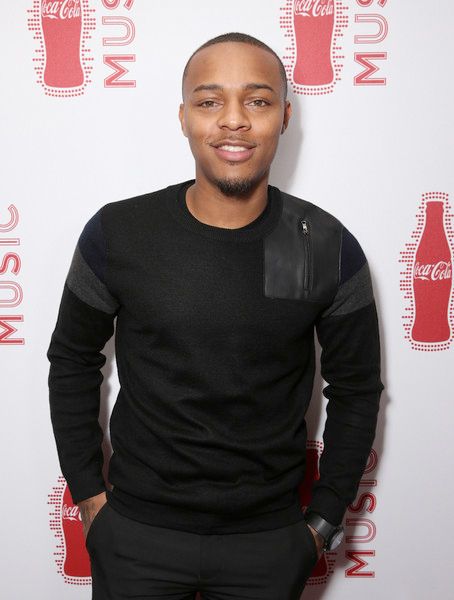 Bow Wow is catching heat on social media after his political statements and claims that he is of a mixed race. Get the latest inside…
Shad "Bow Wow" Moss has Twitter on fire after a few comments he made in regards to Republican presidential hopeful Donald Trump.
While Bow Wow isn't endorsing Trump for president, he says he's still going to be laid up in Trump hotels when he travels. Hmph. And that's not all.
He also says he's not interested in voting in the upcoming election because he's not really into politics and that the government is controlled by an upper power.
Sighs…
Peep his tweets: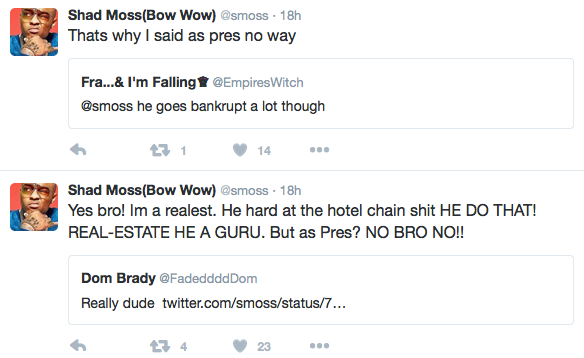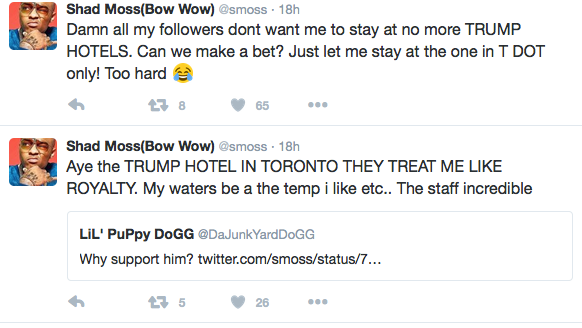 He claimed to be somewhat joking, but it's irresponsible nonetheless.
Bow Wow also let us in on a little know fact: he's mixed! He doesn't deny he's black, but he made it clear that he's more than just black. He says he has Native American blood running through his veins. When a Twitter follower reminded him that his ancestors fought hard for the right to vote, he responded saying he's "not sure what his ancestors were doing." When a fan brought up the movie SELMA (that displayed exactly what black people were doing to fight for their civil rights), he claims he can't relate because he's not related to anyone in SELMA.
Really Shad?  The level of privilege here though.  We guess his money and fame "blocks" him from being a treated the way Trump & his followers treat all minorities.  *rolls eyes*
Peep the tweets: 



We'll just leave this here. Thoughts?
Photo: Getty