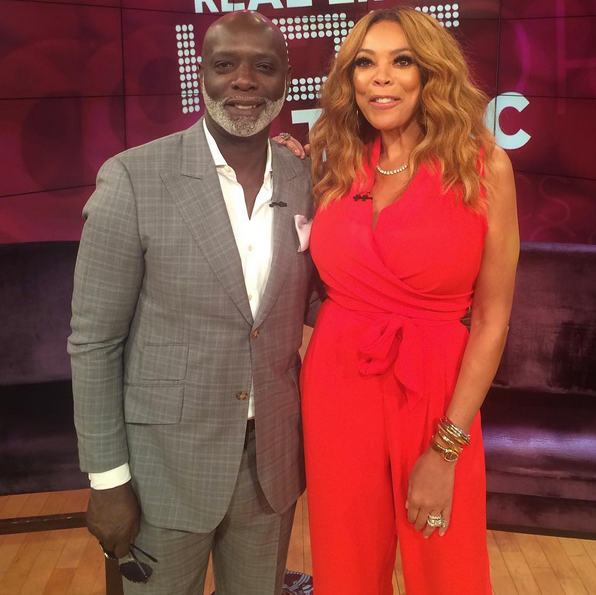 "Real Housewives of Atlanta" star Peter Thomas appeared on daytime television today to tell his side of the divorce drama surrounding himself and his estranged wife Cynthia Bailey. He explains what exactly was going on in that video where he inappropriately caressed another woman, why Cynthia didn't fully embrace their marriage, his least favorite housewife and much more. Details inside….
Last month, Peter wrote an open letter explaining he was blindsided by his wife Cynthia Bailey's divorce announcement. While we knew Peter and Cynthia were separated after six years of marriage, we didn't know they were contemplating divorce. And neither did Peter. Cynthia told E! News during ESSENCE Festival that she and Peter were over and that divorce was the next step for them.
So, Peter stopped by the "Wendy Williams Show" to explain the demise of their relationship. He said he was shocked to hear Cynthia wanted to divorce him because while they had talked about separating, they never discussed actually divorcing each other. They were separated for 5-6 months (he's in Charlotte & Cynthia is in Atlanta) and that he had only seen her once during that time.
On why he felt Cynthia made the public announcement with discussing the news with him first, he said,"Our whole marriage is on the show and it's not easy to live that life. Every time I go out with any staff member, someone is always saying I'm doing this or doing that. She can't deal with the ridicule. I don't think she's built for that. "
The father-of-five was adamant that he NEVER cheated on Cynthia and that he NEVER embezzled money from her. He said he and Cynthia don't even have joint bank accounts, so he doesn't have any access to her money.
As for that video that went viral that led to cheating allegations, he explained what exactly was going on in the clip.
Peter said he was hanging out at his friend's club, which so happened to be a white club. The woman in the video visits his bar all the time and when she saw him talking to another group of people, she started asking him why he was acting brand new "talking to all of your white friends."
So, he said he went over to her to tell her to stop talking reckless. He said when the video is slowed down it looks crazy, but it's not what it seems.
Peter apologized to Cynthia because he shouldn't have put his hands on the woman's neck the way that he did. He said after a few drinks at 2 in the morning, he wasn't even thinking about that.
Then there was a picture floating around on social media of Peter dining with a mystery woman around 2:30AM at a diner last month. He revealed he wasn't on a date and that the woman in the picture is the Vice President of his company. He said after work, they go to that diner at least 4-5 times a week.
As for Cynthia's daughter Noelle, he said they have a close relationship and they speak all the time.
While he loved being married to Cynthia, he said he doesn't think Cynthia fully embraced the marriage because she had been single all her adult life and was use to being independent.
Wendy asked Peter to reveal who was his least favorite housewife. He responded, "It probably would be Porsha [Williams] and then Phaedra [Parks]. I don't get along with those girls at all. Those are the kind of girls who keep on projecting negative things about you. Sort of like how Donald Trump does with Hillary [Clinton]."
Speaking of Phaedra, he said he speaks with her estranged husband Apollo Nida at least once or twice a month while he serves his 8-year prison sentence.
The sports bar owner said he's still on the show and will be on the upcoming season. He revealed "RHOA" doesn't pay him for starring on the show, but he joked that they will have to figure out something now since they've broken up.
Lastly, he said he wants people to know he works really, really hard for everything he has and he didn't take any money from his wife. He said he's so proud and "a king," he doesn't want a dime from Cynthia. He also said he loves his wife and wishes her nothing but the best.
Peep his full interview below:
We'll see it all play out on the upcoming season of "RHOA" that returns this fall. Will you be watching?
Photo: Peter's IG