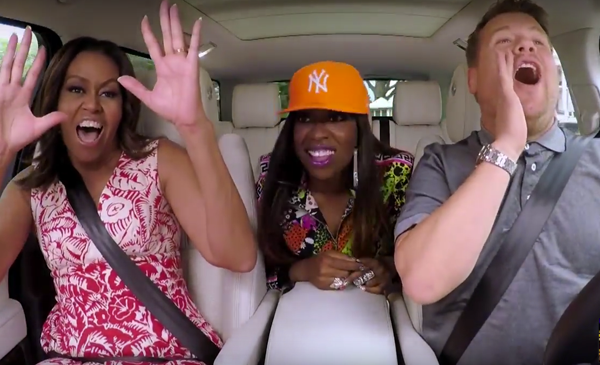 We'll never have another First Lady as cool as Michelle Obama! Go inside to see FLOTUS rap, sing and turn up during carpool karaoke with James Corden. Missy Elliott even pops up in the mix.
Check it inside….
Get ready for some awesomeness!
We told you First Lady Michelle Obama would be joining late night host James Corden for a segment of carpool karaoke. And it's everything we hoped it would be.
FLOTUS announced she would be the latest carpool guest when she launched her official SnapChat account last month. Now we know how it all went down.
Our gorgeous First Lady joined the late night host for a 15-minute ride around the White House while rocking out to some of her favorite tunes. The duo kicked off their ride singing the lyrics to Stevie Wonder's classic track "Signed, Sealed, Delivered, I'm Yours," which FLOTUS dubbed as one of her favorite songs.
Before performing their next track, Mrs. Obama revealed this was her second time in 7.5 years that she sat in the front seat of a car listening to music. She said the last time she rode in the front seat of a car was a few months ago when she rode with her daughter Malia Obama who was learning how to drive.
When asked what she would miss once her time at the White House is up, she said she would miss all of the people in the White House, but she can't wait to get the freedom she'll have once they leave.
"7 and a half years, that's enough luxuriating, said FLOTUS. "I can make my own grilled cheese sandwich. I can make a mean grilled cheese sandwich."
FLOTUS and James then began to perform Beyonce's hit track "Single Ladies." And Mrs. Obama nailed all of Bey's hand gestures that she does in the video.
After "Single Ladies," rap icon Missy Elliott pops up in the backseat to join in on FLOTUS' girl power anthem "This Is For My Girls." They couldn't pass up performing an original Missy track, so the threesome followed up with a performance of Missy's "Get Your Freak On."
Y'all, that moment when FLOTUS rapped, "Copywritten, so don't copy me!" Bloop!
While the segment was filmed weeks ago, it was the perfect response to Donald Trump's wife Melania Trump plagiarizing her 2008 Democratic Convention speech.
Get your laugh on (and freak on) and find out FLOTUS and POTUS' secret service names below:
First Lady Michelle Obama is the ultimate mom-in-chief! And we'll never have another as cool as her!
Photo: Screenshot via YouTube