A$AP Rocky has come forward to try and explain his controversial Black Lives Matter comments in an interview that was released last year. He says his words were misquoted and taken out of context. But.....is that technically how he feels regardless? Get it all inside….
A$AP Rocky is catching HEAT on these Internet streets for an interview he did last year where he dropped some controversial comments about the Black Lives Matter movement.
In the Time Out New York interview from September 2015, the Harlem rapper was quoted as saying: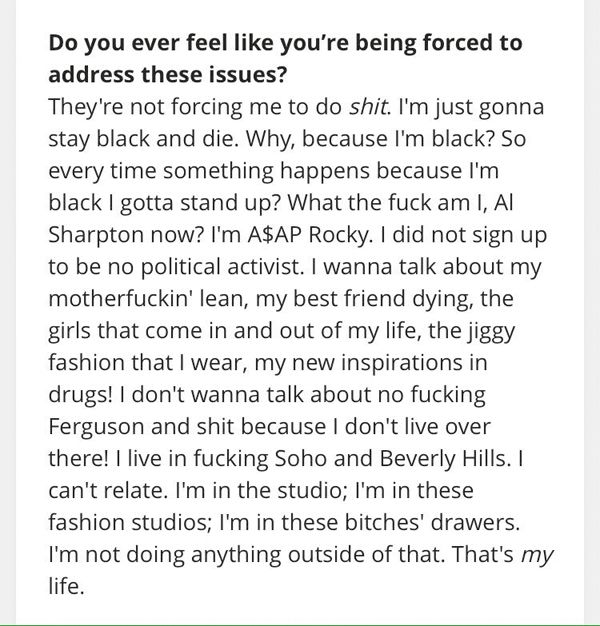 "They're not forcing me to do sh*t. I'm just gonna stay black and die. Why, because I'm black? So every time something happens because I'm black I gotta stand up? What the f*ck am I, Al Sharpton now? I'm A$AP Rocky. I did not sign up to be no political activist. I wanna talk about my motherf*ckin' lean, my best friend dying, the girls that come in and out of my life, the jiggy fashion that I wear, my new inspirations in drugs! I don't wanna talk about no f*cking Ferguson and sh*t because I don't live over there! I live in fucking Soho and Beverly Hills. I can't relate. I'm in the studio; I'm in these fashion studios; I'm in these b*tches drawers. I'm not doing anything outside of that. That's my life."
Today, he stopped by Power 105's "The Breakfast Club" to break down exactly what he meant in that interview that's being cirulated on social media. He claims his words were misquoted and taken out of context.
"I feel like that [the interview] was misconstrued," A$AP told The Breakfast Club.  "I feel like it was taken out of context and that was a misrepresentation of what I was saying and I feel like that's where the conflict is."
A$AP revealed he does plenty of philanthropic work behind the scenes, but that's not something he likes to talk about. He said he prefers to talk about what's going on in his life at the moment when he's conducting interviews.
"I would like to talk about what's currently going on with me. I don't feel like I have to -- every five minutes touching on a topic to be relevant or hot. If it hits home, I'll speak on it."
"I'm saying, if I'm in London and something is going on in L.A. and you asking me about it, I don't want to speak about it because I wasn't there. How can I pay my contribution to that?"
He said he hates when people just read a few lines from an interview and make an assumption about him. He said he feels black lives aren't the only lives that matter, but that all lives matter.
"I hate when the bandwagon stuff start. How come black lives only matter when a police officer takes it? It should matter when a black life takes it. All lives matter."
Sigh.
A$AP said he doesn't necessarily have to speak publicly about certain issues because he's helping the younger generation in other ways, like being the first black man to become the face of Dior.
"Me being me is just knocking down doors for people like me. I want the next A$AP Rocky to be able to do it twice as big as I did…. I stand for kids who don't see that racism sh*t."
He said he just wants us all to come together and be peaceful. He said he's not here to talk about supremacy or who is dominant. He's here to promote peace, especially for black people.
"What I try to promote is just unity. I would love to change the world, I don't know where to start though."
We guess he thinks bashing those who are at least attempting to start, like Black Lives Matter, is the way to go though.  Interesting.
Check out his full interview below:
After hearing A$AP full interview, do you have a different opinion about him? Let us know in the comments!
Photos: Angela Yee's IG