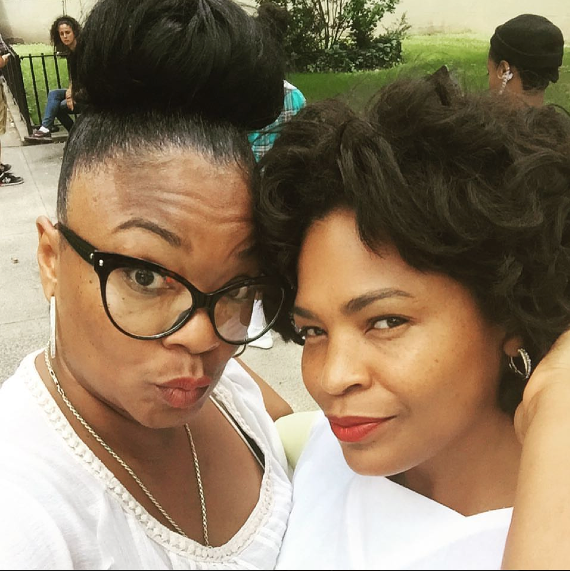 Real Hip Hop fans get excited! There appears to be a biopic on Roxanne Shante in the works. And Nia Long is playing a major role.  More inside….
Yes, you read it right! Rap queen Roxanne Shante is getting a biopic made on her life. Fans will get a behind-the-scenes look at Roxanne's rise to the top of the rap game and how ish went down with shady contracts and record labels.
Not only will we get a sneak peek at Roxanne's life, Hollywood veteran Nia Long will be helping to tell her story. She's tapped to star as (who we believe to be) a young Roxanne's mother, Miss Peggy.
The Queens native shared a picture of herself on set at Queens Bridge Housing with Nia saying:"When your sister Nia Long is playing your Mama MissPeggy You can only feel so honored and so so blessed."
She also posted:

Mimi Valdez and rapper Nikki D are spotted on the set in this behind-the-scenes clip:
No word on who'll play a young Roxanne or an older Roxanne, but we'll keep you posted.
Vibe out to a throwback performance below:
YBF correspondent James Terrell caught up with the legendary femcee at VH1's "Hip Hop Honors: All Hail The Queens" event earlier this week. The rap legend addressed the recent killings of black men at the hands of police telling TheYBF.com:
"With the recent killings, because of technology is the reason why see it. It is something that has always existed, except now, it is visual for the public to see what we have been enduring for a very long time. Now, people see it, something has to be done. Before now, it was overlooked."
Facts.
Photos: Roxanne's FB