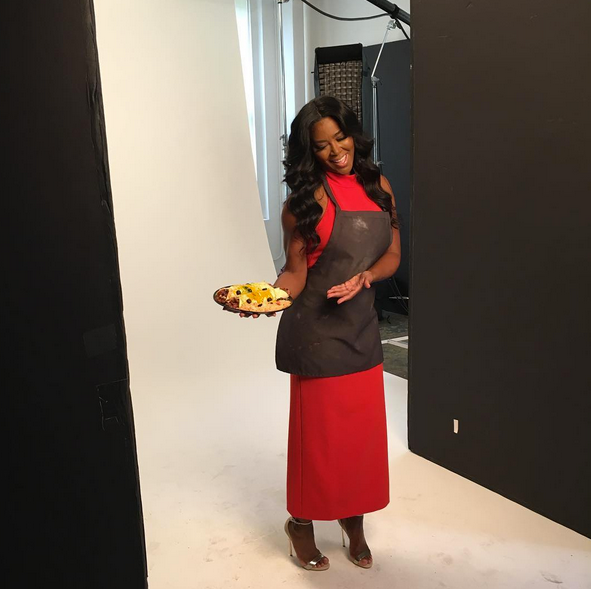 We've got a spoiler alert! Find out what went down when Kenya Moore didn't get her way during a recent taping of "Worst Cooks In America: Celebrity Edition" inside….
When "Real Housewives of Atlanta" star Kenya Moore doesn't get her way, heads will twirl!
Last week, Kenya teased on Instagram that she was "cooking up" something new. And now, we know what she has been up to. The reality star has been busy filming for a new season of "Worst Cooks In America: Celebrity Edition" in NYC. But when things didn't go her way, she (allegedly) cut up!
A source close to production of the Food Network show tells Daily Mail that Kenya went straight OFF when judges (chef Rachael Ray& chef Anne Burrell) voted her off the show for preparing an "overcooked piece of fish." The former Miss USA started stomping and yelling at producers causing production to be held up for TWO hours.
"I'm calling my agents and they better fix this sh*t!," the source said she yelled at producers.
The production source then spilled, "Producers of the show kept trying to get her to leave. They needed to tape the exit scene with her and she refused to go. They needed her to tape her farewell commentary and she refused to. She was dropping F-bombs like no one they had ever seen before."
"You would have thought she was filming a scene for Real Housewives of Atlanta the way she carried on," the source revealed to the Daily Mail."She cursed at the producers, badmouthed the judges and ranted: "Without me this damn show will fail'."
As she often does, Kenya believes she was voted off the show after the first episode because celebrity chef Chef Burrell is "jealous of her beauty."  The source said Chef Burrell criticized Kenya for wearing six-inch heels to the cooking competition.
After Kenya chatted with her agents, they were able to talk her into leaving the set before the show's security escorted her away. Before she left, she allegedly had this to say:
"I'm TV gold you a**holes. This season will suck without me!"
Chile….
As crazy as it all sounds, who's surprised?
Photo: Kenya's IG