Lil Wayne is speaking out saying his two seizures were NOT caused by seizures. Then, he hit the stage in L.A. for his next scheduled performance. Get those deets, plus find out how Joseline Hernandez is blasting her husband Stevie J inside….
After his private jet had to make two emergency landings, Lil Wayne is speaking out and wants to clear the air. According to Wayne's rep, the two seizures he suffered on Monday (June 13th) were NOT caused by him sipping sizzurp, a concoction of promethazine mixed with codeine syrup.
There were rumors that the Young Money honcho was drinking "massive amounts" of sizzurp before his seizures, although he vowed that he would stop drinking the concoction years earlier due to his condition. And pics popped up online where he was spotted with his double cups after his show in Milwaukee. Hmph.
In fact, Wayne's camp claims the reason behind his seizures were due to him having epilepsy. After his show in Milwaukee, Wayne allegedly stopped by a pharmacy to pick up his epilepsy medication, but they were out of stock. It's reported Wayne felt he could go without the medication for a few days, but as we all can see, that was not the case.
After checking himself out of the hospital, he hopped on a flight to jet to his next scheduled performance.
He took to his Twitter to thank everyone for their prayers, tweeting:
thanx for all the prayers!! I love y'all

— Lil Wayne WEEZY F (@LilTunechi) June 14, 2016
Last night, the "A Milli" rapper hit the stage (above) at the Electronic Entertainment Expo in L.A. The Samsung spokesman performed at the company's booth inside the Los Angeles Convention Center like nothing ever happened.
He ran through his hits, including "Go DJ," "John," and "No Ceiling" as skateboarders performed tricks behind him. Peep a clip from his set below:
Unfortunately for the rapper, his latest seizure scare isn't his first. He suffered from multiple seizures in 2012 and 2013 (with one near fatal) and has battled with epilepsy since childhood.
His daughter Reginae Carter took to her Instagram to tell people to stop judging her father saying:
In this big world , I opened my eyes for the first time and met two incredible people , Antonia & Dwayne My wonderful parents This man pictured here is my father ! He might look familiar but you guys don't know him & that's exactly why u judge ! I got the pleasure to actually be there in his arms, be there for his "father talks " & all of it is amazing ! You're an amazing man and God has blessed me incredibly so glad you're feeling better Thanks for all the prayers #daddysgirl
Prayers up that he takes better care of himself because tomorrow is never promised.
In reality TV news...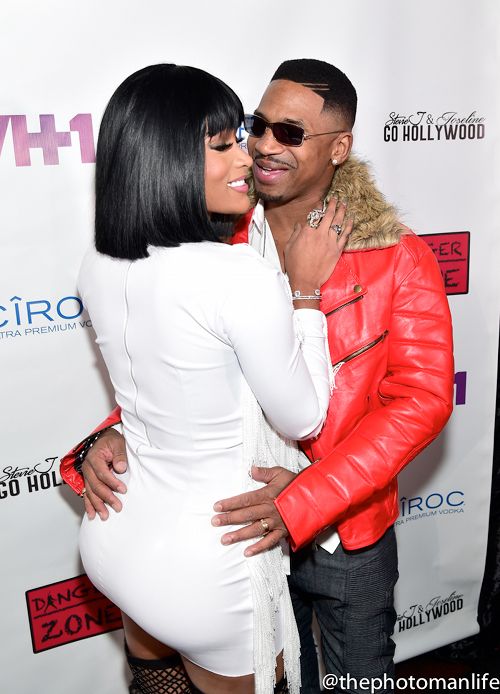 The Jordans (even though we've learned they never were legally married though) are back at it again! "Love & Hip Hop: Atlanta" star Joseline Hernandez said "f*&#" a reunion show, she's ready to pull out her receipts RIGHT NOW. For what you ask?
Apparently, her husband Stevie J likes to watch gay porn, but he doesn't want YOU to know. Well, his wife went to take a polygraph test to expose the truth and settle the score. Before she served up the results of the test, she teased her fans via Snapchat saying she was headed to take a polygraph in Gainesville, GA:
— Joseline H. Jordan (@MsJoseline) June 14, 2016
— Joseline H. Jordan (@MsJoseline) June 14, 2016
During the polygraph exam, she was asked if she is lying when she says Stevie watches gay porn. She answered No. She was also asked if she is lying when she says he has watched gay porn while they were living together. She answered No.
The liar detector test proves: She's telling the truth! Oh?
A day later, she came back with receipts!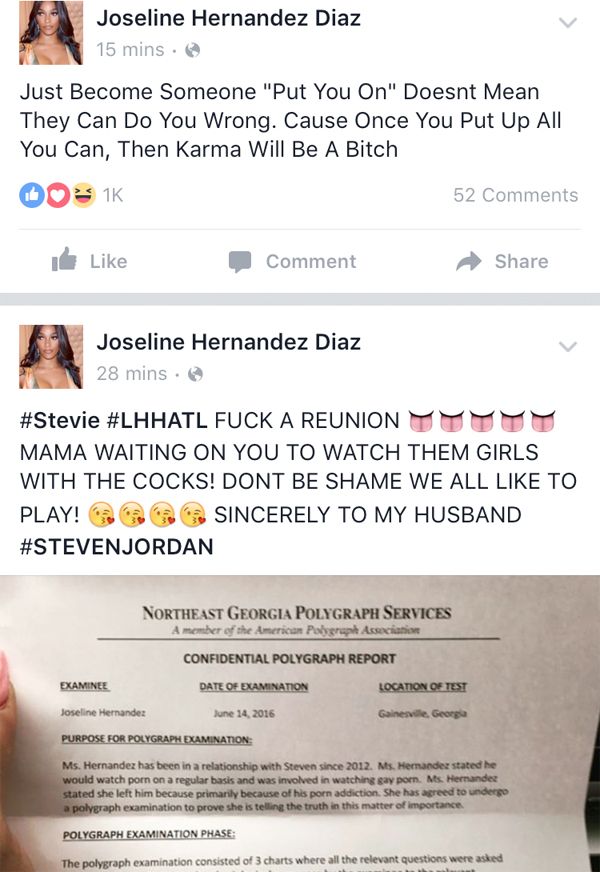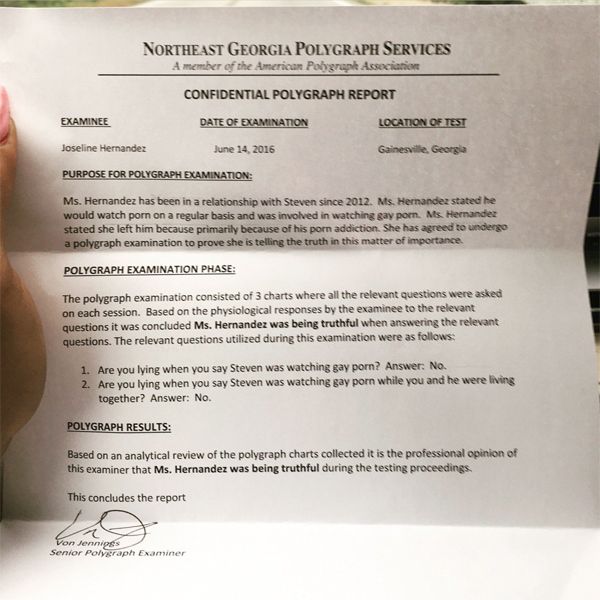 Lordt!
So what set her off? Likely this video Stevie posted working in the studio with a new artist:
These TWO....
Photos: Getty/Paras Griffin/Joseline's FB