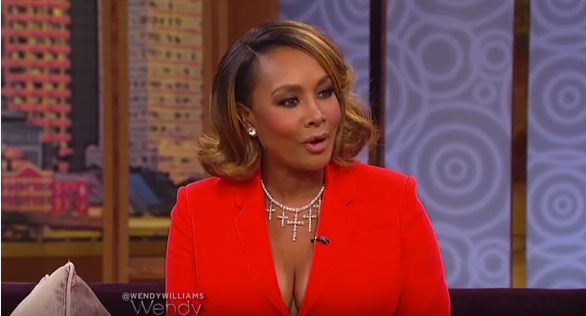 Looks like that beef between Vivica A. Fox and Kenya Moore still isn't over.  Aunt Viv did NOT hold back on the shade today.  She served up a full eclipse.  Deets inside...
Ever since they were at each other's throats during season 14 of "Celebrity Apprentice" last year, the beef between Vivica Fox and Kenya Moore hasn't cooled off.
Viv rolled to "The Wendy Williams Show" today to chop it up about her upcoming movie Independence Day: Resurgence.
Wendy asked her how she landed the role of Cookie's older, snobby sister on "Empire," and the answer came with a side of shade.  Viv said:
"He [Lee Daniels] saw my epic showdown [in the boardroom] with Toxic Trick, and he gave me a call and said 'B*****tch you gon' be on my show'."
"Toxic Trick" is the name Viv called Kenya Moore all last year.
When Wendy asked if she'd seen the "Real Housewives of Atlanta" star since the "Celebrity Apprentice" finale, Viv said:
"No, I haven't. I'm too busy having a legitimate carer. And making sure people get paid."
Chile...
And even though Donald Trump was once her boss on "Celebrity Apprentice," Viv's not here for him nabbing the position of POTUS.
The Sharknado 2 star says he's a good businessman and was a gentleman on the show, but he's shown himself to be misogynistic and racist and the leader of the free world must carry himself with more class.  Bloop. 
Check out the full interview, and Viv's red hot Altuzarra suit, below:
We're sure Kenya will be responding soon....
EXTRAS:
1.  This is a doozy!  A woman runs over her boyfriend with a car when he tells her he is HIV positive. STORY
2.  Rapper Post Malone says he's leaving hip hop...for country.  STORY