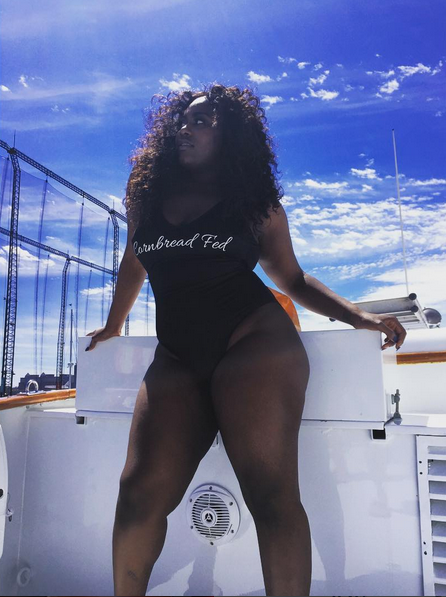 Danielle Brooks is living it up on a yacht with a few of her friends and she's showing off her curvy bod. Peep her hot shots, plus check out a video of Serena Williams twerking for the masses and her big documentary premeire night inside….
Fresh from the Tony Awards, Tony Award nominated actress Danielle Brooks decided to get in some R&R with a few of her friends on a yacht. What better way to unwind from her usual hectic day-to-day activities than a fun day out sailing across the ocean.
The "Orange is the New Black" actress slipped into a Girl In Flux "Cornbred Fed" one piece to floss her curves for the masses. And chick is SERVING!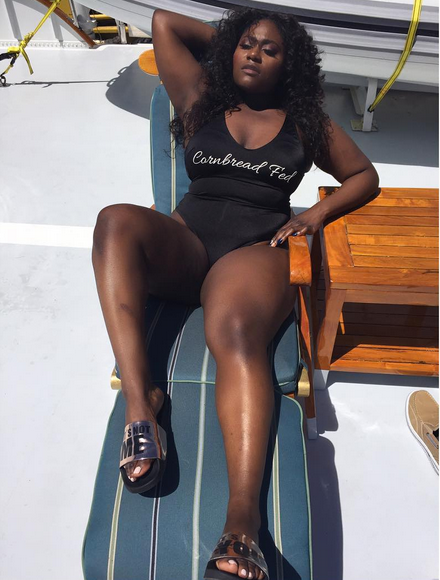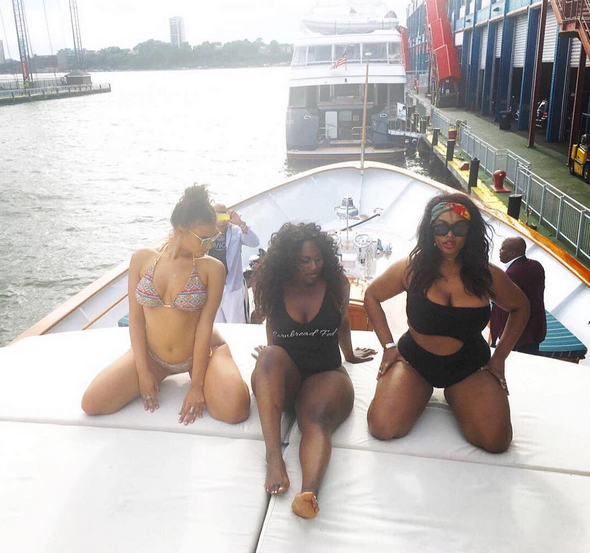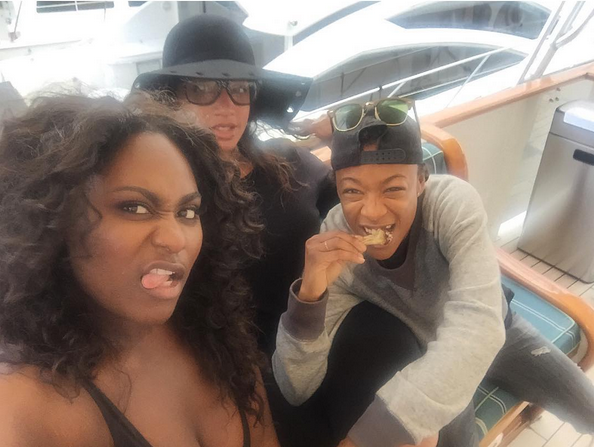 The Broadway starlet had fun with her friends, including her "OITNB" co-star Samira Wiley, eating chicken and striking model poses on the yacht.
"Orange is the New Black" will return to Netflix with season 4 beginning June 17th.
Speaking of curves...
Cake is on the menu!
21-time Grand Slam winner Serena Williams is flaunting her cakes in a new twerk video. Styling in one of her Serena Signature fringe skirts, the tennis champion school the kids on the art of twerking as Travis Scott's single "Anitdote" plays in the background.
For those who can't appreciate Serena's toned bod, ex-NBA baller Stephen Jackson has a response to that.  Basically, "That sh*t ain't cool!"
Stephen recently said he heard an older white guy at his gym talking about the gorilla named Harambe who was killed at the Cincinnati Zoo when a 3-year-old fell into the exhibit's moat. The older white man was heard saying, "They shot Serena? Serena got shot?"
That didn't sit well with the former NBA player, so he confronted the man. Here's how it went down:
Finally, a black man capes (publicly) for a black woman.  Round of applause for that man.
Last night....
Not only can she serve ON the court, she also slays OFF the court.
Serena Williams stunned on the red orange carpet at the premiere of her documentary "Serena" at the SVA Theatre in NYC. The original documentary, an intimate portrait of 4-time Olympic Gold Medalist and international sports icon Serena Williams, will be televised on June 22, 2016 at 8/7c on EPIX.
The tennis champion dazzled in a shimmery gold high slit Laquan Smith gown putting those toned stems on display as she made her way down the carpet.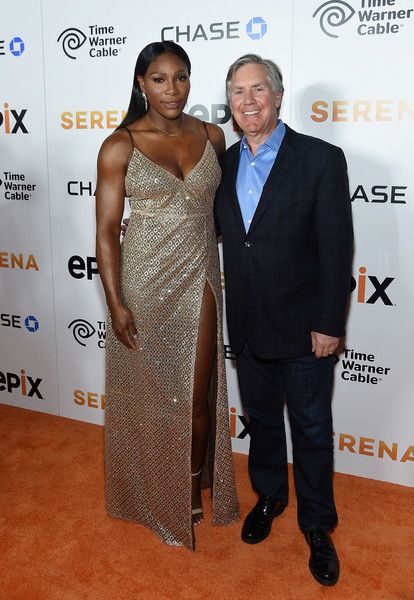 The lady of the hour caught up with President and CEO of EPIX Mark S. Greenberg on the carpet who came out to show his support of the feature film. He talked about how privileged he and his team were to capture special moments in her illustrious career saying (via press relaese):
"Serena is a personal journey during which we are privileged to follow one woman's incredible march to achieve a level of greatness that so few tennis players have achieved in the history of the sport. The film presents us with a captivating vision of this world-class athlete while offering the viewer rare insight into what makes Serena Williams the person she is beyond the court. Serena transcends the world of tennis and is sure to fascinate viewers across the country."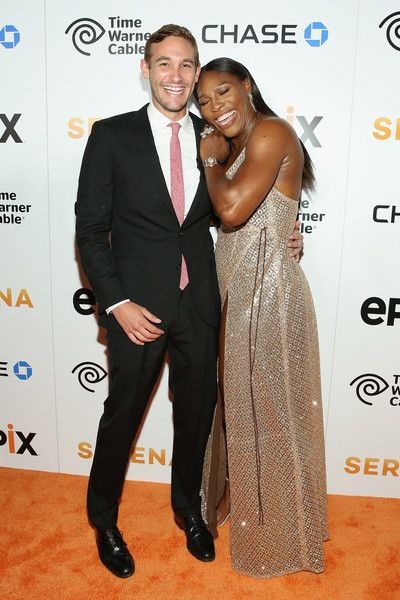 She posed it up with her director Ryan White.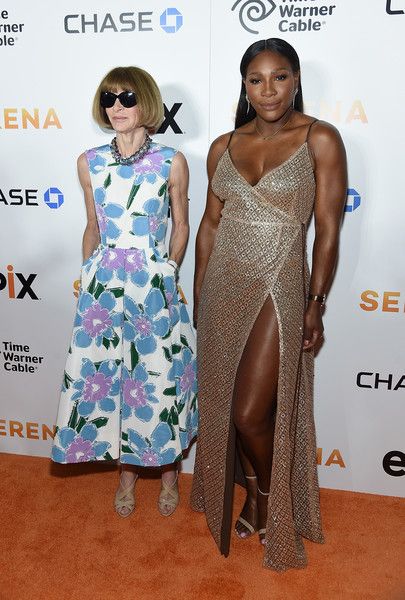 VOGUE editor-in-chief Anna Wintour also came out to show her support.
For the after party...
Rena changed into a more comfortable ensemble to party it up on the roof top of The Top of The Standard to celebrate the film. Chick showed off her washboard abs in a white crop top that she paired with leather cropped pants and patterned pumps.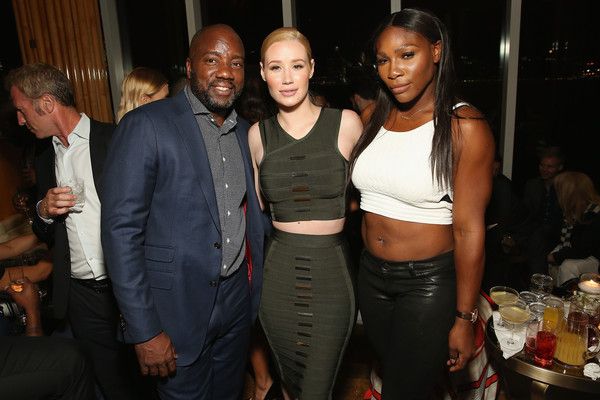 Former "Empire" star Malik Yoba and rapper Iggy Azalea were also in the mix for the fun.
Peep the trailer for the "Serena" documentary below:
10 days until @SerenaWilliams' new documentary airs on EPIX! #Serenahttps://t.co/UVKiT0y8Ig

— EPIX (@EpixHD) June 13, 2016
We're here for it!
Photos: Danielle's IG/Getty