Tracee Ellis Ross and Jhene Aiko are fronting two magazines. Come inside to find out what Tracee said about living in her mother's shadow and Jhene's current style profile and more inside….
"black•ish" starlet Tracee Ellis Ross lands on a few pages in the newest issue of New York Magazine.
The on-screen mom dishes to the publication about growing up in her famous mother Diana Ross' shadows. You would think being the child of such a legendary entertainer would have one feeling they'll never surpass their parent's fame, but that's not the case for Tracee. She said she always felt like she should be herself to get the attention she craved.
She said,
"I mean, this whole idea of being in someone's shadow or something? I never really identified with that expression. If anything, at a very young age, I felt like I needed to really be me, in order to earn the attention which was coming my way because I was a part of someone that they loved. She's great, but I doubt I will be arriving in a helicopter at the Super Bowl anytime soon." She pauses, considering, then laughs. "I am not limiting my future," she says. "But that doesn't seem like me."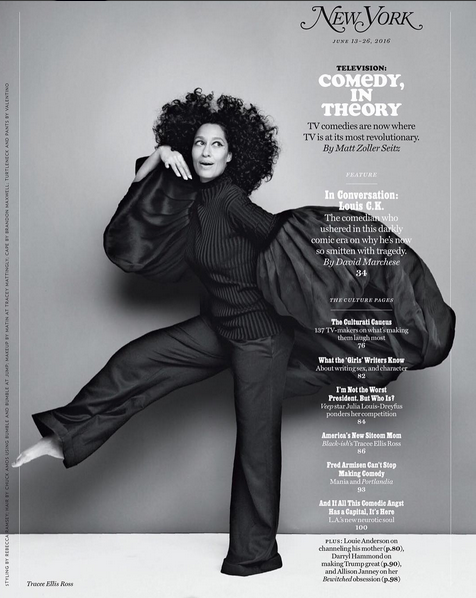 Reflecting on diversity in Hollywood, she revealed her life is filled with diversity without any effort.
She spilled,"I was having dinner with all my girlfriends the other night, and my friend Monica was like: We're like the fucking United Colors of Benetton: Korean, Chinese and Italian, Trinidadian, Polish, Ethiopian. And that's just at one table. That's what my world looks like all the time, without effort. We can be all these things and be ourselves."
Such a fierce shoot!
In another magazine...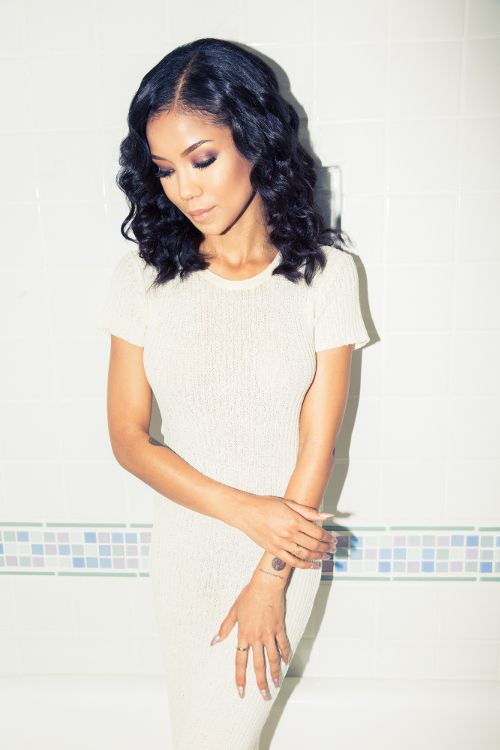 Soulful songstress Jhene Aiko lets The Coveteur raid her eclectic closet inside her L.A. home. Designers like Tom Ford, Charlotte Olympia, Balenciaga, Acne Studios, and Alaïa raid her wardrobe. She credits the Spice Girls and Mary Kate and Ashley as style inspirations growing up.
"My first fashion memory would definitely be the Spice Girls," said Jhene. "I've always been small and they made it cool to wear really, really tall shoes. I had white Sketchers platforms—they were like my favourite things in the world. They made me taller and they made me look like a Spice Girl. I loved Mary-Kate and Ashley. They had that show on ABC, Two of a Kind, and everything they wore I just had to find something like it."
During her chat, the Souled Out singer dished on hectic studio-filled schedule, working with Big Sean on their supergroup TWENTY 88, and her current style. Below are the highlights:
On the difference between her debut album and her upcoming sophomore album:
"Just…work, work, work, work, work, work. [singing, laughing] I feel like I've been a lot more focused this past year. Souled Out was my first album, and it was really my first time putting together an album all on my own—writing it, picking out the beats, mixing it, and just being there for every step of the process. I learned a lot. There was a lot on the first album that I wish I did and I think that this year, I've really honed in on my focus. I'm not doing anything unnecessary in my life. I feel like I've learned to enjoy work and I've found a better balance with my daughter and going out of town. It's been a constant growth that I appreciate."
On how she and Big Sean formed TWENTY 88:
"Twenty88 is a group with Big Sean and me. We'd been working together for a long time when I signed to No I.D.'s label and we were working in Sean's studio. He came into my session and we hit it off right away. He played me some songs and I literally recorded it right then. He came to me one day and said, 'Let's do a group, let's do a whole album, and let's just do it real quick'. I was down. I let Sean take the lead—I really respect his songwriting and trust his artistry. It was really fun for me because I usually don't do songs that are based on anything other than my personal life—it was cool to become a character."
On her inspirations:
"I'm really inspired by life. I used to only be inspired by sadness and I realized all my songs were sad...I've learned to be inspired by everyday life—when I'm travelling, seeing new things and meeting new people. And just talking and listening to strangers' stories. My music is a reflection of what I go through."
On her style:
"My style right now is all over the place. I like to be comfortable, but I'm also not afraid to try new things. I go between wanting to wearing things really big and loose to wanting to feel sexy."
We understand that fashion struggle.
Check out a few pics from her spread below: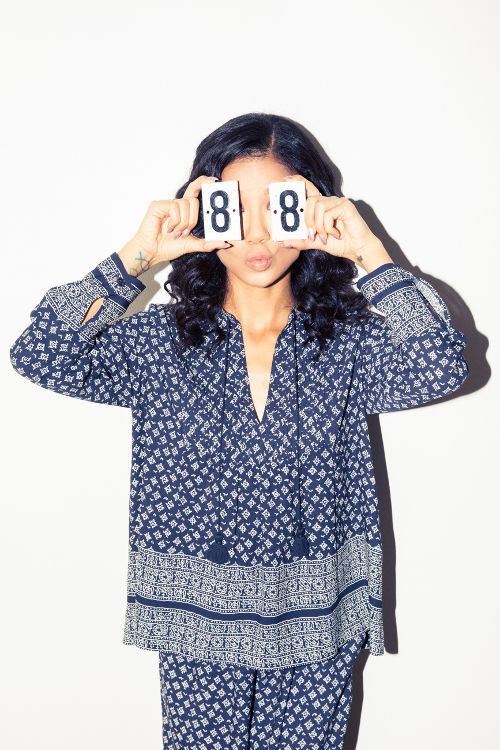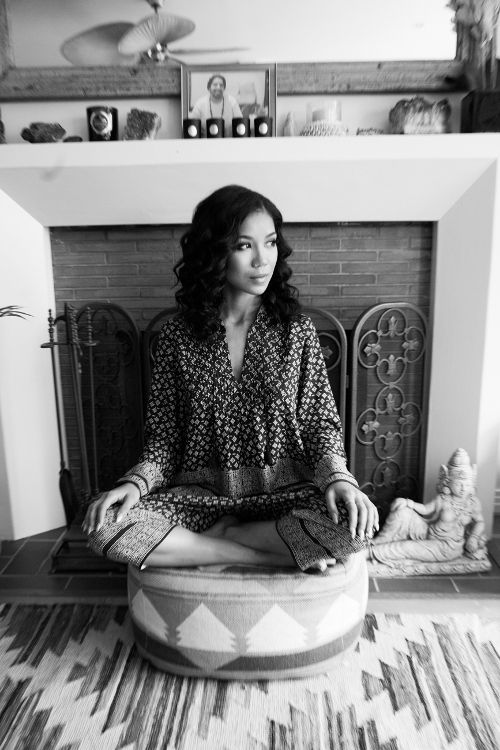 Photos: Ruven Afanador/The Coveteur