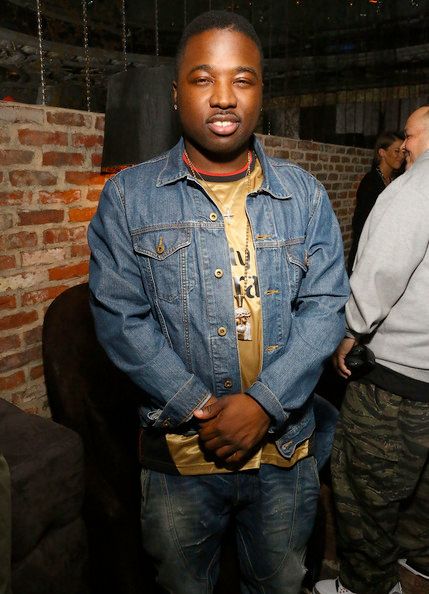 New details are emerging in the fatal shooting that occured at T.I.'s concert last week involving rapper Troy Ave. And rapper 50 Cent is showing his support. More inside….
Rapper Troy Ave (government name Ronald Collins) was arrested and charged with attempted murder and criminal possession of a weapon after a video surfaced of the rapper brandishing a firearm and shooting toward a scattering crowd during a T.I. concert last week (May 25th).
According to reports, Troy accidentally shot himself in the leg (allegedly) before firing his own weapon during the melee that went down at Irving Plaza in NYC where T.I. was set to perform. It's being reported Troy's longtime friend (and bodyguard) Ronald McPhatter was shot in the stomach and was pronounced dead at Beth Israel hospital. Three others were injured during the shooting, including "Wild'N Out" girl Maggie Carrie.
New details reveal a gun that was recovered from a hidden compartment inside the car that was used to drive Troy to the hospital matches the bullet that killed Ronald, according to DNAinfo.com. Investigators believe the shots fired by Troy Ave accidentally struck and killed his friend. It's rumored Troy and his homies were going after rapper Maino.
Here's what sources tell the site about how the shooting started:
According to sources, the dispute started when Troy Ave became enraged at the sight of a music industry writer who had recently criticized him. "It was someone who covers the rap industry and gave Troy Ave a bad rap that started it all," one source said.

Words were exchanged and then members of Troy Ave and Maino's entourages, and Maino himself, joined in. Punches were thrown and a full-blown brawl broke out. Police believe Troy Ave tried to pull out his weapon, but it accidentally discharged, with the bullet going down through his foot and then the wooden floor, striking innocent bystander, Christopher Vinson, 34, who was standing on the main floor with a girlfriend.

Police sources believe Troy Ave fired three or four shots inside the VIP room, which sent revelers diving for cover or scrambling out of the door with Troy Ave and McPhatter in pursuit of Maino.
A surveillance video shows Troy firing off his weapon at a crowd of people inside the VIP room. Troy's lawyer said the video released by the NYPD did not show what happened before or after the incident and said, "The scientific evidence will show he didn't shoot himself."
After recovering at a local hospital, Troy was wheeled into court in a wheelchair to go before a judge where he pleaded NOT guilty to attempted murder and criminal possession of a firearm during a hearing inside Manhattan Criminal Court on Monday. It's believed his charges could be upgraded to murder following the new details that have emerged in the investigation.
Rapper 50 Cent took to his Instagram page recently to offer up his support. He posted a picture of Troy in a wheelchair as he made his way inside the NYC court building with the caption, "Self Defense that's more like it now. Hold ya head TROY. See how the story change."
Philly rapper Meek Mill, who's currently on house arrest for a probation violation, also sent words of encouragement to Troy. He posted:
Troy, who does not have a criminal record, was denied a $50,000 bail and the judge has decided to keep him in custody until the end of his trial. No date on when the trial will begin, but we'll keep you posted.
Photos: Getty