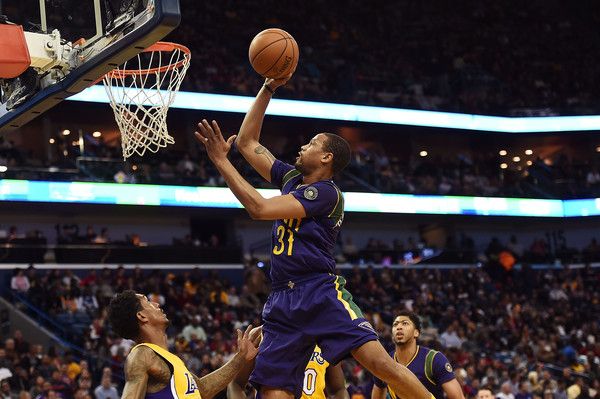 In sad news, New Orleans Pelicans player Bryce Dejean-Jones was shot and killed in Dallas early this morning.  The bizarre details inside...
L.A. native Bryce Dejean-Jones was fatally shot in the abdomen close to 3AM Saturday morning.  He reportedly had an argument with his baby's mother hours earlier at their daughter's birthday party that he was in town for.
Dallas police were called around 3:20AM with reports that Bryce kicked down the door to a residence of a person supposedly with no connection to him.  The resident shot him after calling out asking the intruder to identify themselves and there was no answer.
ESPN reports:
According to Dallas police, officers responded to a call about a shooting at an apartment at about 3:20 a.m. Saturday morning. The resident of the apartment said an individual had kicked open his front door and entered.

The resident, who had been asleep, retrieved a handgun and called out to the individual, but did not receive an answer. The individual kicked the bedroom door and the resident fired his gun at the individual, who left the apartment and collapsed in the breezeway. The individual was transported to the hospital, where he died. Police at that point identified him as Dejean-Jones. 
Further reports state:
According to a statement that Camden Belmont Apartments sent to its residents Saturday morning, the individual later identified as Dejean-Jones was "believed to be breaking into the apartment of an estranged acquaintance (but) inadvertently broke into the wrong apartment."
Due to Texas law, it's unclear whether charges will be filed on the shooter.  Residents in the Lone Star state are legally allowed to shoot or use deadly force against intruders in their home and to defend oneself.  One cannot be involved in a crime at the time of using the deadly force or provoke the attacker.
Completely unfortunate situation that leaves so many questions.
The Pelicans issued a statement saying:
"It is with deep sadness that the Pelicans organization acknowledges the sudden passing of Bryce Dejean-Jones.  We are devastated at the loss of this young man's life who had such a promising future ahead of him. Our thoughts and prayers are with Bryce's family during this difficult time."
NBA Commissioner Adam Silver states:
"The NBA family mourns the tragic loss of New Orleans Pelicans guard Bryce Dejean-Jones.  Bryce inspired countless people with his hard work and perseverance on his journey to the NBA, and he had a bright future in our league. Our thoughts and sympathies are with Bryce's family and the entire Pelicans organization during this difficult time."
The 23-year-old, who just signed a 3-year contract in February after signing consecutive 10-day contracts, started 11 of 14 games before undergoing surgery for a broken right wrist and missing the rest of the season.
Photo: Getty