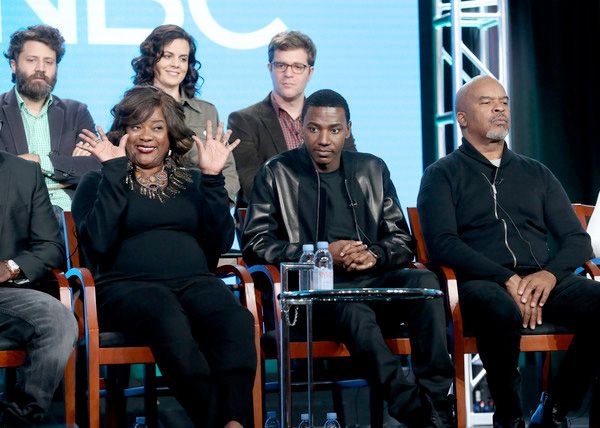 The YBF folks are taking over the television and movie circuit. "The Carmichael Show" has been renewed for another season. Meanwhile, Chadwick Boseman, Don Cheadle and Anthony Mackie are slaying the box office in Captain America. Deets inside….
Good news!
If you're fan of "The Carmichael Show," listen up. The hit NBC comedy series has been renewed for season 3! According to Deadline, the comedy has been picked up for a 13-episode season bringing another round of laughter.
"The Carmichael Show," which stars comedian Jerrod Carmichael, Loretta Devine and David Alan Grier, launched with strong reviews and ratings last summer.  It's black conservative hilarity meets black non-conservative hilarity all in the midst of a traditional black family in 2016.  The show tackles issues of race, Cosby, affirmative action, interracial relationships, politics, social media and more in the funniest ways.
The site reports Season 1 ranked as the most-watched summer comedy on the Big 4 networks in eight years and tied for the No. 1 summer comedy over that span in adults 18-49. Season 2 brought even higher ratings and stronger reviews.
Looks like they've struck television gold!
On the movie circuit....
What a ride it's been so far, and it's only just begun. Appreciate you all. #CaptainAmericaCivilWar#BlackPantherhttps://t.co/I00fsPhewA

— Chadwick Boseman (@chadwickboseman) May 11, 2016
Captain America: Civil War is killing the box office for its 2nd consecutive week.
The Marvel drama, starring YBF celebs Chadwick Boseman, Don Cheadle and Anthony Mackie alongside Robert Downey Jr., Scarlett Johannson and Chris Evans, earned $72.56 million for its 2nd weekend at the box office. And get this: The film jumped 65% on Saturday making it the eighth-biggest 2nd weekend gross of all time.
The film has raked in a whopping $295.8 million in the last ten-day making it the seventh-largest ten-day total ever. Nice!
Chadwick totally nails his role as Black Panther and we can't WAIT to see his solo Black Panther full-feature film, also starring Michael B(ae) Jordan and possibly Lupita Nygong'o.  It's set to premiere in 2018 and will be helmed by Ryan Coogler.
Photo: Getty