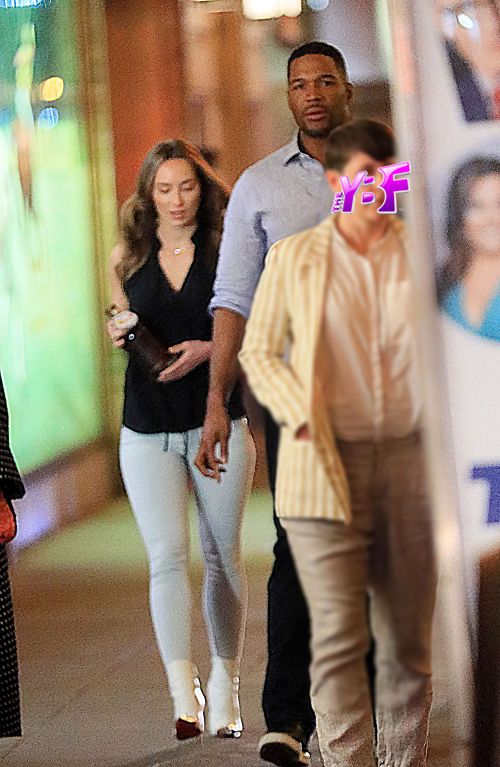 Michael Strahan wraps his final show on "Live with Kelly & Michael" today.  The othe rnight, he hit the town with his girlfriend Kayla.  We've got their pic, plus Kelly Ripa opening up even more about her last days with Michael....
Michael Strahan celebrated his big transition from "Live" to "Good Morning America" recently with a dinner at the Polo Club in NYC with his girlfriend Kayla Quick. 
Michael has stayed mum about his new girl, even though they've been spotted on vacation together recently, and we're sure he'll keep it that way until he slides a ring on a chick's finger. 
His outing comes on the heels of his now former co-host Kelly Ripa (pictured above during their last show today) opening up to People magazine about what really went down these last few weeks between them.
She reiterates that the reason she was upset when Michael and "Live" announced he would be leaving the show to do "GMA" full time was not because she wasn't happy for him, but because no one informed her before the rest of the world found out.  It's about respect, especially when it's your name as the headliner in the marquee.
She told the mag about finding out about the show's big change so late:
"There's a part of me that can say, 'Okay, I understand. This may have been an oversight,'  And again, after 26 years, at this point we are like a family. And sometimes when you are so comfortable with somebody, you may not give them the same consideration as somebody you're not as comfortable with – a certain formality falls away."
She talked about respect in the workplace saying:
"I think that all people are deserving of fair treatment in the work place. People deserve respect," Ripa tells PEOPLE. "People should be treated equally and with dignity. I think that requires a certain amount of empathy on a level. When you're dealing with big business, it's easy to forget that you're dealing with people and that people have feelings. It's easy to just look at it like a business unit, a unit, a unit."
But during the last show this morning, she appeared extremely grateful and genuinely happy for Michael.  She told People:
"I'm not dealing with monsters. I don't think of anybody as a monster or out to get me. But sometimes stability and dependability can be misinterpreted as passive. Like, 'Oh, we don't have to worry about her, she's fine. She's fine.' And I am fine, but I need assurances that we're all going to be fine."
Interesting.
Photos: Splash/Instagram