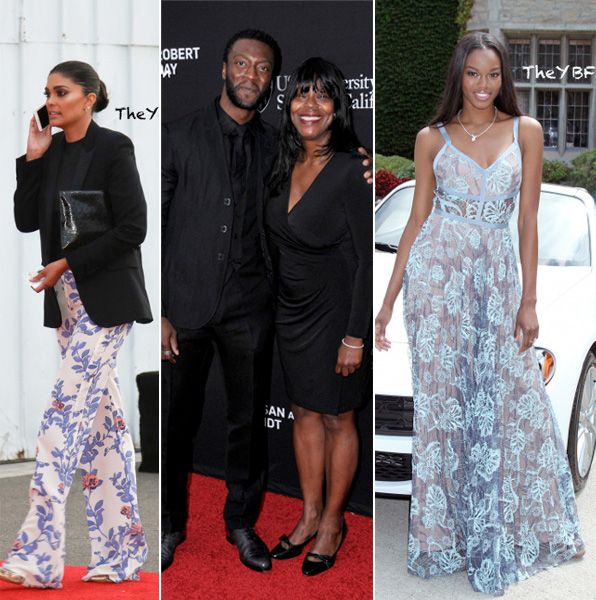 Rachel Roy makes her first public appearance since the Beyonce"Becky with the good hair" drama at a charity event. Actor Aldis Hodge and his mom were also in attendance. Meanwhile, "Top Model" alum Eugena Washington was named Playboy's 2016 Playmate of the Year. More inside….
After cancelling a scheduled appearance (allegedly due to a "personal emergency") amid the "Becky with the good hair" controversy last month, Rachel Roy is ready to show her face again.
Yesterday, the fashion designer made her first public appearance (outside of a few candids of her heading to the airport) at the 3rd Biennial Rebels with a Cause Fundraiser in Santa Monica, California.
Skipping out on posing it up on the red carpet, photogs spied Rachel chatting on her cell phone as she made her way inside. The mother-of-two rocked floral flare trousers paired with a black shirt and black blazer.
So get this, when all of the drama was stirring about Rachel being "Becky," TV chef Rachael Ray (yes, she spells her name that way) got caught in the crossfire when the BeyHive jumped the gun and thought Bey was referring to Ray as "Becky." Remember how Rachael Ray's IG comment section was also in shambles?
Well, the popular chef revealed recently she sent Rachel Roy a boozy gift to help get her through the bump in the road. Rachael Ray told US Weekly, "Rachel sent me flowers and I sent her a bottle, a big bottle of wine and a straw. [I was going to send Roy] Brunello di Montalcino, where I was married, but I said for our office to ask her office if she drinks red and if she didn't drink red, to send Grande Dame. So, I don't know actually which one she got. I wrote the card and she got the straw and the booze."
Well that was nice of her.
Meanwhile....
Straight Outta Compton hottie Aldis Hodge, who also stars on WGN's "Underground" series, is still celebrating Mother's Day with his mom. The young actor and his mother Yolette Evangeline were spotted out and about before heading to the same charity event Rachel Roy attended.
Unlike Rachel, they did hit up the red carpet and were all smiles while doing so. Cute. 
Aldis is currently filming a film we're excited to see, Hidden Figures. It's the film that also stars Golden Globe winner Taraji P. Henson about a team of African-American women who provide NASA with important mathematical data needed to launch the program's first successful space missions.
We can expect the film to hit theaters January 13, 2017. Get ready!
As for what's poppin' in the modeling world....
Remember "Top Model" chick Eugena Washington who appeared in the 7th season of the hit modeling competition show? Yeah, she's still making moves after finishing in the top three.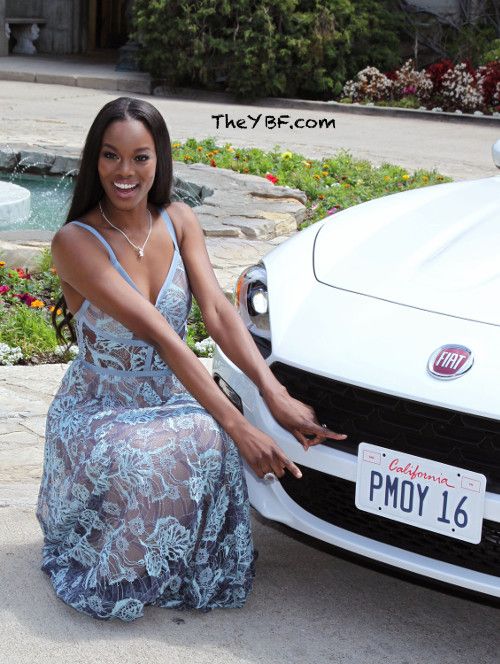 The 31-year-old gorgeous model was named Playboy's 2016 Playmate of the Year where she copped a $100,000 reward and the 2017 Fiat 124 Spider. She posed it up with her new luxury ride outside the Playboy Mansion in Holmby Hills, California.
"It's a great time for this," Eugena said about the honor. "The world is changing. I hope this brings different eyes to the magazine and new audiences... Right now, being a part of Playboy is what I want to do."
After flossing her skills (and body) in Playboy as the December 2015 Playmate of the Month, she landed Playmate of the Year. She's the third black woman to be given the honor.  We can't even hate.
Congrats Eugena!
Photos: Wire/Splash