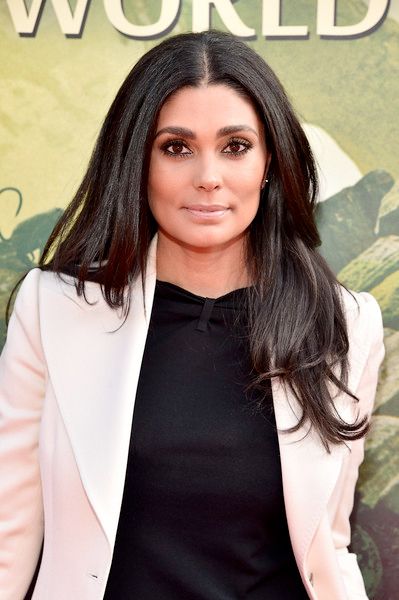 Rachel Roy is speaking out and she wants you to know she's not the "Becky with the good hair" Bey was referring to. Hmph.
Meanwhile, Rita Ora was spotted for the first time since the "Lemonade" controversy, rocking the same Gucci dress Mrs. Carter wore in her "Formation" video. Coincidence? Find out inside…
Beyonce is clearly "that b*tch" because she's causing all types of conversations.
Rachel Roy is publicly speaking out to address those "Becky with the good hair" rumors after she drumming up drama on social media.
During Bey's HBO "Lemonade" special, Rachel decided to hop on Instagram posting a caption that seemingly referenced Bey's Becky side chick line in her new track "Sorry." Soon after, the BeyHive went bananas in her comments, posting lemon and buzzing bee emojis.
Well now Rachel wants everyone to know she's not the culprit. Hmph.
In a statement to PEOPLE, the fashion designer, who got her start as an intern for Jay Z's Roc-A-Fella Records, said:
"I want to put the speculation and rumors to rest. My Instagram post was meant to be fun and lighthearted, it was misunderstood as something other than that. There is no validity to the idea that the song references me personally. There is no truth to the rumors."
While we don't think the song in question, "Sorry," is autobiographical, we DO think Rachel knew exactly what she was doing by throwing herself into the mix.
The 42-year-old ex of Dame Dash added:
"Consequently, online haters have targeted me and my daughters in a hurtful and scary manner, including physical threats. As a mother – and I know many mothers would agree – I feel that bullying in any form is harmful and unacceptable. I would hope that the media sees the real issue here – the issue of cyber bullying – and how it should not be tolerated by anyone."
So, she's playing the bullying card. Some may consider HER to be the bully since she's the one who started all this ish. If you can't stand the heat...
Amid the drama, Rachel came out of hiding after being spotted out in L.A. yesterday (above). She was scheduled to appear at the Neuhouse conference in NYC, but she pulled out amidst all the controversy.
Check out what Whoopi said about it all on "The View" today:
Hmph.
Meanwhile….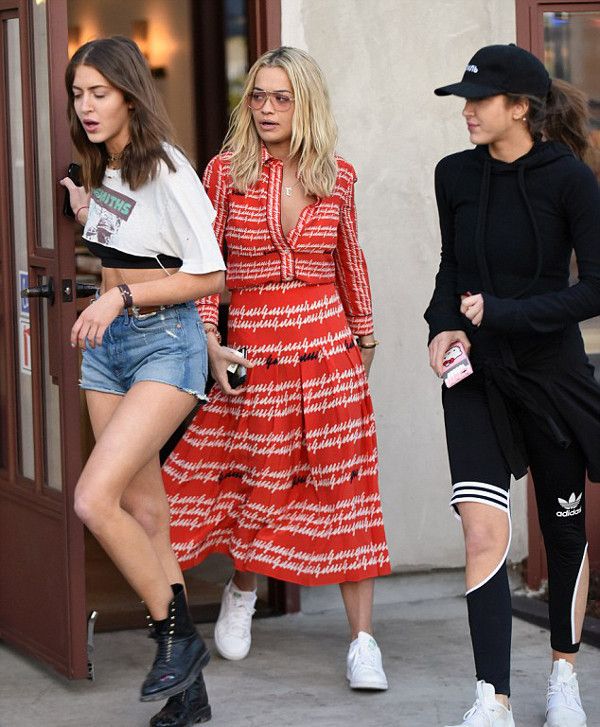 Former Roc Nation singer Rita Ora, who's reportedly being sued by the label for breaking her recording contract, was spotted out and about in West Hollywood after the BeyHive set it off in her comments on Instagram yesterday.

Why? Well, a picture started making its rounds on social media of a faceless person (some assuming it's Rita) wearing a lemon covered bikini and what appears to be a necklace with the letter J (which also looks like an R)vhanging from it. Folks then assumed Rita was the "Becky with the good hair."
It appears Rita is enjoying the extra attention she's receiving. If you notice, Rita is rocking the same Gucci dress Bey wore in the "Formation" video. Here are the receipts:
Mmhmm...quite interesting she decided to step out in THIS particular dress.  Coincidence?  Maybe...
And that's not all:
Today, Rita hopped on Instagram to post what appears to be a subliminal of sorts. She posted a poster of the film Ash Wednesday. So where's the shade? The 1973 film follows a middle-aged woman who is worried about losing her husband.
Oh the shade! What's really good Rita? You thirsty or nah?
UPDATE: Rita tried to make nice over on Twitter.
I never usually address tabloid gossip but let me be clear, these rumours are false.

— Rita Ora (@RitaOra) April 26, 2016
I have nothing but the utmost respect for Beyonce. Let's continue enjoying Lemonade.

— Rita Ora (@RitaOra) April 26, 2016
Photo: Getty/INF