Scenes from the upcoming All Eyez On Me biopic are SO real, reporters rushed to the scene after shots rang out. Peep pics of the cast recreating the infamous fatal shooting of Tupac inside…
Déjà vu or nah?
The Tupac biopic All Eyez On Me is currently being filmed in Las Vegas. And the latest scenes being shot caused some commotion on the Las Vegas strip recently.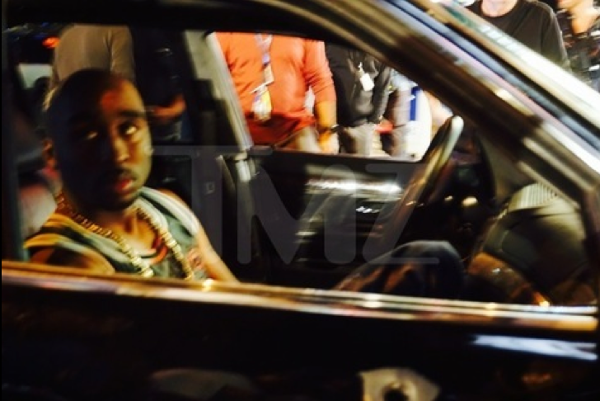 Stars Demetrius Shipp, Jr., who plays Tupac, and Dominic L. Santana, who stars as Suge Knight, are spitting images of their characters. The two recreated moments from that fatal night that had some believing it was real!
As they shot scenes to recreate Tupac's murder, shots rang out, causing local reporters to rush to the scene. Apparently they thought the blanks were real gunshots and wasted no time hitting the scene. Upon arriving, they realized it was nothing to see there.
In case you missed it, "Vampire Diaries" star Kat Graham will play Jada Pinkett Smith, "Eclipsed" playwright/actress Danai Gurira will play Pac's mother Afeni Shakur, actress Grace Gibson will play Biggie's wife Faith Evans, former "The Wire" star James Hactor will play Pac's stepfather Mutulu Shakur and Jamal Woodard will reprise his role as Notorious B.I.G. in the biopic. (Jamal also played Biggie in Notorious).
The biopic will focus on Tupac's rise to stardom, his stint at Death Row, and his role in the east coast/west coast beef.
The film is set to be released this November.
You here for it?!
Photos: TMZ