Kanye West had time, so he brought the petty during an appearance on Khloe Kardashian's now cancelled show "Kocktails With Khloe." Find out how he shaded his wife Kim Kardashian West's marriage to ex-husband Kris Humphries and how North West delayed his Pablo disc inside….
It appears Kanye West is coming after the "King of Petty" crown. He reminded us how petty he can get during a Twitter roasting of Wiz Khalifa a few months ago. Now he's taking his pettiness to TV.
The Life of Pablo rapper is set to appear on his sister-in-law Khloe Kardashian's now cancelled show "Kocktails With Khloe" (after 1 season) alongside his wife Kim Kardashian West and new parents John Legend and Chrissy Teigen. (FYI - The show was taped before Chrissy gave birth to their baby girl Luna).
Before the show airs tomorrow, a few sneak peek clips have surfaced and Ye is being typical…Ye.
In one clip, the "Bound 2" rapper shades his wife's previous marriage to NBA baller Kris Humphries. He revealed the only reason he finally decided to get a cell phone was to contact Kim after he learned via the internet she had married the NBA player.
He said, "I got a phone because someone decided to marry Kris Humphries."
John Legend chimed in saying, "And then you got one and the only number that you called was…"
Ye continued,"I wasn't up to anything and there was Kim 'Kar-di-john' with some extremely tall person and I was like 'I need to call her or something.' So, I started sending her pictures of certain basketball players that use to be cool that now where their pants all the way up here…like this is your future!"
The shade.
Check it:
So it seems, Ye had plenty to do with Kim's 72-day marriage. Mmhmm…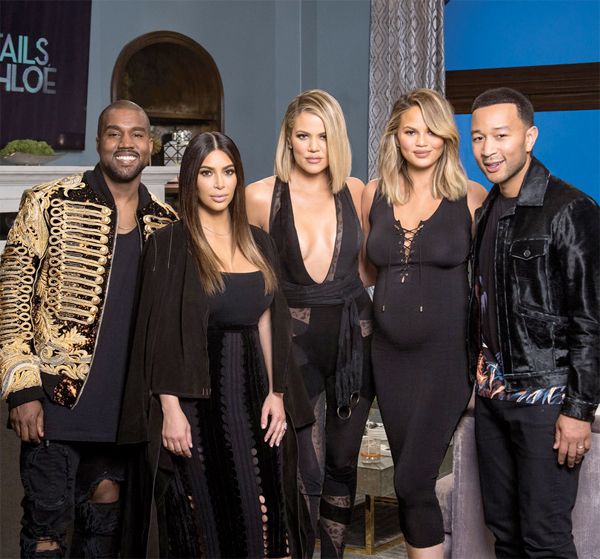 In another sneak peek clip, Kim shared a story about how their daughter North West helped in the delay of Yeezy's new album, The Life of Pablo. She said Kanye had written many of his raps for the album in his iPhone. Unfortunately, Nori got a hold of his phone and FLUSHED it down the toilet. Oops! They said they tried to get the information retrieved by sending it to four different places, but had NO luck.
Ye said, "No Apple genius is genius enough."
Peep the clip:
Below are two more clips from the episode where Ye talks about where he got his confidence from and how North wouldn't let Kim breastfeed her little brother Saint West:
You can check out the full season finale episode when it airs tomorrow, April 20th at 10pm on FYI.
Photos: FYI