That  "27 Questions Black People Have For Black People" video BuzzFeed made recently has folks going HAM on the list loving, viral video company.  Now, one of the company's black employees is speaking her piece about the controversy.  Get it inside...
Here's the backstory:
Black Twitter and plenty of black folks everywhere were NOT pleased with Buzzfeed's new "27 Questions Black People Have For Black People" video.  If anything, it was tone deaf and unnecessary.  Questions from "Why do we call each other the N-word, but get vehemently upset when a white person uses the N-word?" to "Why do we think people with light skin look better than people with dark skin?" had folks were extra pissed. 
So "they" dragged BF for filth on every social media platform and think piece you could find.
For instance, Awesomely Luuvie writes:
Where other videos they created were thoughtful, nuanced and smart, this one was foolish, trite and a waste of time.

Every one of the people in this video come across as people who are trying to let white people know that "I love my people but I'm not like many of them" is a defining core value in their lives. What the world needs LESS of are Black people who are NOT unabashedly proud to be Black. What we need less of are new negros who love seeing themselves as exceptions to the rule.
At NPR, Leah Donella wrote the questions "rest on seriously flawed premises." She continued:
"Many of the questions seem to presuppose that blackness exists in a vacuum, and that the actions, beliefs and perceptions of black people haven't been shaped by, say, housing segregation, mass incarceration, poverty, underfunded schools and the like,"
BF issued an "apology" after getting shot up on social media worse than Cleo literally got shot up in "Set It Off" and said:
"We've heard your concerns about last week's video. We made a mistake, and want to get better at earning the trust of our black audience," the site tweeted Monday.
Despite their "apology," they weren't sorry enough to remove the video.  We wouldn't expect them to.  Ad revenue generated from the controversy they create is seemingly more important to them.  At least that's what we've witnessed first hand on a different ocassion.
Fast forward to minutes ago when Quinta Brunson, one of our fave BF actors back when we watched BF's vids, spoke her piece.  She said: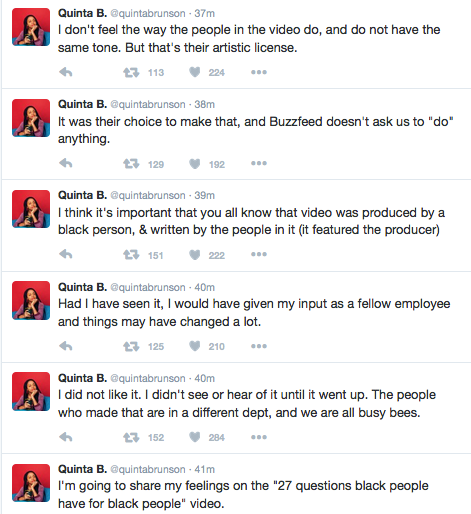 Hmph.
When someone thought she was saying the video should be OK because black people were behind it, she responded: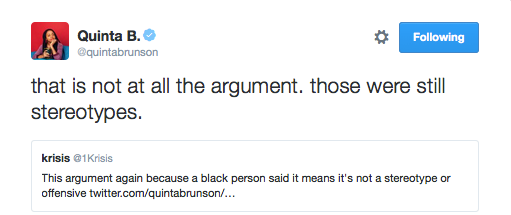 Since the discussion has become newsworthy and it's only ~fair~ we include the video for you to judge yourself:
So, tell us your thoughts.   Still side eyeing BuzzFeed and their "apology"?  Or, is this all much to do about nothing?
EXTRAS:
1.  No jail time, only 800 hours of community service and 5 years probation for former NYPD Officer Peter Liang in the killing of Akai Gurley. STORY
Photo: Quinta's Twitter