T.I. is calling out the imposters!  Find out how he slammed reports that he demanded $40,000 to attend a funeral inside...
Chile, what?  Someone asked T.I. to come to their son's funeral...and a fake T.I. responded saying he wanted 40 stacks?
Well this is disturbing...on multiple levels.
This Facebook message circulated today after a 12-year-old boy named Jajuan Lathamwas sadly shot and killed Saturday night in Knoxville as a result of gang-related violence.
Allegedly, Latham's family posted on social media that they would like to have rapper T.I. attend the funeral because he was the boy's favorite rapper.
Soon after, an account claiming to be T.I. (which doesn't appear to be verified from the screenshot below), responded that he would appear....for his $40,000 rate.
Folks went nuts on Facebook and started slamming the ATL rapper for being money hungry and selfish: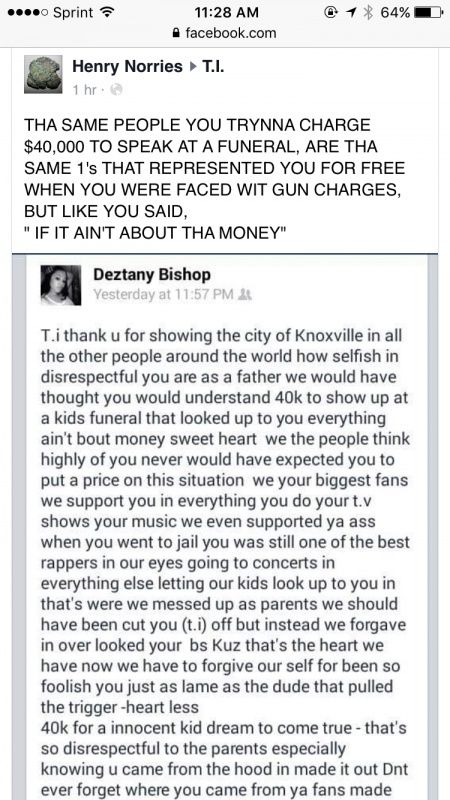 The only problem is, it wasn't T.I. who responded.
The real TIP responded on his verified social media today slamming the imposters and telling folks to be careful with who they are speaking to, esp. if charging for funerals isn't even something he's known to do.
The "About The Money" rapper said:
Bloop.  So there  you have it.  #KnockItOff
Photo: T.I.'s IG