Usher testified in court today that things once got physical between his girlfriend Grace Miguel and ex-wife Tameka Raymond with Tameka spitting at her.  Get the deets inside and find out what Wendy Williams has to say about black women and plastic surgery.
Who knew Tameka Raymond was "Bout it Bout it?"  
Earlier today, Usher testified in court that the day he showed up at Tameka's house with his girlfriend Grace Miguel (he called Grace his "girlfriend" under oath but seems to deny it to the media), Tameka went HAM hitting him, throwing food and spitting at his girlfriend.
As the ex-couple continues to battle for custody, Usher said Tameka approached him and Grace and "wanted to fight."  He said that Tameka walked up to the car and said,  "I'm gonna kick your ass. Bitch get out of the car. How dare you bring this woman into my subdivision in my house?" He added, "She continued to spit. At this point she pulled the door open, tried to swing at her."
Deep sigh.  He alleges that after he got out of the car to calm her, Tameka hit him. THEN, "she threw a plate of food at the car!" He added that one day, Tameka told Grace, "I will f**k you up."
Watch the video here:
There's three sides to every story.  We do know that.  But we can't say we wouldn't be surprised if every bit of this was true.  Maybe not the full story, but true.
Also.......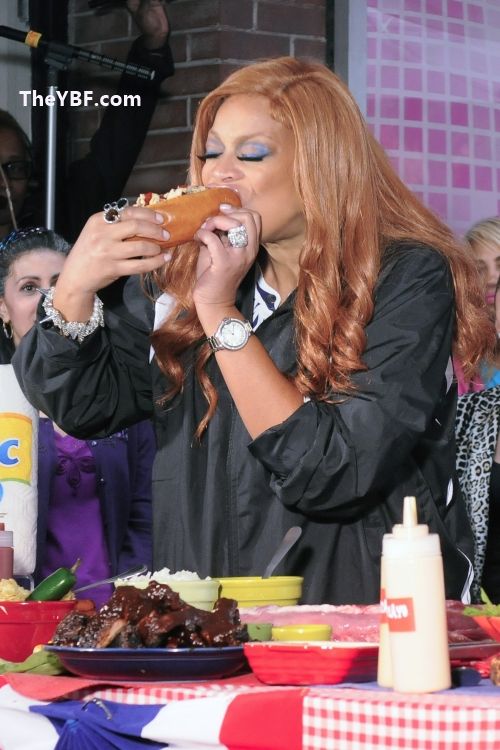 Wendy Williams may have been spotted munching on hot dogs and BBQ while taping her show earlier, but if the pounds ever start to load up...she knows how to get them off.  During a recent interview with XO Jane, Wendy expressed her love of plastic surgery and addressed her critics.  Wendy (who is open about her liposuction, breast implants and tummy tucks) said black women are just JEALOUS of her post-surgical body because they think you're supposed to be natural.
"They are jealous.  Because if I said to that person, 'I got the doctor and I'm going to pay for it. Choose three things you want to do,' believe me, they would get it done. They are very jealous and scared. Scared of what their other friends would say, or to break out of the box and be different. And being Black? Ugh, please. My people will not go for any kind of surgery. We are supposed to be natural. Ugh, whatever."
Oh Wendy....
She also addressed her "wig" haters saying, "If you do wear a wig, everybody wants you to take off the wig and show your hair. That's what Tyra [Banks] did on her show years ago. Because she was running out of ideas trying to shock her audience."
Watch Wendy behind the scenes here:
BONUS: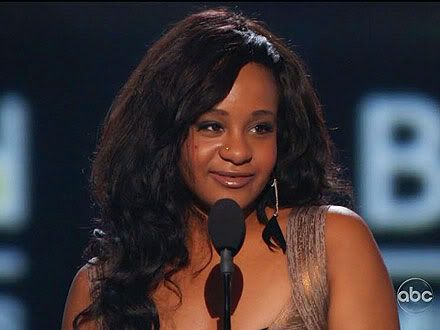 Bobbi Kris stole our hearts last night during the 2012 Billboard Awards' tribute to her mother Whitney Houston.  But she also spent part of the weekend breaking the law as video has surfaced of she and Nick Gordon at the slot machines of the MGM Resort and Casino on Saturday.  Because Nick is 22, his presence was fine....but 19-year-old Bobbi Kris at the slots was a no-no!  If she would have won any money--she wouldn't have been allowed to receive it as casinos require an ID stating you're over 21 in order to receive a payout.  And they've got cameras EVERYWHERE.  The casino is now launching an investigation.
Watch Bobbi Kris gambling here.
Earlier in the evening......
Bobbi Kris posed for a flick with Wiz Khalifa.
Photos via INF/Michael Crawford / Video via TMZ