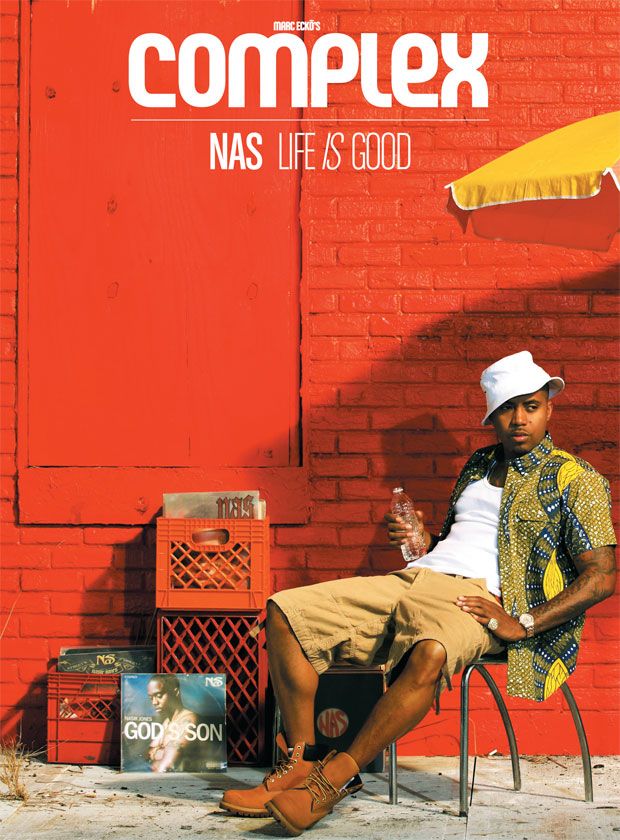 In a colorful early 90's style shoot with COMPLEX magazine, The Don is officially solidifying his place in the current hip hop world.  Nas is more than back (and even sexier we may add) on the rap scene as he preps his tenth studio album, Life Is Good.  So he's revealing how his new outlook on life came from his rough split with Kelis, the drama with his teenaged daughter, Destiny, how he looks to please no one but himself & his changed outlook on women...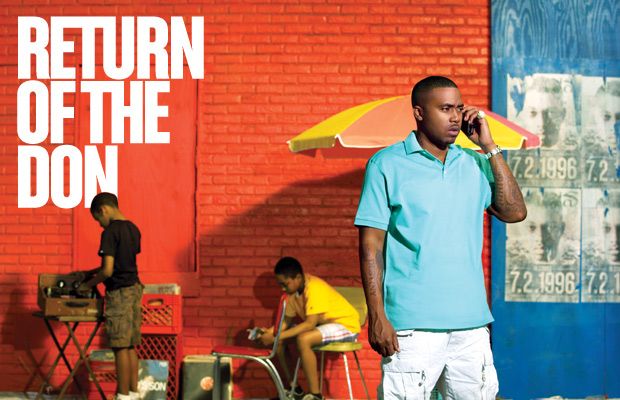 (Shirt: Ralph Lauren, Pants: Ralph by Ralph Lauren)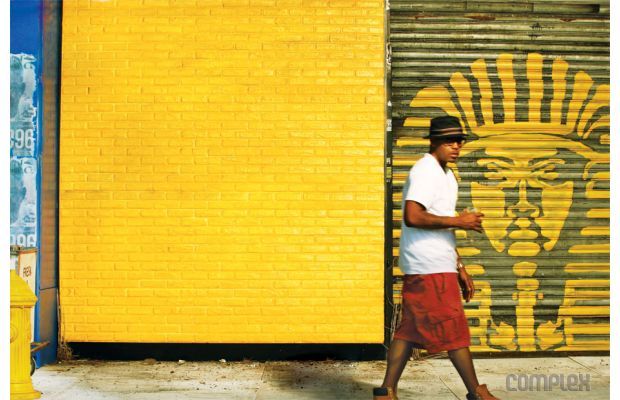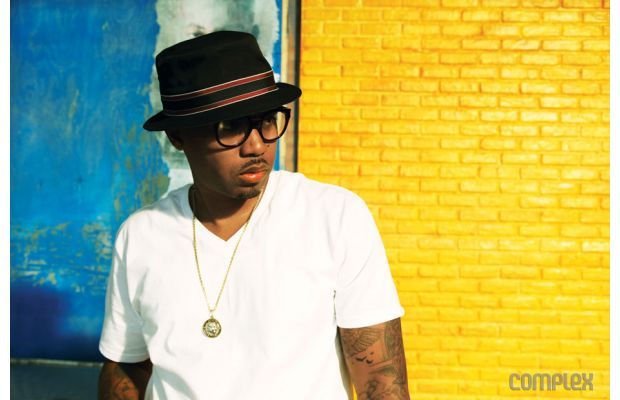 (T-shirt by Calvin Klein / Shorts by Ralph Lauren / Boots by Timberland / Hat by Capas Headwear / Eyewear by June Ambrose Eyewear)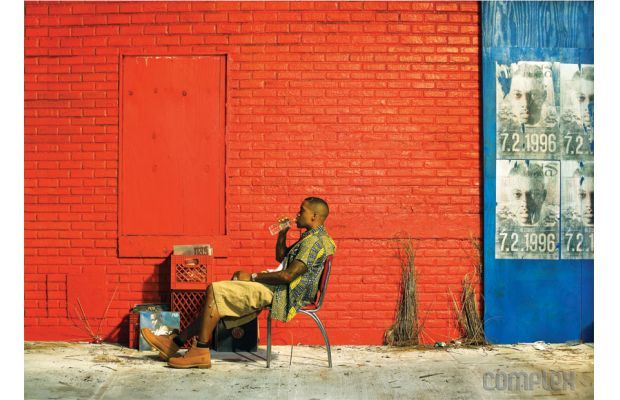 (Shirt by Woolrich Woolen Mills / Tank by Polo Ralph Lauren / Shorts by Rocawear / Boots by Timberland / Hat by Kangol (on cover) / All jewelry Nas' own.)
We picked out our fave highlights from Nas' big cover story with COMPLEX magazine.  The spread, styled by June Ambrose, is accompanied by Nas dishing all on those rumored money problems and cheating rumors Kelis has blasted him on (and why his feelings were hurt), and how he doesn't let anything affect his happiness this many years in the game.  He speaks on the sexiness of our First Lady, offers up a few compliments to his ex wife, and what he won't tolerate from folks.  And gives more details into the controversies surrounding his life:
"Daughters" was an emotional record. What made you be so honest?
This is the first time I'm dealing with a teenage daughter, and it blows me away. I don't know that you're ever prepared to be a parent. Once you become one, that's your responsibility. It's more like me talking to myself, about how I could have been there a lot more. I beat myself up for not being the best I could be. I would ask her: "Am I a cool dad?" or "Am I a good dad? Did I fuck up?" And she would say, "Nah, you're good." That's important to me because I started as a teen. I was around 19 when her mother was pregnant. My daughter means a lot to me. It's just a record that came from the heart.

What's the most important thing that you want to teach your son (Knight) about women?
He has to have his own life. My experience could be the wrong thing for his life and what's ahead of him. A lot of older people are giving the worst advice, based on the problems they had. I'm going to need him to tell me what to do. That's what I'm looking forward to. If I'm here, we'll talk. If not, he's going to figure it out on his own. He'll take his mother's words, he'll take my words, and then there's the truth. Whatever he feels, he's got to go with his heart, and be a man in every occasion.

You talked about regrets, and looking back. Do you feel like you were punished for surviving, on some level? Big and 'Pac are untouchable now.
I'm blessed to be here and be able to go into the studio and record another album. If someone has a problem with how I'm doing my thing, how I'm living my life, how they see my legacy, that's none of my business. How can I be mad, when I still have more to say and the opportunity to make music? That alone—that's why my life is good.

What's your relationship with the blogs and Twitter?
I don't understand how artists get pissed off at people on Twitter. I appreciate a good joke. I mean, who are you? Not to say that people should have the toughest skin, and nothing should bother you... Maybe it's just my age. I know who I am. I know what I've survived, and I know what I've done. That shit wasn't easy. So for someone who doesn't know anything about that to comment on it, you can't be mad at them. They don't know any better.

There's a record about Kelis on Life Is Good that goes into what made you fall in love with her. How hard was that breakup? What was the feeling when she had your son after you were separated?
There was a point where we were trying to hold onto a relationship that was finished. She was pregnant and in the studio while we were recording Distant Relatives, and he would move when the music would come on. That was a great feeling for me, just to have that feeling of family. It ended around the time the record was being done.

There were times when it didn't bother me, and there were times when it bothered me a lot. There were times when I was thinking, Damn. I had this shit all planned out, and now I've failed. That was hard on me, because I don't like to fail at anything. Accepting that I failed at this relationship—and it was public—messed me up. You ask yourself, How could that person be so cold? And I'm sure she felt the same way about me. It was ugly.

I saw Kelis as Courtney Love—but I also saw her as a mahogany queen. I saw us as a beautiful thing.

How has your relationship with women changed, now that you're older and you've been divorced?
I'm taken aback by the beauty of women. There was a time when I only saw big breasts and thick asses. Now, I see the beauty in the subtleties. Those are even better than the tits and ass. The aesthetics have changed for me.

She might not be the prettiest, but there's something special about her—
That makes her pretty. No disrespect to women when I say bad bitch, but my definition of a bad bitch is not always the video vixens. A bad bitch can be a younger woman, in her early 20s, but wise beyond her years. It could be a woman in her late 30s, who's cool as hell, smart, and has great motherly qualities—or has great motivational skills, or is a powerful mover and shaker in her own career.

Like Michelle Obama is sexy.
Michelle Obama is the most beautiful woman on the planet. She cares about people. All first ladies have their jobs to do, but you can feel her sincerity.

After you say "I do," everything changes.
Yeah. (From a previous question) It's fucked up when money's involved in divorce. And I don't give a fuck. I can't take it with me, so someone can take the money. Anyone that I'm married to, if I give you my life, I give you my heart, I love you—my money is nothing. You can have it all. It's just sad that when you're dealing with love and life and marriage, that marriage is a contract. It's a business deal. That messes people up.

Did you see a problem immediately?
Yeah, but it was a problem I was attracted to. It was rock and roll. I saw Kelis as Courtney Love—but I also saw her as a mahogany queen. I saw us as a beautiful thing. I saw us as inspiration. People weren't seeing hip-hop artists get married. A lot of people came at me crazy. But I think overall, we were inspiring people to love.

My daughter would be calling me, like, 'Dad, they're talking about you on the radio.' She wanted to tweet back, and I told her to take the high road. It was ugly.

There was a lot that was thrown at her that she couldn't handle. Like I was saying earlier, there's a lot that I could tell my kids, but they've got to fish it out for themselves. Every night, she was in bed with Harvard. She was sleeping with Harvard. She had all the answers, but I needed something more from her, that she either wasn't ready or didn't know how to provide. Plus, she is younger than me and she hadn't seen all the things I had seen. She was on her journey, I was on mine. In the beginning, I said, "There's parts of this that might not work," but there was a beautiful part of it, too. For the most part, I had a great time being married. It was amazing. She's an amazing woman.

She never threw daggers at you in the media.
No, she did. Over Twitter, and there were things.

In an article, she said that she wasn't going to say anything bad about you.
That was later, because the response was not good. There were bad tweets. She was angry. She was lashing out at anyone—and anyone she would lash out at, people automatically thought she was talking about me. My daughter would be calling me, like, "Dad. I'm on my way to school, and they're talking about you on the radio." My daughter wanted to tweet back and shit, and I told her to take the high road. It was ugly.

How is it now?
It's a lot better.

So there are no issues? You see your son as you please?
That side is not great yet, but it's working toward being that way. She's a new mom. I'm busy and she's busy. From what I see, she's being a good mom, and it's working toward a great place. There was a time when I couldn't see him at all. It was terrible when the divorce was fresh.

Did you ever get to a point where you hated her?
No. I got to a point where I was like, "Did she always hate me?" and "Did she ever love me at all?" I've got to admit, I did feel like that. But she did love me.

The backlash is because she loved so hard.
Exactly. They wind up taking it out on you. A lot of divorces are bad because a woman is just being vindictive. She's not after the money, she just wants you to hurt the way she was hurt.

Could you ever see yourself getting married again?
Not right now. I'm enjoying life and looking at each day like, "This is beautiful." I'm having a good time. I'm not going to bring anybody in to mess that up. You come around looking like you're going to mess this good time up, you're out of here—fast. [Laughs.] I'm not sacrificing my happiness for nobody and their drama. No way.
Check out the full interview over at COMPLEX and the behind the scenes footage below:
Loves him.  Life Is Good is in stores July 17th.