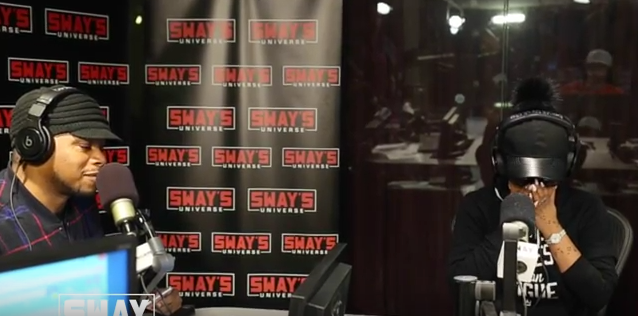 K. Michelle says she's been working her ass off on this new More Issues Than Vogue album, and it seems as though the pressures of the industry are getting to her. Get her interview with Sway Calloway on Shade 45 where she broke down in tears and opened up about some issues...
Yesterday over on Shade 45's Sway's Universe, K.Michelle stepped to the mic and opened up more than usual.
Fresh off the drama with Angela Yee on The Breakfast Club, K. Michelle told Sway and the crew about dealing with this industry. 
She shockingly revealed she hasn't really slept in two weeks, and gets about 10 hours a week.  In order to deal with it, she's getting uppers and downers from her doctor, and the pills seem to be taking their toll on her emotional state.
K. said she's been working and going so hard that in addition to not being able to sleep, she often forgets to eat, so she knows she's got to make a change.
She broke down into tears who when talking about not being able to do the music SHE wants to do, which is country music, and also saying what she wants to say.  But when a caller told her the music resonated with him, she broke down. 
She was an open vessel about an abortion she went through, the racism in this industry (especially when it comes to Billboard or Grammys not inviting top selling R&B acts to award shows), people not caring about her health even when she's worked 24-7 and feeling sick, and more.
Heather B. and Sway gave her some emotional support, hugs and told her they've been in the same position of being an overworked artist. 
"It's just no time.  There's never enough time.  Everything is just on you. You have so many people depending on you and you can't even breathe.  No one asks if you're ok.  Everybody wants money, everybody wants something.  Nobody is just there to be there.  It's always something every day.  People not doing their jobs.  You gotta take the slack for them not doing their jobs.  Because then it's like, K. Michelle didn't do it... When can you possibly sleep when you just can't be an artist?  I don't have that liberty....I do everything."
We can definitely relate to that.
Here's the full tearful interview: