Columbus Short is telling his side of the cheating drama between him and his wife Karrine Steffans....kinda.  Get the latest inside, plus Nick Cannon shared that he rushed to his artist Kehlani's bedside to show his support...
Columbus hopped on Twitter today to defend himself.  At least that's what we think he's tryng to do.
After his wife Karrine Steffans posted footage of her throwing him out of the house (or hotel room, apartment, where is this?!) for cheating, ish has gotten really real in the Short household.
Karrine dragged him up and down Instagram and Twitter for his actions.  All this after she's been posting nonstop about their love she's been "obsessed" with (her words) throughout the 6 months of their marriage.
The trainwreck we all saw happening before it actually did is officially here.  So what does Columbus have to say about it all?  He seemingly admits to living in HER house because he was previously homeless, possibly after he split from his now ex-wife?  Chile...
Read it all below:


Karrine's response?
Oh.
Meanwhile: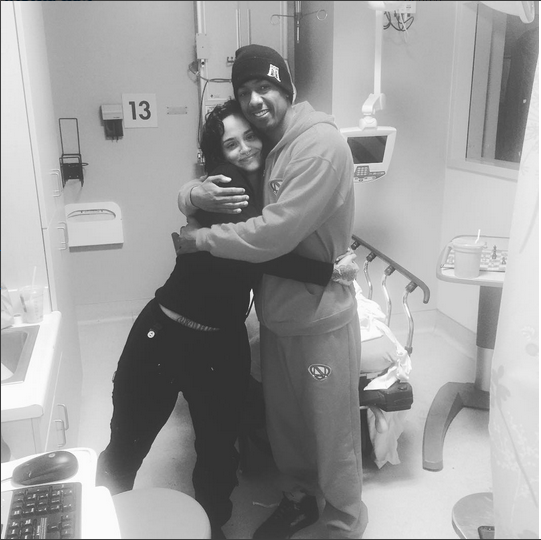 Now that singer Kehlani is under a psychiatric hold for attempting suicide after all the PartyNextDoor/Kyrie Irving drama, Nick Cannon has rushed to her side.
Nick took her under his wing when she moved from the Bay to L.A. and gave her a deal.  She's on his NCredible roster.
Nick posted the above pic saying:
Had to go grab my Youngen! #Family #LoveHug #NeverLettingGo #NeverLeavingHerSide #IGotYouForLife #UsAgainstTheWorld
Still no word from either guy involved.
EXTRAS:
1.  Trump's campaign manager Corey Lewandowski was arrested and charged for battery. He was caught on video at a Florida trump rally grabbing Breitbart reporter Michelle Fields, who filed the complaint.  Donald said "I stick by people" and he's keeping his campaign manager in his position.  STORY
2.  Bill Cosby's lawyer Monique Pressley says the judge has granted Cosby his motion in part and dismissed half of the lawsuit Janice Dickinson filed against him.  STATEMENT
3.  Halle Berry just joined Instagram!  STORY
4.  Roscoe's Chicken & Waffles has filed for bankruptcy.  Tragic.  STORY
Photos: Instagram