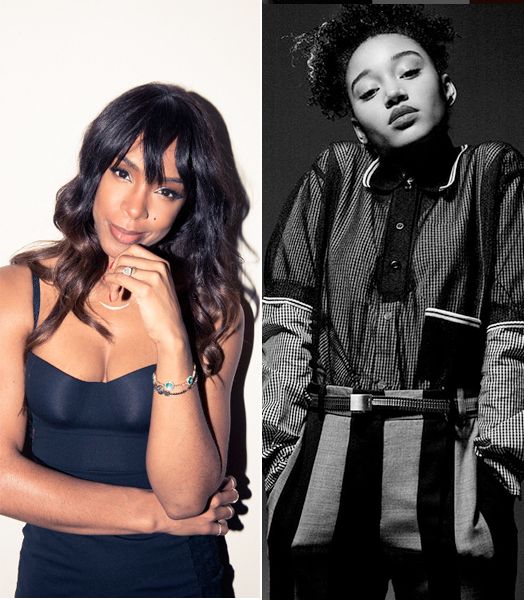 Kelly Rowland and Amandla Stenberg give candid interviews for The Coveteur and INTERVIEW magazine. Find out what Kellz revealed about her beauty obsessions and how Amandla feels about the dangers of being labeled a social activist inside….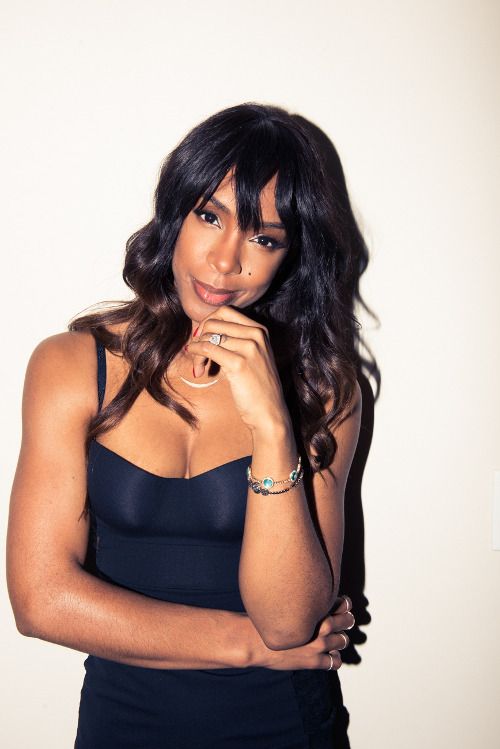 As she gears up for a new hosting gig on BET, Kelly Rowland lets The Coveteur raid her glamorous closet inside her West Hollywood home. Of course, all things fabulous were found inside her closet with designers like Saint Laurent, Gianvito Rossi, Tom Ford, Aquazzura and Céline neatly put into place.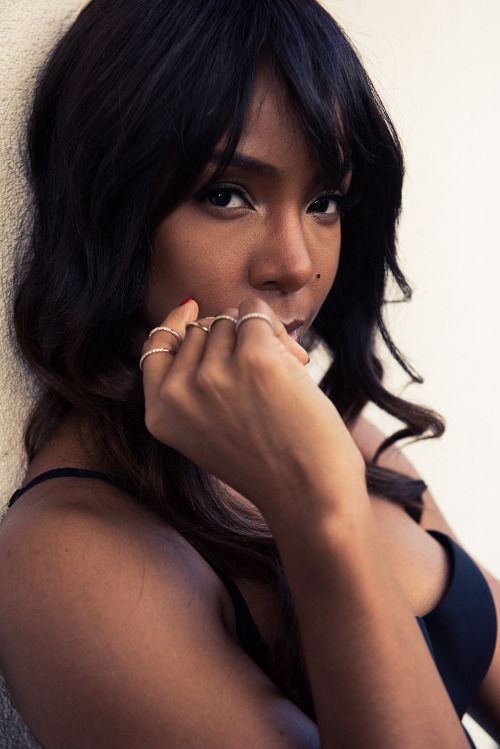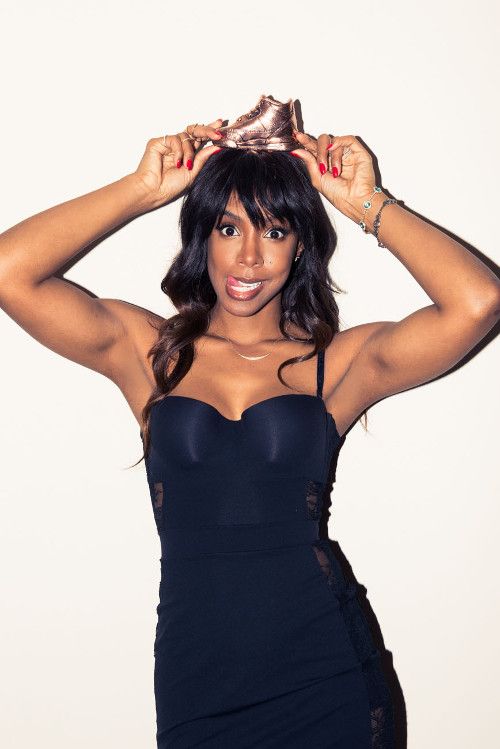 Being a true fashion and beauty lover at heart, the "Chasing Destiny" host has been busy has creating her own beauty line in collaboration with makeup artist Sheika Daley. And she dishes on what fans can expect from the upcoming line. Stand by brown beauties!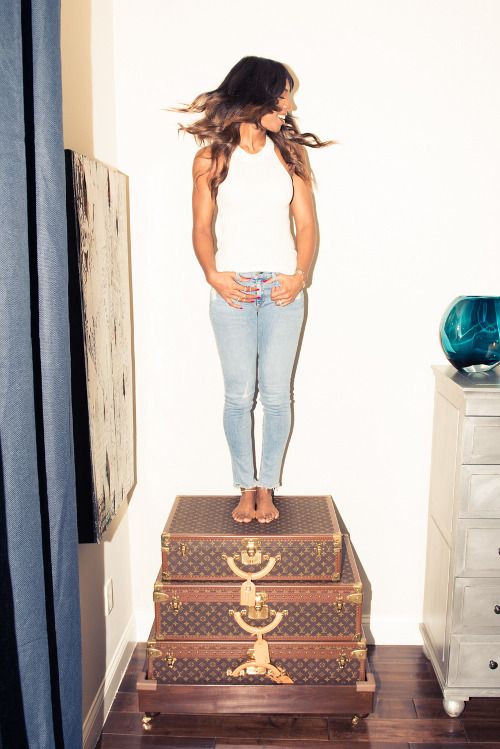 Kellz also reveals her makeup/beauty inspirations, her latest beauty obsessions, how she keeps that toned bod of hers in shape, why she chose to do "Chasing Destiny," and she drops a few gems for aspiring artists trying to make it in the music biz.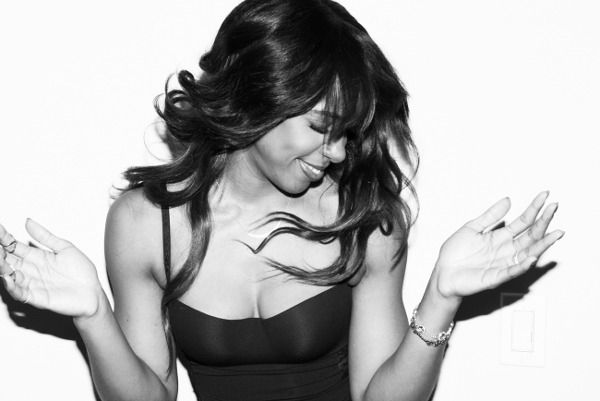 Below are the highlights:
On make up tips from her mother Doris Rowland Garrison and Mama Tina:
"[I learned to love fashion and beauty by] watching my mom. My mother was the woman who had every single makeup anything—she wanted it in every color, she wanted to make sure it was waterproof. My mom had everything. Then I met B's mom, Tina. Tina is just glamorous. She always wore her red lipstick and her orange lipstick, and I remember I was scared to try those colors, and she was like, 'Are you kidding me? Wear whatever you wanna wear!' She put orange lipstick on me, red lipstick on me, and she just made me feel that it didn't matter what shade I was—I could try anything. She made me feel like I could try it all!"
On her upcoming make up/beauty line:
"I am [coming out with my own beauty line]! I'm so excited! It couldn't come fast enough. We have been working on this forever. We're actually starting with lashes, and then we're going to graduate into everything else. Sheika, one my makeup artists, we have just become tighter than tight, like. She's one of my closest friends, and she started just by literally cutting lashes and making them for my eye shape. She works with one of my best friends, Lala, and now she does Nicki Minaj, too. She tailors the lashes to each eye, and I'm like, 'We've got to figure out a way to do that for the masses.' We've done it, and we're very excited about that."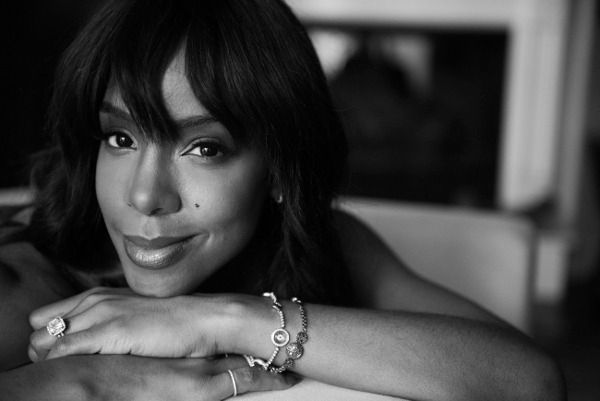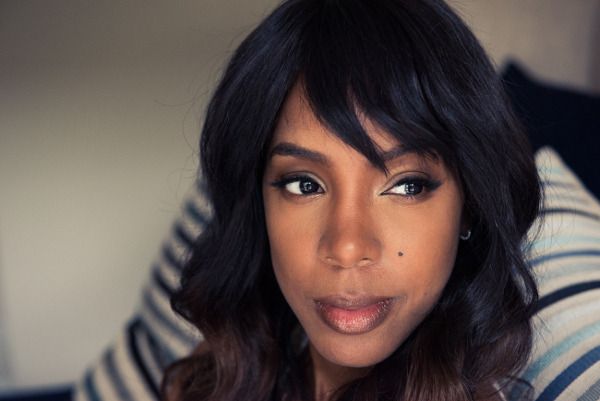 Her latest beauty obsessions:
"Right now I am obsessed with my facialist Shani Darden's stuff. Ugh! It has saved my skin. After I had Titan, I felt like my hormones were all over the place, and I went to go see her because a friend of mine, Jen Atkin, told me about how ah-mazing Sheena was. I met her at Jessica Alba's Baby-To-Baby event, and next thing I knew I was just like, 'Let me go see this woman 'cause everybody is raving about her!' She started hovering over everything and she did my facial, and she was just magical. My skin just completely changed for the better. It was awesome."
"Kiehl's has this spray, it's like a travel spray, and it just makes me feel refreshed every time I spray it. It's amazing, and I think they're going to discontinue it—I'm really pissed! The last time I went to a Kiehl's store, I bought all the ones that they had [laughs]. You don't feel like you're going crazy after a flight, you just feel like 'Ooooh! I'm amazing, I'm alive!'"
"If I'm having a natural day where I just want my lashes to really pop, I use my my eyelash curler, but I am obsessed with Kevyn Aucoin's mascara. It kind of capsules your eyelashes and extends them. I don't know WHAT they've done to the formula, but it's genius. As you can tell, I'm a huge makeup fan [laughs]."
On how she keeps her trimmed and toned figure:
"I love food, and I just have to be careful. I try to practice the 80/20 rule, where 80% of the time you eat the food that really helps your body, and then you have that 20% where you just want like three glasses of wine, some whisky sours, pizza, nachos [laughs], that kind of thing. That's me."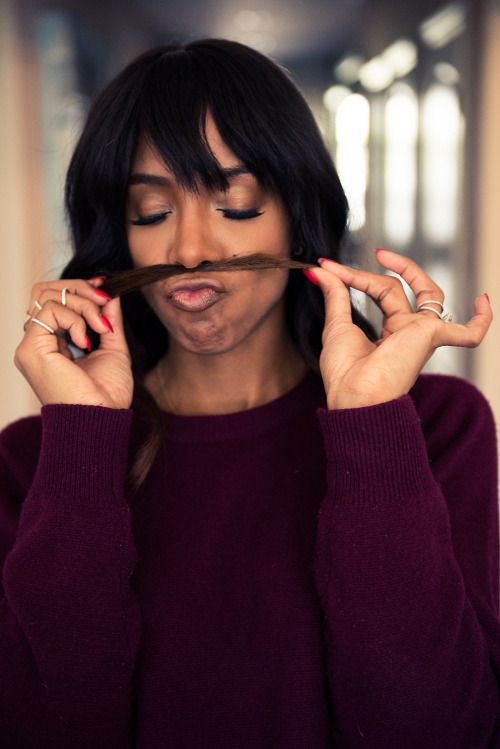 On why she chose to do "Chasing Destiny":
"Ever since Destiny's Child's very last tour, I remember thinking to myself, 'I want to put together a girl group.' I just haven't had the time to do it because I was busy doing my own projects and I was so invested in that. I didn't want to be one of those artists who was so enthralled in what I had to do that I couldn't really pay attention to the artists that I would be taking under my wing. I wanted to be completely focused on it, and that's exactly what happened [with Chasing Destiny]. I had the time, and it has been a wonderful process."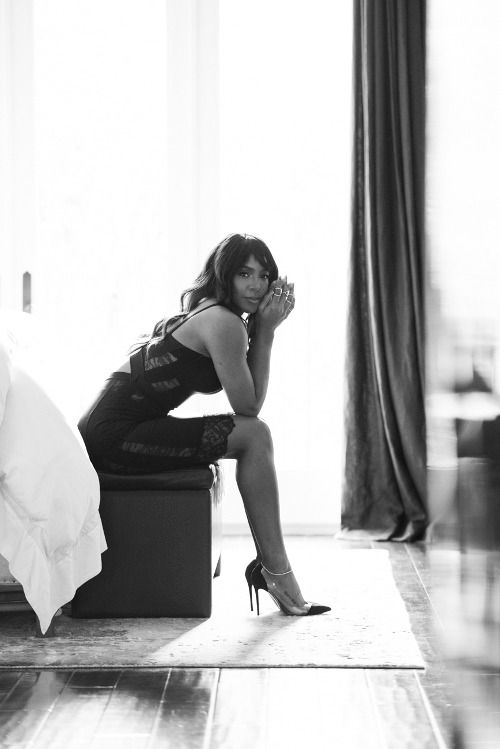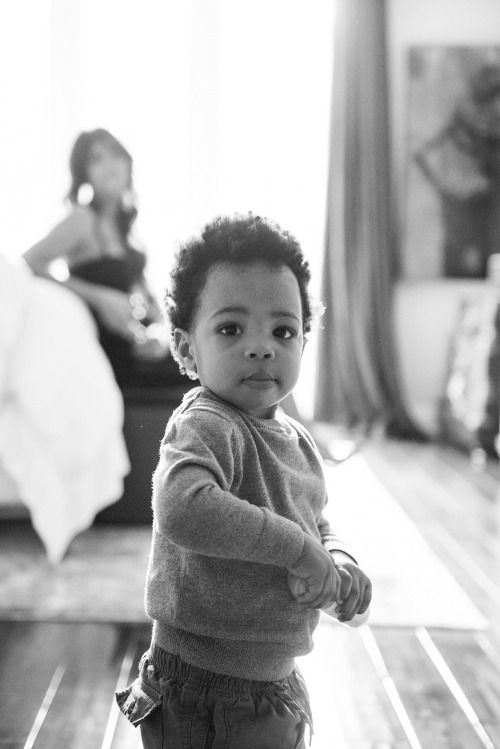 On advice to aspiring artists:
"[My advice to anyone wanting to be a musician is to] save your money. You have to be selfish with your money. It's so funny—as an artist, you have people who are so supportive of you on the way up, and you want to be able to help them because you feel like they were there for you. The truth is that you have to take care of yourself first, and then you take care of those people. Think about your future. The more you help people out, you have to look back at your account and be like, where did the thousands, the hundreds of thousands of dollars go? It's great to have a good heart, but it's also good to look at your account and be like 'Look at what I accomplished, how can I invest it?'
LOVE her!
You can check out her full interview here.  "Chasing Destiny" premieres April 5th on BET.
Elsewhere on the magazine circuit.....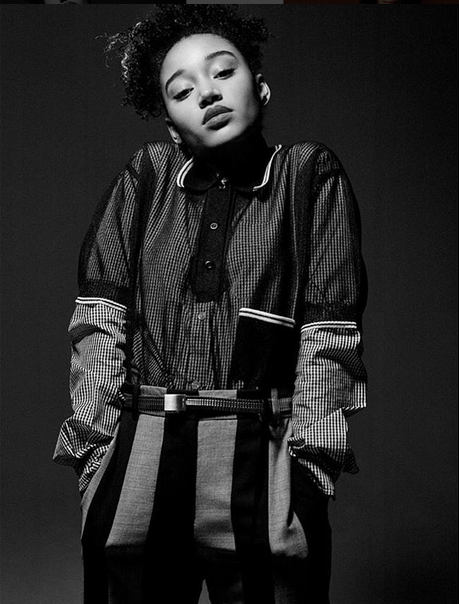 Hunger Games starlet Amandla Stenberg chops it up with INTERVIEW magazine for their newest issue.
The 17-year-old outspoken socially conscious teen, who will start classes this fall at the prestigious New York University film school, opens up about the dangers of being labeled a social activist and how it could possibly affect her career.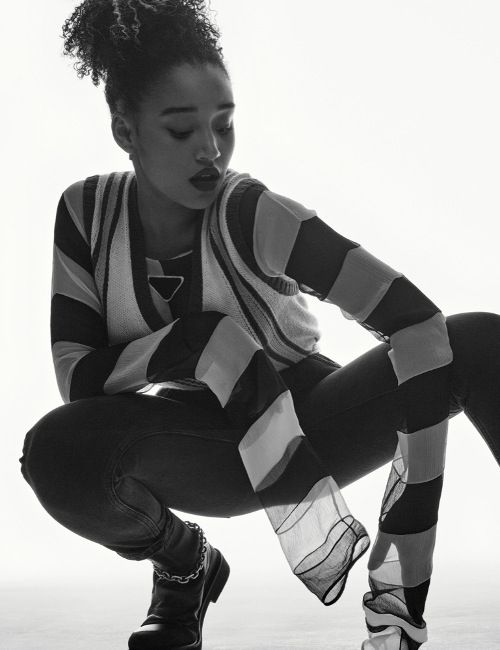 Amandla, who will star in new film inspired by the Black Lives Matter movement, talks about why it's important for her to further her education to become a director so she can tell stories that are often not told by the "powers that be." She also touches on her coming out as bisexual, how she hopes to inspire the younger generation and more.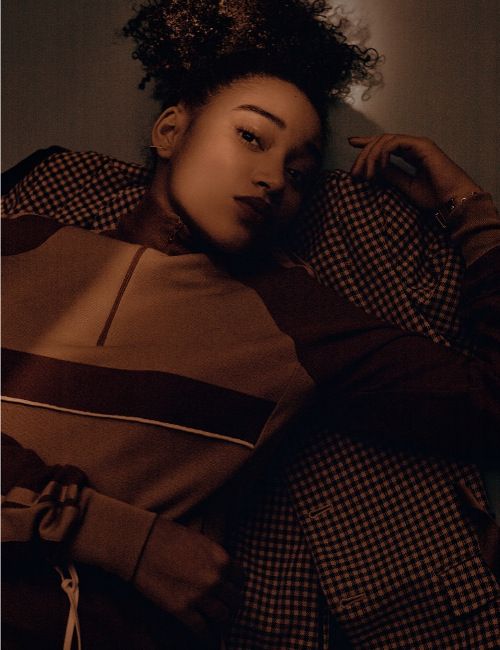 Below are the highlights:
INTERVIEW: What do you think about #OscarsSoWhite?
STENBERG: There are some really valid things in what Jada Pinkett Smith said. I'm really passionate about representation in film. I feel like the world is dominated by such a small group of human beings. There are so many different kinds of people that aren't represented, that don't have characters who look like them. And that's one of the reasons why I intend on being a director, because I want to actually tell some of these stories. I also think that we place such intense emphasis on award shows when they're not necessarily the best reflection of how good the work is. We need to realize that art and creation are so much bigger than an award or any measure of accomplishment.
INTERVIEW: I'm so glad to see you pushing boundaries and using your voice to create a broader and broader platform for discussion. But I wonder, do you worry about being tagged the conscious actress and director? Do you worry about tokenism in the media?
STENBERG: It's definitely something I think about. Yes, there's something dangerous about turning people into token social activists. I was thinking about this recently with our pop-culture feminism, when feminism is such a buzzword in the media now. We're covering it in a way that we haven't before, but also in a way that's way more surface level. And while I think that there's some danger in that, I also think it's a great gateway for some people. It introduces people to that world so much faster and so much more easily than ever before. And, yes, I do definitely get boxed into this #BlackGirlMagic social activist category. But it makes me think, "Well, maybe people are able to start thinking about that concept earlier and will hopefully be inspired to delve deeper into it and research it more." I think that's just how the media works. It's just very good at compartmentalizing human beings.
INTERVIEW: It's interesting how making the personal public is a political act. Like, you've talked a little bit about your sexuality, and that becomes a political statement.
STENBERG: Exactly.
INTERVIEW: But you handled it with such ease and sort of comfort, which is also political—leading by example. Like, we don't need to be so heavy-footed when we are talking about sexuality and gender and race. It just seems to come very easily to you. Does that come with a lot of education? Or is that because you're speaking naturally?
STENBERG: I think it comes because I'm speaking naturally. I mean, unfortunately or not unfortunately, take it as you will, when you are a marginalized person or a woman of color and/or someone who's a part of the LGBTQ community, your acts become politicized, just by being yourself. Because we're not completely accepting of all different kinds of human beings. So that's been an interesting dynamic for me to navigate. [laughs] By being myself, I'm doing something political.
INTERVIEW: Well, I actually did see someone tweet something like, "I hope it's not your politics that made you come out as bi." [both laugh] The world is a really weird place.
STENBERG: But that's how intersectionality works. I oftentimes receive the question, "What do you think is the most important social issue to focus on?" Or, "What's the most important component of identity? Is it gay rights or race or feminism?" And I'm like, "Well, they're all intertwined. It's all one conversation at the end of the day. You can't just pick one." I mean, people experience all kinds of prejudice because of all different parts of themselves. And that doesn't make one part more important than the other. We live in a society that does not openly accept every kind of human being. And so the result is when you are yourself and someone who's marginalized, it becomes a revolutionary act—just being comfortable in your own body and being comfortable speaking, sharing your ideas. It's really amazing and also, like, kind of sad. [laughs] I hope one day it's not revolutionary just to be yourself, but I think that the work that's being done around identity and personhood is so important. I feel inspired by people around me who are part of this movement as well: Hari Nef and Rowan Blanchard and Willow Smith and these kids who are really not going to listen to anyone. "I'm just going to say whatever I feel. I'm going to be myself. And if you don't like it, then, you can go screw yourself." [both laugh]
INTERVIEW: Well, yeah. None of us has any idea what we're doing. We're all just sort of figuring it out on the run. [both laugh]
STENBERG: Exactly. And I think part of growing up is not actually finding a fixed idea of who you are, but rather being like, "Oh, wait. I'm different all the time. I'm going to change every second and grow and be fluid." And that's okay.
You can read Amandla's full interview here.
Photos: Jake Rosenberg via The Coveteur/ Gregory Harris via INTERVIEW