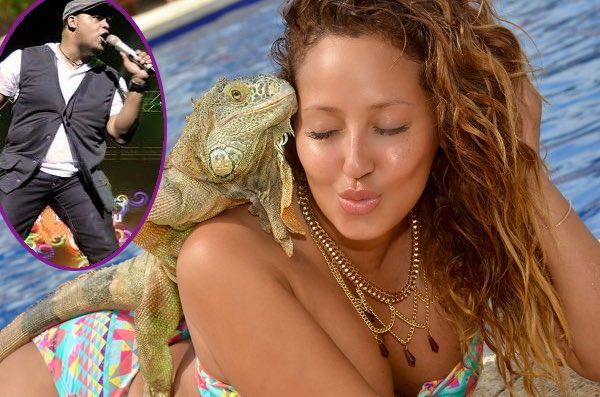 Despite reports saying gospel singer and Senior Worship Leader of the Lakewood Church Israel Houghton was fired by Joel Osteen amidst cheating accusations, Adrienne Bailon's new boo says it's not true.  Well, not completely....
Reports broke yesterday surrounding Israel Houghton and his alleged firing from Lakewood megachurch in Texas.
Supposedly, church leader Joel Osteen wasn't here for the cheating scandal Israel had gotten caught up in with his wife of 20 years.  In a statement last month, he admitted to cheating and said he and wife Meleasa had been trying to repair their marriage for the last 5 years.  Instead, they decided to get a divorce and it was recently finalized.
When romantic Mexican vacay pics of Israel and "The Real" co-host Adrienne Bailon surfaced a couple of days ago, rumors started that the singer/talk show host was who he cheated with.  Israel took to his FB page to clear things up saying the two are indeed dating, but there was no cheating involved.
The outed relationship lead to rumors that Israel was fired from his very public position at Lakewood.  The worship leader responded saying:
"I truly love @joelosteen & my gracious Lakewood family. Here is their official statement. I have not been fired."
And then there's this:
"We can confirm that Israel is on indefinite leave, but it is important to clarify that we still consider Israel to be a part of the Lakewood family and that his employment has not been terminated," Lakewood Church said Thursday in a statement.
Indefinite leave?  Oh.
Welp, there you have it.
EXTRAS:
1.  Quentin Miller admits Meek Mill's crew beat him up in a Nike store when he denied being Drake's ghostwriter.   VIDEO
2.  Aretha Franklin dished up the shade like only she can telling Billboard why the artists of her generation were stronger.  STORY
3.  Chris Bosh wrote on his website about becoming a dad to twins.  STORY
Photos: FB/Twitter