We now know what went down when Nike tried to nab Steph Curry for an endorsement deal. And it's quite awful. Find out how the shoe brand TRIED IT and how Riley Curry ended up having the final say in the situation.
Also, NBA baller Kawhi Leonard HAS to be one of the most frugal superstars yet. More inside…
NBA MVP Steph Curry is arguably the best NBA baller in the league right now. And one would be a total fool to pass up an opportunity to sign him up to promote their product.
But a few years ago, folks, namely Nike, were sleeping on the kid. ESPN got to the bottom of why Steph up and left Nike to sign with Under Armour in the summer of 2013, and let's just say Nike is kicking their own a** right now.
Steph's dad, former NBA player Dell Curry, was in the Oakland hotel room with his son when Steph was negotiating a contract extension with Nike. Papa Curry spilled the tea on what went down that caused Steph to look elsewhere for an endorsement:
Early in the meeting, somebody mispronounced Stephen's name, accidentally saying 'Steph-on.' "I heard some people pronounce his name wrong before," says Dell. "I wasn't surprised. I was surprised that I didn't get a correction."

Nike had a presentation, which included the name Kevin Durant, presumably left in by accident, making it seem like the presentation was an old one they were recycling. "I stopped paying attention after that," Dell says.

Then there was the matter of Nike explaining that Stephen would not be a star at Nike. "They have certain tiers of athletes," Dell says. "They have Kobe, LeBron and Durant, who were their three main guys. If he signed back with them, we're on that second tier."
So, they said his name WRONG, used a recycled powerpoint presentation and "demoted" him to a second tier athlete? Nah...Steph, nor his dad, was having that.
Steph's daughter Riley wasn't either.
The Golden State Warriors point guard told ESPN it was Riley who ultimately made the final decision on which company he should sign to. An excerpt from the article reads:
"My favorite story is Riley," says Steph. It's a few weeks before a final decision on the shoe contract must be made. At his agent Jeff Austin's house in Hermosa Beach, California, Curry surveys the array of shoes before him. He asks his baby daughter, "Riley, which one do you like?"

At this point, Riley is little over 1 year old. She is presented with a Nike sneaker, an Adidas sneaker and an Under Armour sneaker. She picks up "shoe one," a Nike. "Threw it over her shoulder," Curry says. "She picked up shoe two, threw it over her shoulder. She picked up the third shoe, walked over and handed it to me." It was the Under Armour Anatomix Spawn. "So I knew right then," Curry says, smiling.
How about that?!
According to one analyst, Curry's signature sneakers have become a hot commodity, estimating his value to Under Armour's growing brand at a staggering $14 billion. Somebody give Riley an Under Armour Jr. line STAT!
In other baller news...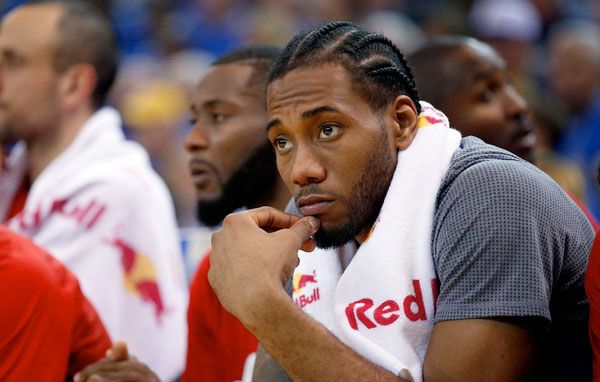 You hardly hear about a frugal professional basketball player, but there's at least one in the league. And his name is Kawhi Leonard.
The San Antonio Spurs forward, who was named the Finals MVP in 2014, signed a five-year, $94 million maximum contract last summer.  Nut guess what? He still lives in two-bedroom apartment in San Diego, he drives a '97 Chevy Tahoe AND he still clips coupons. YESSSS extreme coupon fans!
Sports Illustrated reports in a recent profile piece:
A lot has changed for Leonard since that conversation with Pop [...] but a lot hasn't. Leonard spends his summers in a two-bedroom apartment in San Diego, where he hangs a mini hoop over one door so he can play 21 against [his high-school friend Jeremy] Castleberry [who now works in the Spurs video department]. He carries a basketball in his backpack even when he isn't going to the gym. He often drives a rehabbed '97 Chevy Tahoe, nicknamed Gas Guzzler, which he drove across Southern California's Inland Empire as a teenager. "It runs," Leonard explains, "and it's paid off."

He is the only star still rocking cornrows, an outdated tribute to Carmelo Anthony, and he shrugs when friends claim he'd expand his endorsement portfolio if he shaved the braids. He is happy to sponsor Wingstop, which sends him coupons for free wings, so he can feed his Mango Habanero addiction. This winter, after his $94 million contract kicked in, he panicked when he lost his coupons. Wingstop generously replenished his supply.
Talk about staying grounded. We won't be hearing about him going broke anytime soon if he keeps this up.
Photos: Getty