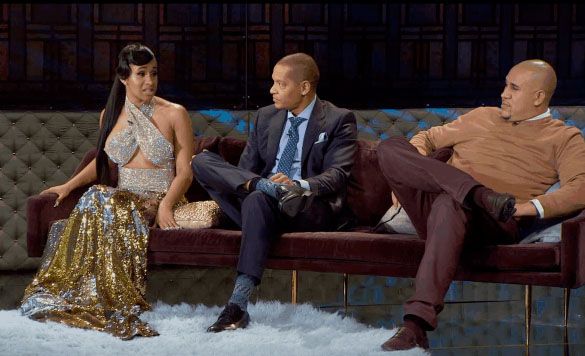 Cardi B was LIT during the "Love & Hip Hop: New York" reunion last night. And chick put womanizer Peter Gunz in his place with an epic roasting. Was she out of line? Decide inside….
Part 1 of "Love & Hip Hop: New York" season 6 reunion was MANY things. But, one of the highlights came during the scenes for next week's episode.  Former stripper Cardi B BLASTED Peter Gunz for impregnating his wife Amina Buddafly Pankey AND his baby mama Tara Wallace.
Peter tried to call out (former?) stripper Cardi B. He called her a "ho" for receiving money from dudes she's smashing. Umm…is the pot calling the kettle black? Because of all people on the stage to be calling someone a ho, it definitely shouldn't be Peter Gunz.
Well, Cardi took it ALL the way there after his comment and let the womanizer, whose wife Amina revealed she's a few months pregnant and his baby mama Tara was 9-months pregnant on stage, HAVE it. She said,
"You got everything you wanted from me, why can't I get something back? Look what you gave Amina and Tara: BABIES! And that's it. Are you paying both of their rent? You know you not paying their rent."
Peter responded, "Do you know me?"
Cardi B continued:
"I see what I see on TV. Men like you are the type of men I be talking about. You need to get from these guys what you want. You get p***y out of both of them, and what are they getting in return? What are they getting in return?! They look STUPID on TV!"
Oh, and she didn't stop there. Things began to get heated and Cardi continued:
"Old, washed up a** n*ggas who be fuckin' b*tches lives up and their reputations. She's [Amina] a talented as woman and Tara is a smart a** woman and you have them looking DUMB on TV. Love your wife! And love your kids. Look how you show your daughters how women should get treated!"
Never thought we would say this but, chick has many-a-points.
Check it:
Chile...Cardi B was speaking nothing but TRUTH! Peter has been doing the absolute most with these women for years.  Still, Amina and Tara are also to blame for allowing him to continue his antics.
We assume this is Peter's way of clapping back:
Ok Peter.
Part 2 of "LAHH: NY" airs next Monday at 8/7c on VH1.
So, thoughts on Cardi B's #message?
Photos: VH1