With non-stop violent rhetoric coming from Presidential hopeful Donald Trump during his rallies, and peaceful protesters getting punched and assaulted, it was only a matter of time before ish escalated.  This weekend in Chicago and Kansas City, Anti-Trump protesters were on a mission to shut it all down...
Before Trump rolled into KC Saturday, Protestors and supporters faced off outside the Midland theater.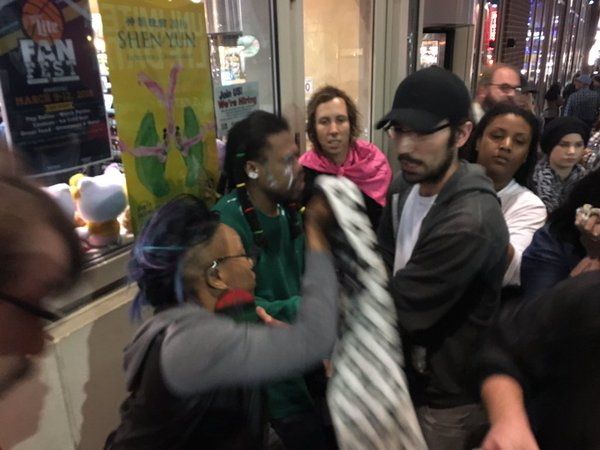 '
Unfortunately, it ended with folks getting pepper sprayed by cops and scuffles breaking out.   It's unclear who started it each time, but it's more than clear the Trump himself is at the root of the anger.
We applaud the protesters for taking a stand
Here's first hand accounts of what went down in KC before Trump took the stage:
No. We did not ask him to cancel. https://t.co/ASUi1V0XlV

— KC City Manager (@KCMOManager) March 13, 2016
He was up to his lies and exaggerations again Saturday night.
Here are videos of what happened Saturday night outside the Trump rally in Kansas City:
Video of spray via Chris Otter pic.twitter.com/ZwHrz1cwmL

— Josh Helmuth (@Jhelmuth) March 13, 2016
Protestors got pepper sprayed by police. Some eyewitnesses claim it was because they linked up arms and refused to let the cops on horses break them apart.
My photog and in I were in the crowd outside the KC Donald Trump rally when protestors got pepper sprayed (OC). Eyes are burning but I'm okay

Posted by Josh Helmuth on Saturday, March 12, 2016
Eye witnesses telling their account of what occurred before the pepper spraying Verbal altercations seemingly between opposing sides:
Another confrontation pic.twitter.com/4ERhVicbGN

— Josh Helmuth (@Jhelmuth) March 13, 2016
Confrontation at trump rally pic.twitter.com/Bh1RZX8UPV

— Josh Helmuth (@Jhelmuth) March 12, 2016
Trump just kicked out 25-30 people from his rally within 5 minutes pic.twitter.com/HGIGocG00a

— Josh Helmuth (@Jhelmuth) March 13, 2016
Milk for those who say they were sprayed with pepper spray by police. pic.twitter.com/36anfanHVQ

As you can see, we were far from what happened and were not involved but he in walked up spraying us pic.twitter.com/f22WB5FAAG

— Chris (@stokith) March 13, 2016

— Trymaine Lee (@trymainelee) March 13, 2016
LIVE on #Periscope: KC TrumpRally https://t.co/fFYImTG9sW

— Trymaine Lee (@trymainelee) March 12, 2016
Wow.
Friday night in Chicago, the rally was cancelled after thousands of protesters showed up and made their presence known -- inside and outside.
Four people were arrestedt.co/r0roj4bxE2 after that rally with charges ranging from aggravated battery to resisting arrest.  Trump's response?
MSNBC asked about the images of people clashing at the rally and Donald said, "Honestly, we have a very divided country."
Meaning what exactly? He went on to say 59% of African-American youth are without jobs and that's why they are mad. Bruh.
Trump even told CNN that "the attacks on his supporters were planned." Oh? Interestingly, he's not calling the MANY attacks BY his supporters "planned" when they punched and assaulted people who simply stood silently at his previous rallies in protest.
Rachel Maddow called the Presidential hopeful out for his rhetoric causing all this chaos.  And she's got receipts.  Start at the 3:30 mark:
Photos/Videos: Twitter/Instagram