John Legend dragged Donald Trump, Jr. on Twitter, and it was glorious.  Get those deets inside, plus Obama blasting Trump Sr.....
John and wife ChrissyTeigen, rocking a floral maxi dress over her baby bump, headed to Nobu in Malibu on Saturday for a lunch date.  The pregnant model and the singer took her mother Vilailuck for a sushi feast at the celebrity hot spot.
The "Glory" singer was all smiles after having just read Donald Trump's son Twitter.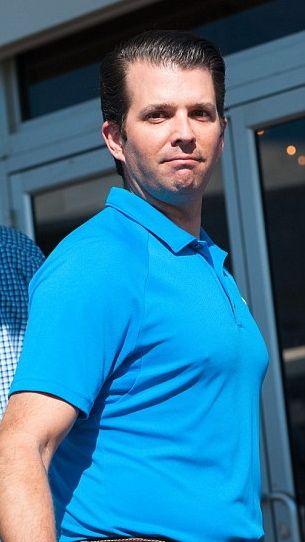 When Trump Jr. commented that Anti-Trump protesters couldn't even articulate why they were protesting, John Legend hit back saying:
Let him know John!
The Oscar winner continued going back and forth saying:
A Canadian Trump supporter chimed in saying, 'Is John Legend that disgraceful? No education.'  The singer's response: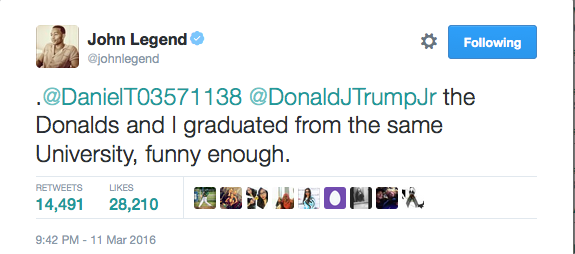 Funny enough...
Bloop.
Last night at a Democratic fundraiser at Gilley's in Dallas, President Obama took the mic and gave a slight read to Donald without saying his name directly:
"Imagine what Trump would say if he actually had a record like this. Instead of selling steaks.  Has anybody bought that wine? I want to know what that wine tastes like.  I mean, come on. You know that's like some $5 wine. They slap a label on it. They charge you $50 and say it's the greatest wine ever."
"Come on," Obama said, still laughing."Oh, boy. Selling wine. That's not what we're for. Couldn't make it up."
Obama criticized the GOP presidential candidates for "tripping all over themselves" to talk down an economy he says is the "bright spot" of the world.
"America is pretty darn great right now," Obama said in response to Trump's Make America Great Again slogan. 
He said the focus of the Presidential race should be on "how we can do even better, build on the progress we've made, not reverse it.  Instead, we've got a debate inside the other party that is fantasy and schoolyard taunts and selling stuff like it's the Home Shopping Network."
Hmph.
BONUS: Jussie Smollett, wo films "Empire" in Chicago, also spoke up last night amidst the protests saying:
America is already energized. That's why we shut U down. See we "thugs" know how to build walls even better than U https://t.co/MqdUFxBcnm

— Jussie Smollett (@JussieSmollett) March 12, 2016
I'm so beyond proud of the people of #Chicago. Anyone that stands for hate & pretends that that's what America is...Shut them down. #Love.

— Jussie Smollett (@JussieSmollett) March 12, 2016
Word.
Photos: Getty/INF